Book Your Fitness Classes on Google
Remember the good old days when Google was all about find restaurants opening times and a phone number to call and book? Then eventually launching the booking button, so you can book your spot directly in search.
For more on the Booking button in search check out our article Add A Booking Service To Your Google Knowledge Graph
While has been hugely popular at helping us stuff our face, Google has taken an 180-degree turn begun to try it out on other avenues, namely fitness. Google now wants to get you into shape, why? Google? Why? While it may not be my cup of tea, I can see the value if provides fitness enthusiasts, especially those who travel or commute. Finding fitness classes class by and being able to book them in real time can be a real time saver and fat burner.
Reserve with Google
Starting this month Google has rolled out its new product called Reserve with Google. Which allows you to book and pay for fitness classes throughout the U.S. on Google Maps, Google Search and via Reserve with Google website. Here's how it works: Visit Reserve with Google on desktop or mobile. There you can search for fitness studios near you, use filters to pinpoint exactly what you're looking for, get recommendations for new classes, or book a spot in the session you already know and love.
At checkout, you'll even be able to take advantage of intro offers when available and buy class packages or memberships. You can also book classes from Google Maps and Search. On Google Maps (desktop) and Google Search (mobile and desktop), just search for the studio you want and click "Reserve with Google" to see the class schedule, book, and pay. Google has stated in a blog post that this new experience "is possible through deep partnerships with top scheduling providers such as MINDBODY, Full Slate, Front Desk, Appointy — and we'll be adding more, like zingFit, MyTime, and Genbook soon." Google aims to allow users to access their old favourites like a specific class at your favourite studio nearby or for those more adventurous or starting out to find a great new spot while you're travelling,
To check out reserve with Google visit the site here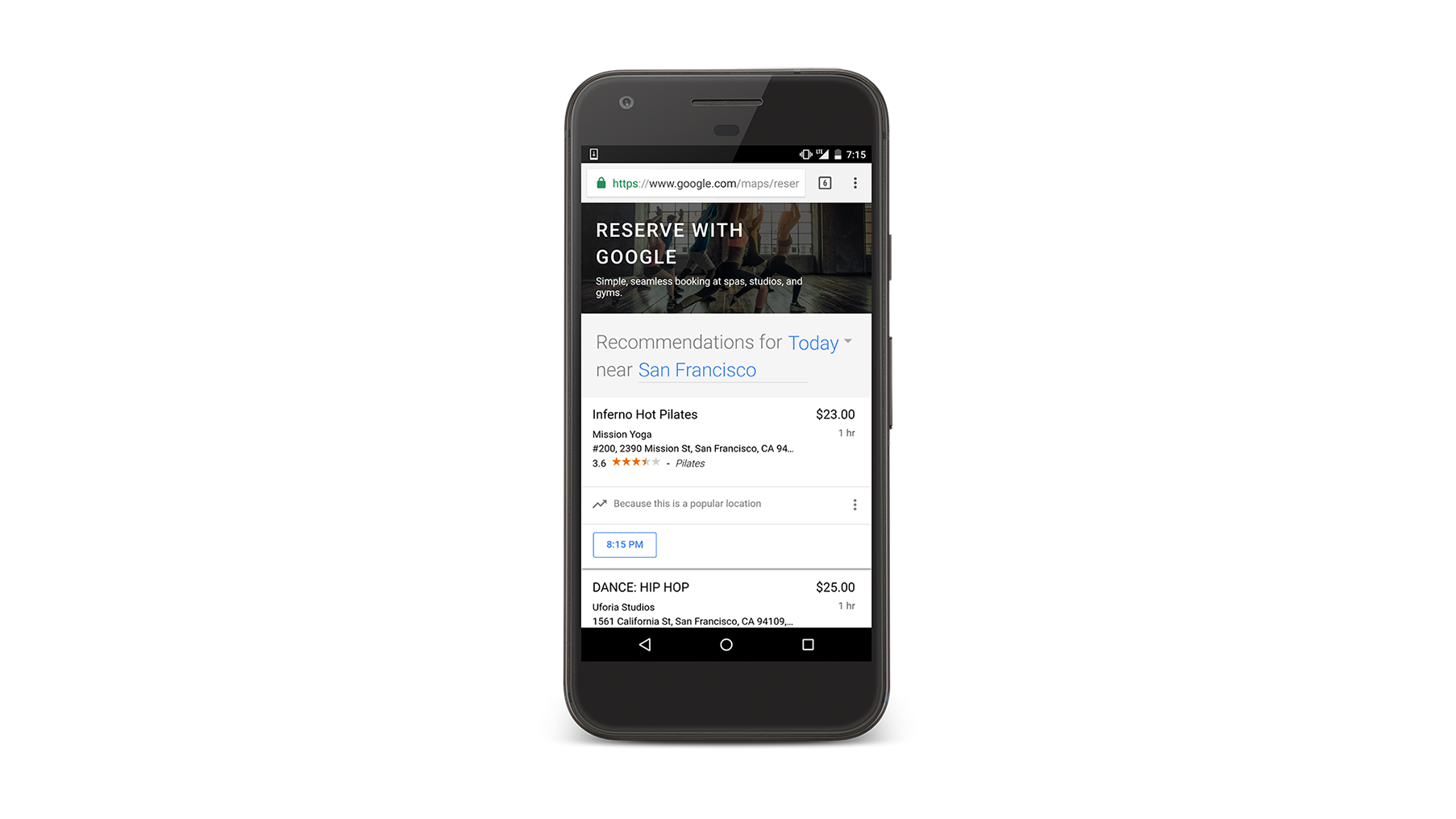 Turning fitness services into a commodity
For local and small business owners, online booking represents a new tool and metric that very concretely demonstrates the value of digital media and marketing. While for consumers, it represents a convenience that may create local winners and losers for those who adopt or refuse to adopt this new method of client booking.
Possible dangers for fitness providers
Depending on the adoption rate this could change the way vendors attract new clientele as well as making them subservient to "booking enablers," so they're able to tap into this market. With this increase in visibility of competitors in your local businesses will have to either compete on price or on value ads in order to survive.
In search booking on the rise
Google has previously worked with a range of third-party providers to bring online reservations to the Knowledge Graph when looking for hotel accommodation. But now the company has gone much further into online booking with a new program called "Reserve with Google." which could see it become an API of choice for booking services to tap into from flights, accommodation, restaurants, car hire and more, only time will tell.
With Google's announcement, it would appear that there's something of a booking arms race now going on as other companies like Yelp are also playing in this space. Businesses and consumers will need to be prepared for change as local search continues to become much more transactional.
Instant purchase
How do you feel about instant purchasing and booking from search? Do you think it's better for a consumer? Do you think consumers trust Google enough drive this trend? Will it marginalise sites who aren't compliant with third-party booking engines? Let us know what you think in the comments section below.
Contact us
If you want to know more about SEO for your site don't be shy we're happy to assist. Simply contact us here
Tags: SEO, organic search, fitness
You might also like
What Are The Major Categories of Blockchain?
We take a deep dive into the six major categories of digital assets available and why they have these different characteristics and how they are used...
Read more
10 Elements of Successful Content Marketing Strategy
A review of the top 10 elements you need to incorporate into your current and future content marketing strategies if you want to take this channel se...
Read more