YouTube Launches Live TV Streaming Service
Netflix just got a new competitor as Google has taken the plunge into the "skinny bundle" TV war with YouTube TV, a paid subscription service that streams a slew of premium broadcast and cable networks to your mobile device, tablet, computer, and anything with Chromecast.
The introduction of YouTube TV
At an event in Los Angeles on Tuesday 28 February, YouTube announced its own streaming TV service. The offering will mix live-streams of broadcast and cable television programming with the wealth of online video found on YouTube. It's the latest offering in a surge of over-the-top (OTT) services trying to woo consumers who never bought into traditional cable television.
YouTube CEO Susan Wojicki Unveil YouTube TV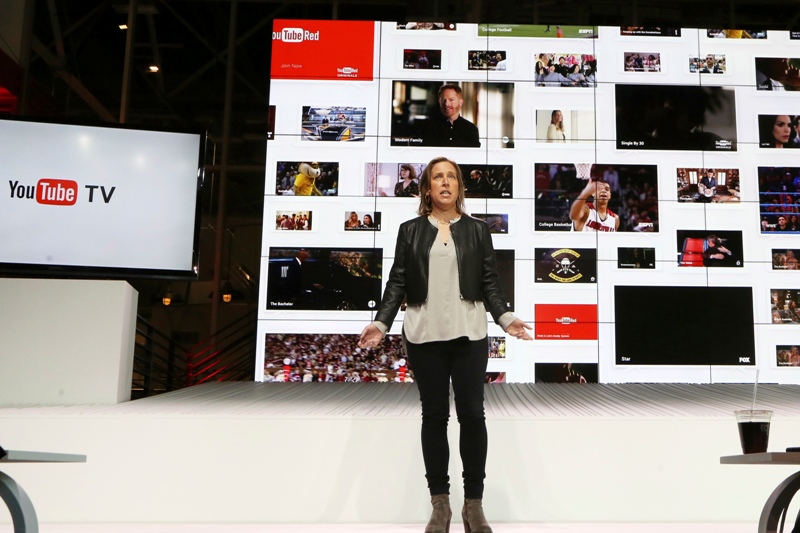 YouTube Streaming TV launch
YouTube TV anncounced on their official blog
What does YouTube TV offer
Just $35 a month gets you six accounts and access to live TV from more than 40 providers including the big broadcast networks, ESPN, regional sports networks and dozens of popular cable networks. Subscriptions include cloud DVR with unlimited storage, AI-powered search and personalization, and access to YouTube Red programming. YouTube CEO Susan Wojcicki calls it the evolution of television, and a bid to "give the younger generation the content that they love and the flexibility they expect." So-called skinny bundles include only those channels you really want, at a price that is cheaper than traditional cable.
They also bring the world one step closer to the day when you can watch what you want, when you want, when you want, on the device you want. YouTube TV joins a growing wave of services, including Dish's Sling TV, Sony PlayStation Vue, and ATandT's new DirectTV Now, with a similar web TV offering from Hulu expected soon. And like these other options, unfortunately, YouTube still has some holes with its offering.
Channels you will have access to on YouTube TV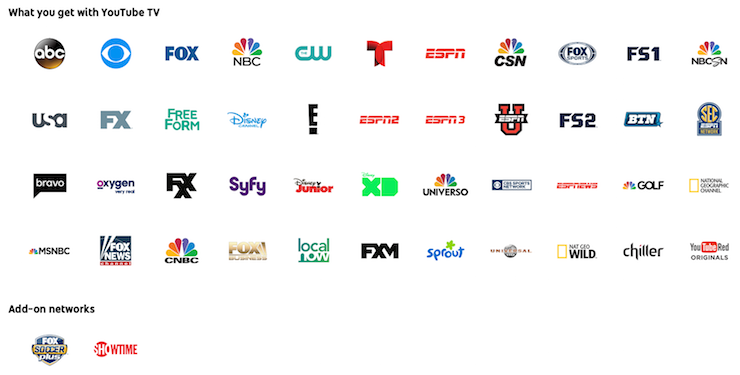 YouTube says it spent two years working on this, and reportedly landed its first partner in October when CBS signed on for the skinny bundle. Other big networks like ABC, NBC, Fox, are on board, but several premium channels, like MTV and CNN, aren't.
You can add content like Showtime and soccer for an added fee, but some content comes with restrictions. If you're a pro football fan, for example, you'll have to watch games on your TV or computer because the NFL's deal with Verizon made it off-limits to your mobile device. And no matter what you watch or what you watch it on, you may see ads—Google, being Google, and its network partners can sell ads on YouTube TV to bring in additional revenue.
Where YouTube TV falls short
Sadly, like many other streaming bundles, it has faults. YouTube TV will be missing channels from Viacom, including big names like Comedy Central and MTV. It also won't have programming from Turner Broadcasting, meaning you won't be able to get CNN, TBS, and TNT. AMC Networks, Discovery Communications, Time Warner and A+E Networks are also missing as of the launch announcement. Showtime is available as an add-on, but HBO is not. But in the meantime, you YouTube TV will be throwing in originals from it's YouTube Red subscription service for free!
How YouTube TV aims to be different from current streaming subscriptions
YouTube aims to use its current infrastructure to provide better cross-device connectivity, leverage off current content, open up new advertising avenues for publishers and reach new audiences who look for produced content while they still have the monopoly on user-generated video. YouTube TV is also making big promises around the launch of its native app which will join their current YouTube and YouTube kids apps. The demonstration in Los Angels only offered a hands-off demo, so we cannot comment on how this app will distinguish itself from those already available by competitors, so Youtube we're waiting to be impressed (Sean Connery voice)
YouTube begins to mature as a media giant
YouTube TV shows how far the company has come since its founding in 2005 when it was little more than a place for people to share homemade video clips. Today YouTube is the biggest online destination for video, with people watching more than 1 billion hours of video each day. And if there's one thing the internet's biggest video company getting into this space proves, it's that such a la carte viewing is the inevitable future of television.
When can you get YouTube TV?
The company won't say when the service launches but says you can expect it in the US in the "coming weeks and months." To check out more on YouTube TV and subscribe for its launch notification visit their site YouTube TV
Contact us
If you want to know more about YouTube marketing for your site don't be shy we're happy to assist. Simply contact us here
You might also like
South Africas Most Popular WhatsApp Scams
We look at why scams have become so popular on WhatsApp in South Africa and what are the top tricks used by scammers to try and sucker funds out of y...
Read more
83 Black Friday Software Deals 2023
We put together a comprehensive list of software and digital business offering Black Friday discounts on their subscriptions or digital products this...
Read more