Rescue Big Ideas - A Start Up Story
Raygen Magiera is the co-founder of The Kid Zone an exciting online store designed for kids and those who are still kids at heart. She shares her experience in taking on eCommerce in South Africa and how to get going from scratch.
Thinking of starting your own business? The reality is that someone has already thought of the idea that you are thinking of and most probably has beaten you to it. I personally think that new business ideas are so rare that you would have to be a supernatural person to come up with a BIG IDEA that no one else has ever thought of, BUT there are plenty of BIG IDEAS that haven't been done right and need to be rescued.
Steve Jobs did not invent the mobile phone; he rescued the idea and made it great! Mark Zuckerberg did not invent the social platform; he just rescued the idea and made it great! So ask yourself? What IDEA can I rescue? The idea of The Kid Zone is not unique, we sell toys online like thousands of retailers around the world and most probably in the country BUT we have a few unique selling features that set us aside from other online retailers in South Africa that make our brand DIFFERENT and EXCITING.
Staying ahead and offering something different
To make sure that we stay DIFFERENT, we troll the web every day and rescue ideas that we can collaborate on The Kid Zone idea and make our site AWESOME! What does this translate to?
We make changes to our site within a few days to make sure that we are ahead of the online trend.
KIS – Keep It Simple! 3 clicks to checkout.
Always RESPONSIVE!
We deliver SMILES, not product!
Make Money!
Our basic principles
We live by these points; make sure you always have your "points".These should be the first words you type on your business plan; yes you need to have a Business Plan. Starting a business is not easy to make sure you take advice from all the hundreds and thousands of Entrepreneurs out there who all say "START WITH A BUSINESS PLAN"! People take you seriously when you can produce a realistic plan and the chances of getting funding are much greater! Make sure your business plan is your ROOT of your idea and all the rescued ideas are the fertiliser that makes your roots stronger.
Have a strategy
We have always stuck to our business plan and STRATEGY DOCUMENT so we were able to go from: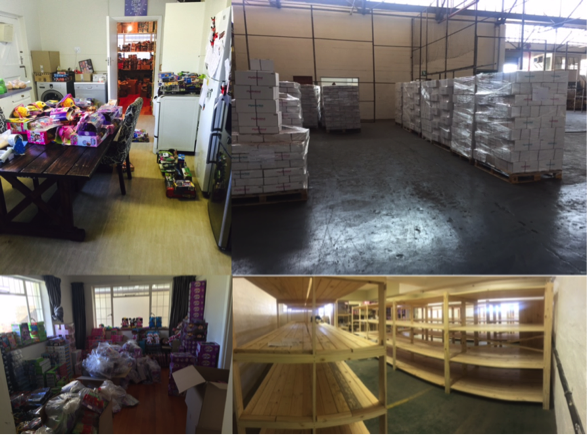 From starting at home to moving to a commercial space
If you don't know how to put a business plan or strategy document together, then we highly suggest that you take time out and get employed so you can learn and rescue business ideas! Don't just think you can do it; know that that you can do it!
If you have any doubt or hesitation, do not pursue it. Rather put your CV out in the world and get a job. Learning from other people could be the best thing you ever do…then decide if you want to do it on your own.
Last few pieces of advice
You CAN NOT do this on your own! Team up with someone that you trust and that has skills that you don't have.
ALWAYS make sure that your customers think that you are as big and professional as the "BIG" retailers they shop at. Make sure that they never know that you packed their parcel on your kitchen table
Always make money! Grow organically.
Other than that, you are good to go! We are available for consultation (this way we can pay for the ideas we don't rescue). Yours in shopping Raygen Magiera and Simon Miszewski (Founders of The Kid Zone)
Raygen Magiera Co-founder of The Kid Zone
About the Author
Raygen is an entrepreneur and founder that's kicking ass and taking names in the South African eCommerce market. Previous experience includes marketing for Kalahari.com, an online general retailer.
You might also like
Why Invest in Luxury and Designer Furniture
Designer chairs can be expensive but if you are looking for a high-quality, stylish, and durable chair that will last for years, then investing is wo...
Read more
South African Guidelines For Cryptocurrency Ads
A look at new regulation rolling out in South Africa, which will affect the way companies advertise digital currency and digital asset services can c...
Read more