Asana Gets Slack Integration
Collaborations between tech companies are nothing new, and in recent times we've seen companies like Facebook and MailChimp team up to make the lives of small business owners and digital marketers a lot easier.
Digital companies live and die by their tech stack and the tools they choose to build with and integrate into their systems and processes. One tool that is often overlooked is project management tools.
These dashboards help you organise tasks, keep track of deadlines and manage communication and feedback between stakeholders and teams. I've used many project management tools over the years, and I personally have a bias towards Jira, but that's not to say there aren't great alternatives.
For more on project management tools check out our article - Free Project Management Tools For Small Businesses
Project management tools and instant messaging
The problem with project management tools is that in a fast-moving business like eCommerce, for example, teams need to communicate with each other about work all day–often in real-time messaging tools.
This communication needs to eventually turn into actionable tasks and moving information between your instant messaging service to your project management tool can be a pain and plenty of data can be lost in the process.
This is why I'm pretty excited to see that one project management tool has seen this trend and put together a user experience that caters to it. Asana has announced that it has partnered with Slack and the integration is now available. With this new integration, your team can get Asana updates in Slack, take action on those updates, and even turn Slack messages into Asana tasks or comments—without leaving Slack.
Communicate and coordinate seamlessly
When you turn your team's Slack messages into tasks and projects in Asana, everyone will know who's doing what by when—no matter which tool they're using.
Turn conversations into actions
What often starts out as bouncing ideas off another teammate in Slack, often evolves into new work that needs to be done. Now you can turn these action items into trackable Asana tasks.
Using the new actions menu in Slack, you can capture all the details of a new task: who's responsible for it, when it's due, what needs to be done, and what project it's for–so nothing falls through the cracks. And you can also add Slack messages to existing Asana tasks as comments, so you keep important updates and context tied to the work it's about.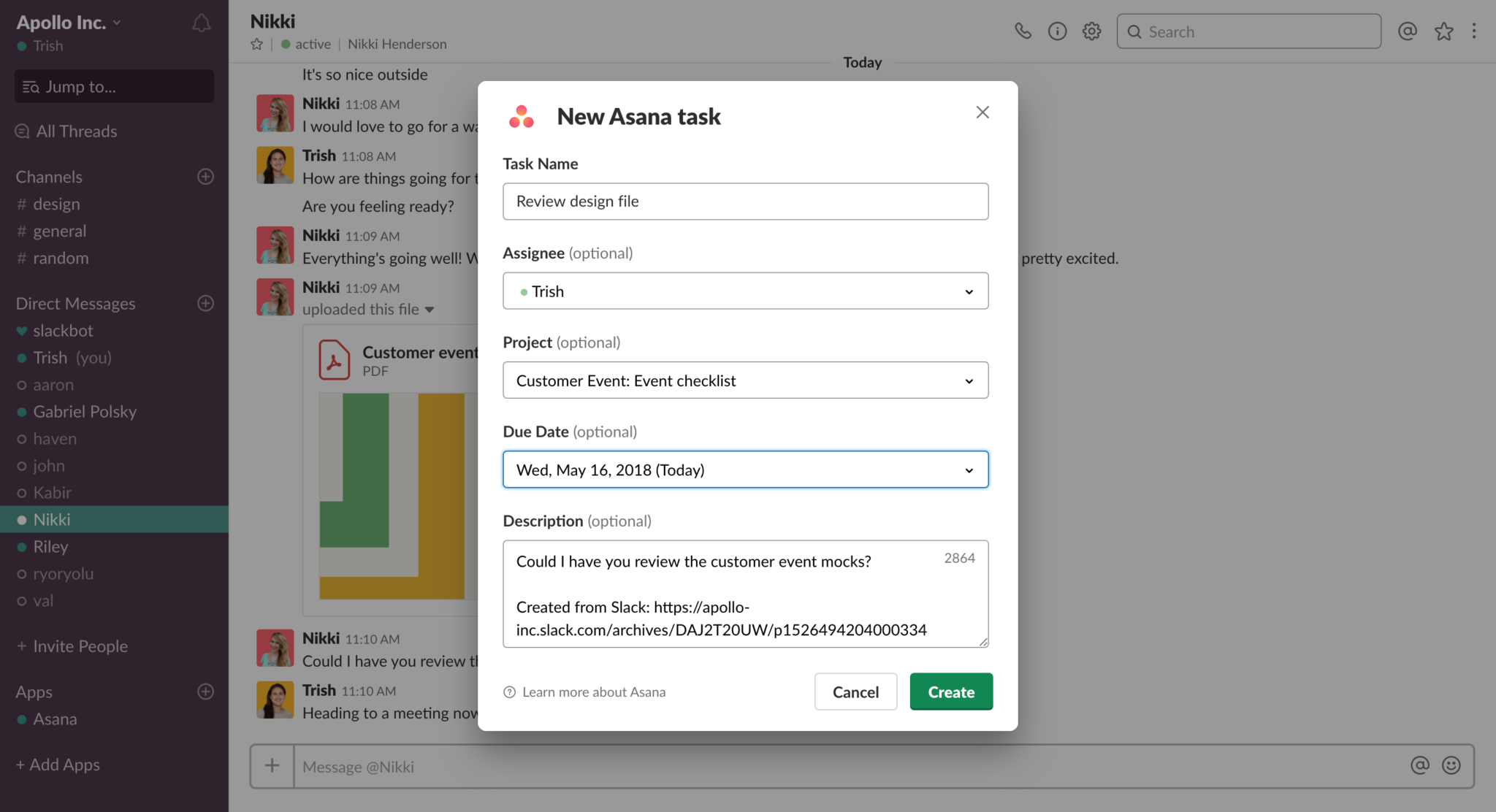 Take action on Asana tasks without leaving Slack
With the new integration, you can take action on Asana tasks right from within Slack. When you get an Asana notification, or a teammate shares an Asana task link with you, you can complete it, change the assignee and/or due date, add it to a project, or open it in Asana. You won't need to switch between tools so that you can stay in your workflow.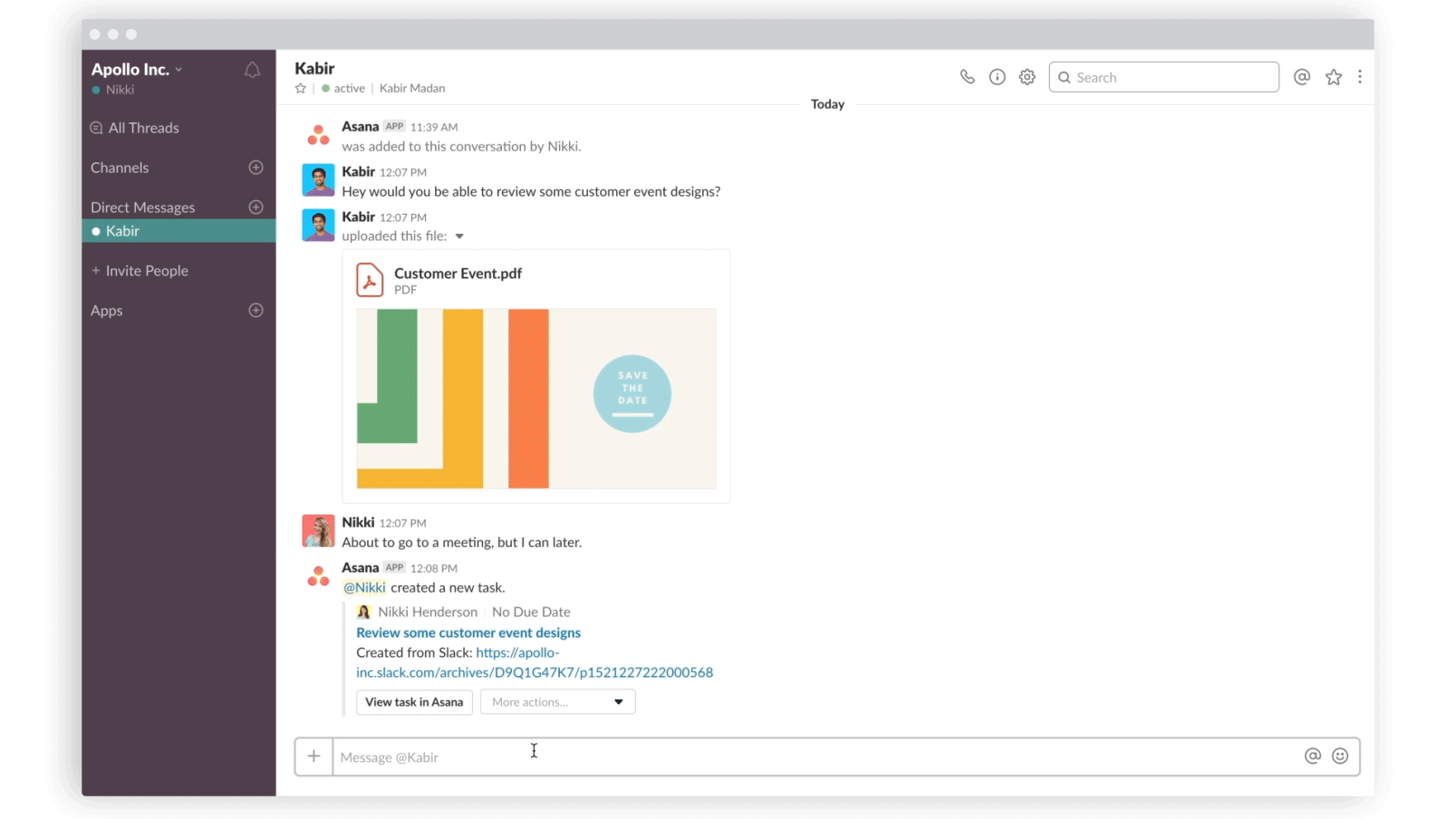 Meet your team where they are
Since you're already messaging teammates about work in Slack all day, why not get updates on tasks and projects being managed in Asana there too? Now you can get notifications for updates to work assigned to you and tasks you're following. And you can set up Slack channels to get notifications from specific projects, so everyone stays up-to-date on progress being tracked in Asana.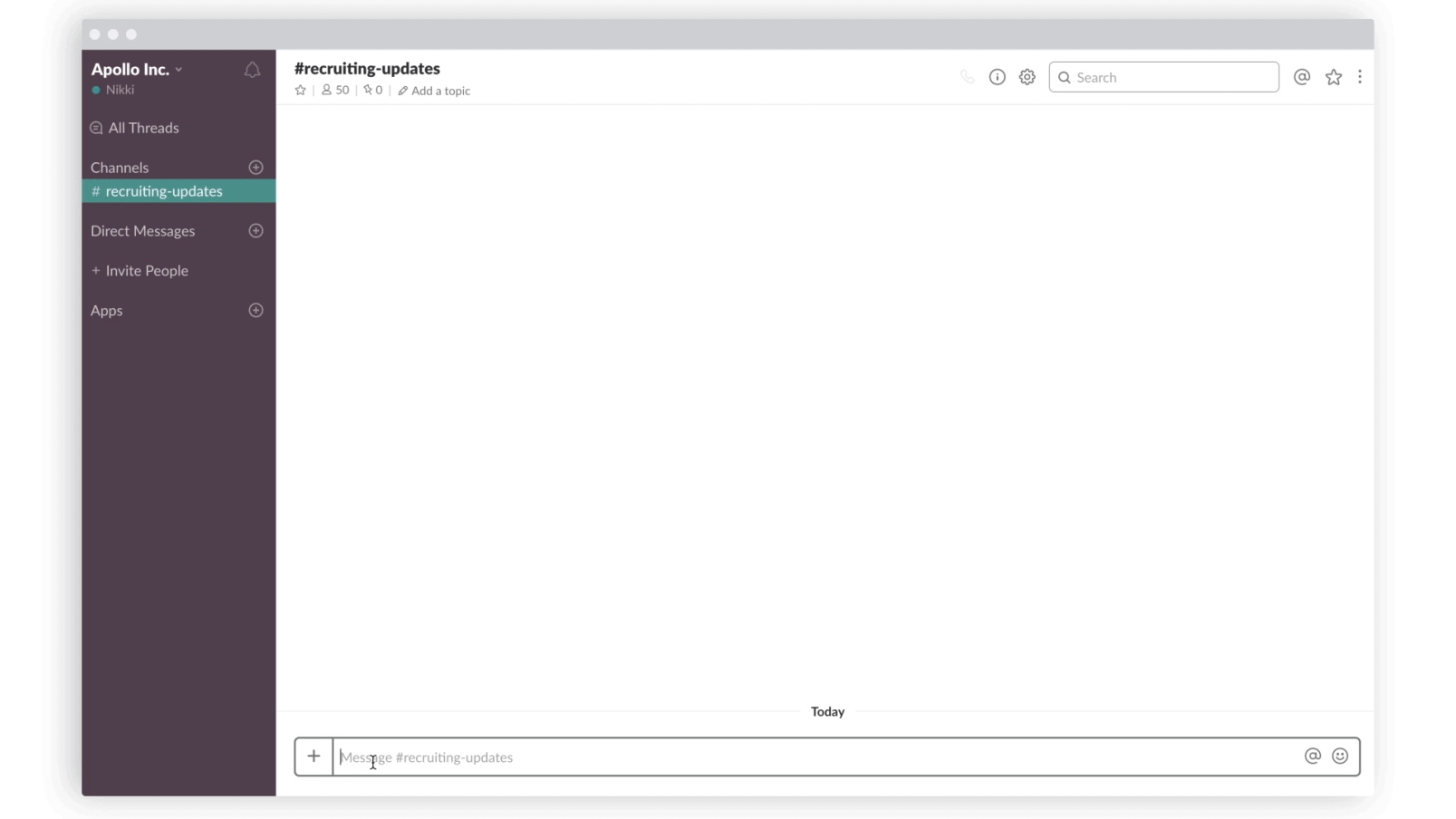 How to Get Asana for Slack
To Install the new Asana for Slack takes a bit of effort so Asana has created a step-by-step instruction guide on how to use this new integration. To get started, please visit the Asana Guide.
Contact us
If you want to know more about project management tools, don't be shy we're happy to assist. Simply contact us here
You might also like
5 Tips For Emergency Plumbing Situations
As a home owner or tenant you need to prepared for plumbing issues and break downs or it can cause even more damage so make sure you follow these tip...
Read more
South Africas Most Popular WhatsApp Scams
We look at why scams have become so popular on WhatsApp in South Africa and what are the top tricks used by scammers to try and sucker funds out of y...
Read more