Ask Google Analytics Questions
A little over a year ago, Google teased using natural language to get data from Google Analytics just by asking. That "asking a question" functionality has now arrived in Google Analytics and Google Analytics 360 globally.
Note: Even though the function has rolled out globally the function is being rolled out incrementally to active Google analytics accounts so it may not be available to you just yet.
The aim is to make it much easier for people throughout an organisation to be able to get the information they need without having to rely on data analysts or needing a deep familiarity with the Google Analytics interface. Data analysts will have more time to focus on strategy, and the rest of the organisation can get the information they need to understand how the business is performing online, the thinking goes.
What is Analytics Intelligence?
The new ability to ask questions builds on the Google Now-like automated insights that came to the Google Analytics mobile apps last fall. The insights surface data the system thinks will be useful to the person who is logged in, meaning they are tailored to the kinds of data and insights that the user has engaged with.
Roughly 20 percent of Google Analytics' 700,000+ monthly app users are viewing those automated insights in Intelligence monthly, according to the company. The ability to use natural language to ask questions in Google Analytics has been years in the making and relies on Google's artificial intelligence technology, which until now, has been used solely in consumer applications like search.
How do I use it?
Analytics Intelligence is accessed from a circle icon with dots in the upper right corner of the apps, and now on desktop, too. Intelligence is coming to the desktop for the first time. On a desktop, users will be able to see automated insights and type questions into a query box after clicking the Intelligence icon from every page in Analytics. On the mobile app, users will also be able to use voice to surface data in Google Analytics after clicking on the Analytics Intelligence icon.
What kinds of questions can I ask?
At this point, the system supports "what" and "how many" types of questions about whatever data Google Analytics knows about your business. These questions can include segments, like the example above, asking about sessions for the month broken out by age. Google will then instantly — it is very fast — show the results with a chart, saving the user several clicks and time digging. You can then ask follow-up questions based on the previous question. There are also suggested questions that display once a user clicks in the query box as prompts. "Why" questions like "why did my organic page views go down last month" aren't supported yet, but Google says the system will be able to answer questions like that relatively soon as the system learns.
The system will notify you when you ask a question it can't answer and will be capturing those questions to build out its capabilities. Google has been testing "asking a question" with some 100,000 users since March. It's only in English now, but Google says it will add other languages as the system learns more about the types of questions users are interested in and gets better at answering "why" questions.
When will it be available?
Automated insights will be available on desktop as of Wednesday. The "asking a question" functionality will start rolling out over the next few weeks.
'Not an incremental change' - Babak Pahvlan
In a demo of the new natural language functionality Monday with Babak Pahvlan, who heads measurement and analytics products for Google, and product lead Annissa Alusi, Pahvlan underscored the significance of this update and the technology that powers it.
"This is not an incremental change," he said, explaining that the system is tasked with organising vast amounts of analytics data at scale (some half a trillion events), and understanding what the user is asking for and delivering it instantaneously. Pahvlan said that during testing they saw users start by asking fairly basic questions and then progressively asking more and more sophisticated questions.
The system will continue to learn as users query it more and more. Users can currently save automated insights, but saving and exporting results from questions is something that will come later.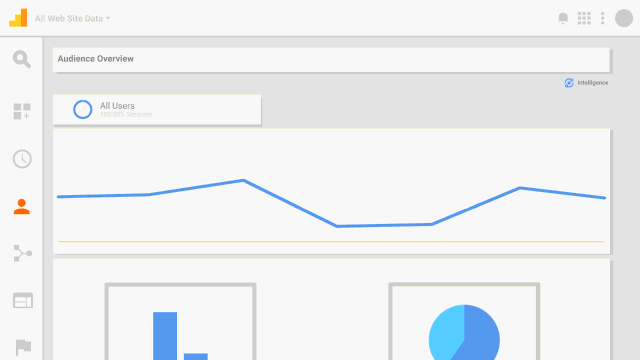 An example of how Google analytics questions works
Ask for your insights
Google continues to help marketers get the most out their data, making it easier to mine for insights, especially for those who do not have in-depth knowledge of what the platform has to offer. So have you tried asking Google Analytics any questions? Do you find it helpful? let us know in the comments below.
Contact us
If you want to know more about Google Analytics with your site don't be shy we're happy to assist. Simply contact us here
Tags: google analytics, Tools
You might also like
5 Tips For Emergency Plumbing Situations
As a home owner or tenant you need to prepared for plumbing issues and break downs or it can cause even more damage so make sure you follow these tip...
Read more
83 Black Friday Software Deals 2023
We put together a comprehensive list of software and digital business offering Black Friday discounts on their subscriptions or digital products this...
Read more