What Is the Custom Image Tag In Google Tag Manager
If you know anything about setting up your own custom website tracking, you'll know what an absolute nightmare it can be, not just to install but to debug and then adjust to your specific tracking needs. For most websites out there the are plenty of out of the box solutions that will work just fine in getting collecting the data they need.
While others may need a customised solution. Regardless of your tracking needs basic or complex I would highly recommend you install and run Google Tag Manager (GTM) as a way to manage it all, from custom to 3rd party solutions.
GTM is an extremely powerful tool, and it's getting better each year. Google is constantly adding new ways to use the tool and help marketers and webmasters get the best out of their website analytics. One of the latest additions to GTM's tag template is the custom image tag, but not much is available online about this template so I thought I'd give you a quick overview of what it is and what it can do for you.
Custom image tag in a nutshell
The custom image tag requests an image from a particular URL. The exciting part is that by making the request, you're actually transmitting information to a server.
For example, if you request an image via URL https://www.example.com/something?parameter1=goodandamp;parameter2=123, the receiving server processes parameter1 and parameter2 and acts accordingly (e.g. registers those parameters as an event).
Easy as that.
The Custom Image Tag is just another way for Google Tag Manager to send the data from your website to other tracking tools, e.g. Facebook Pixel, etc.
The custom image tag requests an image from the given URL but does not insert it into the DOM. Making the image request is enough to transmit information to a server, and GTM is not supposed to change the Layout of the page in any case.
Why the need for a custom image tag
While it may be called an IMAGE tag, it is not used to load any sort of image. Its purpose is to load a teeny tiny pixel of which URL is used to transmit the data.
Google Analytics, Custom HTML and other tags rely on JavaScript. Those regular tags become useless when JavaScript is disabled in a browser, and that's where the Custom Image Tag becomes the hero of the day.
The Tag is loaded via iFrame (which is created with the help of <noscript> part of the GTM snippet). This means that you can dispatch a Custom Image Tag regardless of what are the JavaScript settings in a browser (on or off).
Custom image tag
The Custom Image tag is used to set up a pixel tag that is not yet natively supported by Google Tag Manager.
To create a new Custom Image tag:

Click Tags New.
Click Tag Configuration and select Custom Image.
Enter the Image URL. Use "//" if protocol-relative versions of the image are available. Use "https://" if only a secure version is available. Use of "http://" is not recommended.
To ensure that hits are registered from browsers that have cached versions of a pixel, select Enable Cache Busting. This will append the query gtmcb=<random number>to the URL. To change the default query parameter, enter a value other than gtmcbin the Cache Busting Query Parameter field.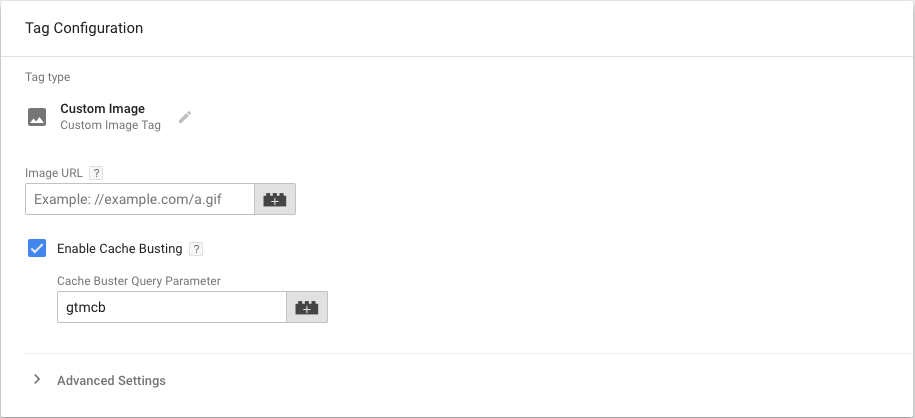 Alternative methods
While not the most riveting addition to GTM the Custom Image Tag in Google Tag Manager does offer some users a way out of some frustrating situations.
While javascript is an industry standard and used the world over it is by no means full proof and if you want to track interactions when the default Google Analytics or Custom HTML tags will fail like in cases where JavaScript is disabled in a browser.
Then the custom image tag is exactly what you're looking for. While these cases may be few and far between it is likely the tag was added as a solution to the growing issues around tracking light web pages for mobile, such as the AMP protocal or Facebook Instant Articles.
Contact us
If you want to know more about tracking solutions for your site, don't be shy we're happy to assist. Simply contact us
Tags: google tag manager, tracking
You might also like
South African Guidelines For Cryptocurrency Ads
A look at new regulation rolling out in South Africa, which will affect the way companies advertise digital currency and digital asset services can c...
Read more
Reduce Workplace Injuries On Construction Sites
A review of some of the tactics and protocols construction companies should be putting into place if they want to minimise the amount of on-the-job i...
Read more