Quickly Export Search Console Keyword Raking Data in Full
Google Search Console (or Webmaster Tools - if you still in the habit of calling it this like me) is an essential tool in every SEO's toolkit. The data and information we get from it are invaluable. The Search Analytics Data showing the keyword performance of a site is key to accessing the site's organic visibility success.
Exporting keyword data directly from search console
Exporting keyword data directly from the search console is pretty easy. However, there are limitations to the data we can are able to export:
Data is limited to the top 1000 queries
You cannot bulk export Keyword or Query in correlation to ranking page. This has to be done at query level and can take a long to complete this directly from the console
Furthermore, only three months of data is available at a time, so if you do not do a full export regularly, there is no way of getting back historical data.
Introducing the search analytics for sheets Chrome add-on
Search Analytics for sheets is a nifty add-on for Google Sheets and only works in your Chrome browser. It was created by Romanian Entrepreneur, SEO and tech geek, Mihai Aperghi. The add-on allows you to request and backup data from Webmaster Tools' / Search Console's Search Analytics report and directly export it into any spreadsheet. You can also easily set up your export to:
Export Query Data with Ranking landing page
Setup and Bulk export all the data in less than 5 minutes
Setting up Search Analytics for Sheets
Install the Add-on from Chrome Webstore here
Or you can open Google Sheets and search for the plugin directly by choosing "Add-ons" >> Then "Get add-ons" from the Google Sheets Navigation.
Follow the prompts and give the Add-on the permission it needs
Complete Installation
Once the installation is complete, open the Search Analytics sidebar by selecting it from the Add-ons menu.
The sidebar will open and you can configure your export.
Configure your query export for search analytics for sheets
A sidebar detailing export details will show on the side of your sheet that looks like the image below: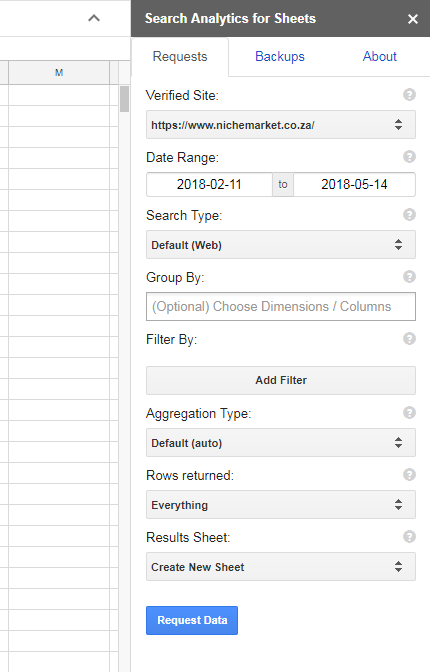 From the Requests Tab Choose the site you would like to generate the Search Analytics export for.
Choose your Date Range
Select search Type: Web, Images, etc.
Choose Parameters to group by: Date, Query, Page, Country, Device - You may choose more than one
Add Filters if desired, this will be based on the groupings you selected above.
The rest of the settings are quite easy to complete. Select your desired outcome and request data
And just like that, you will have generated a fully populated spreadsheet with all the Search analytics data in the format you require.
Automated backups can also be set up
The add-on also allows you to set up automatic backups as frequently as you desire. Choose the backup tab on Search Analytics for Sheets Sidebar and configure as desired.
Contact us
If you have any questions or would like to know more about this nifty add-on or Search console, comment below or feel free to contact us here!
Tags: Google search console, Google sheets, Search Analytics, Webmaster Tools
You might also like
Why Invest in Luxury and Designer Furniture
Designer chairs can be expensive but if you are looking for a high-quality, stylish, and durable chair that will last for years, then investing is wo...
Read more
5 Tips For Emergency Plumbing Situations
As a home owner or tenant you need to prepared for plumbing issues and break downs or it can cause even more damage so make sure you follow these tip...
Read more