Facebook Continues To Drive Video Commerce
Facebook has been pushing video hard lately with the release of the live video, video ad breaks and now Facebook wants to use video to drive direct retail sales with video. Today the site is launching a new ad format called Collection. Collections are built on a "primary video" or image that, when clicked on, takes viewers to an immersive, fast-loading page that can include up to 50 products.
By tapping on a specific product, users are redirected to the product page on a retailer's own website or app where they can complete their purchase. From a blog post released by Facebook, it seems collections will be a mobile-centric video ad format however we can't see why this would not work on desktop as brands continuously strive to stand out in newsfeeds.
For more on other video ad revenue channels, Facebook are exploring check out our article Facebook Tests Ad Breaks Across All Video
How Facebook Video Collection will work
Soon to be available on a newsfeed near you, you may come across the following. A video that sits on the top half of the ad unit with four recommended products below. Facebook will give retailers the option of either selecting the products they want to feature manually or Facebook pulls popular products from a retailer's site to populate the collection below the video. Once someone clicks through on a promo from the newsfeed, they are taken to a fast-loading landing page (similar to Facebook's website-like Canvas ads) where people can browse through up to 50 products. From there, people can buy sponsored items by clicking on specific products to visit the retailer's mobile site or app.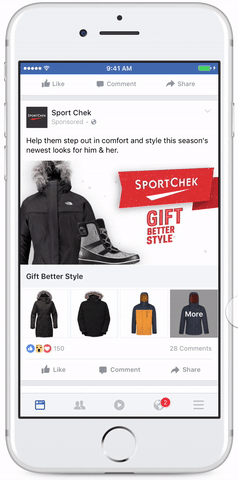 Image from giphy
Facebook Video Collection tests have begun
According to Facebook, Adidas, Lowe's, Tommy Hilfiger, Sport Chek and Michael Kors are a handful of retailers that have tested Collection. During the holidays, Sport Chek ran a campaign using GIFs that the sporting goods retailer claims doubled conversions and increased online sales by 28 percent.
Adidas' campaign pitched a hoodie and similar products like shoes and a bag, resulting in a 1.8X decrease in cost-per-conversion, according to the brand. "This new ad format has everything we need to introduce a new product and drive sales," explained Rebecca Watts, Adidas' performance marketing senior specialist in a statement. "Collection has outstanding cross-selling capabilities, and we'll certainly explore this new format again to inspire and increase sales."
New metrics will be available for analysis
As part of the rollout, Facebook is also testing a new metric for Collection and Canvas campaigns called Outbound Clicks to give advertisers stats on how many people clicked through to the brand's website or app. Advertisers already receive a stat that measures how many clicked on an ad from the newsfeed and now they'll also receive a number that tracks how many people looked at the interstitial page and then clicked again to visit the retailer's own site.
Video marketing continues to grow
As customers crave information faster and attention spans on newsfeeds dwindle, video seems to be the way forward for Facebook advertising. Grabbing the majority of headline skimmers, lazy readers and those craving more interactivity and less effort. What do you think of video collections, is it something you would be keen to use for your brand? Let us know in the comments below
Contact us
If you want to know more about social media marketing don't be shy we're happy to assist. Simply
contact us here
Tags: facebook, Social Media
You might also like
South Africas Most Popular WhatsApp Scams
We look at why scams have become so popular on WhatsApp in South Africa and what are the top tricks used by scammers to try and sucker funds out of y...
Read more
Reduce Workplace Injuries On Construction Sites
A review of some of the tactics and protocols construction companies should be putting into place if they want to minimise the amount of on-the-job i...
Read more