Facebook Tests Ad Breaks Across All Video
Facebook is looking to drive more revenue from video this year and publishers and creators might soon be able to take a large share of this new income stream off their Facebook video content. Facebook announced it has begun testing ad breaks that interrupt on-demand video, using a small set of partners who will earn a 55 percent ad revenue share while Facebook keeps 45 percent. That could change the way creators make video content so they tease viewers enough to sit through the ads while luring more producers to Facebook, it could also encourage users to create longer content in order to maximise on ad break time.
How will Facebook live ad breaks work
Facebook is looking at introducing or expanding three types of video ads for both the social network and publishers' websites: in-stream video ads for publisher websites, expanding ad breaks for Facebook Live videos within Facebook's own app and ad breaks for publisher videos uploaded to Facebook. On-demand video publishers will get to select where in their video they want to insert an ad break, but it must be at least 20 seconds in and at least 2 minutes apart. These ad additions could be a boon for media companies anxious to get more revenue from the content they produce for the tech juggernaut that refuses to call itself a media company.
What Facebooks VP of Partners says about its new product
"Whether on Facebook or off, we're committed to continuing to work with our partners to develop new monetization products and ad formats for digital video," Nick Grudin's Facebook's VP of partnerships, said in a statement. "It's early days, but today's updates are a step towards this goal." As a part of the updates, announced today, publishers using Facebook's Audience Network targeting capabilities can begin monetizing in-stream ads to reach specific audience segments.
In a blog post, Facebook VP of product solutions Brian Boland and product manager Maria Angelidou-Smith said publishers with available inventory will be able to show more relevant video ads across mobile and desktop devices. "Publishers have historically been wary of video ads delivered from networks or exchanges because they can load slowly and are often unreliable," they wrote. "With Audience Network, advertisers upload their ads and bids to Facebook in advance—allowing us to quickly run an auction and return an ad that's a good experience for the person watching it."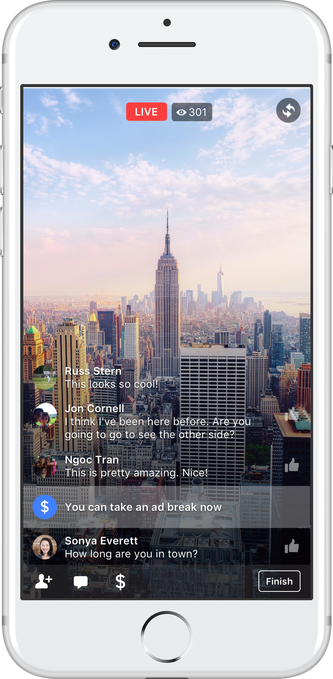 Facebook Testing video ads since last year
In May, Facebook began running tests for in-stream ads via FAN, which Facebook said has shown promising results for publishers such as Univision and Collective Press. For example, Univision has been using the format to help its direct sales business in the U.S., Colombia, Argentina and Mexico—with cost-per-impression in the U.S. reportedly 52 percent higher than with other partners. Along with in-stream ads on publishers websites, Facebook is also expanding its capabilities for ad breaks during live streams. After a few months of tests with video creators, Facebook will now let more broadcasters show 15-second ads within Facebook Live while receiving part of the revenue.
Facebook video add requirements
Facebook didn't disclose all requirements but, it said pages and profiles with more than 2,000 followers and live audiences of more than 300 people will be able to take advantage of earning money from ads. Facebook ad breaks will only be available after four minutes, with additional ad breaks available after every five minutes.
Competition for the user-generated video segment
The updates could help Facebook better compete with Google, whose creators have been making money from YouTube for years. Publishers who upload videos to Facebook may soon be able to take advantage of ads within those videos as well. Facebook is now beginning to test ad breaks with a few U.S. partners, which the company said could be expanded in "coming months" after it's had a chance to gather data from early findings. This could see an even bigger push for social media influencers to earn money from the platform as they monetize their social following.
Contact us
If you want to know more about Facebook marketing for your site don't be shy we're happy to assist. Simply contact us here
Tags: facebook, Social Media
You might also like
South Africas Most Popular WhatsApp Scams
We look at why scams have become so popular on WhatsApp in South Africa and what are the top tricks used by scammers to try and sucker funds out of y...
Read more
Comparing Boarding Schools In England And Switzerland
What are the features of boarding schools in England compared to boarding schools in Switzerland, and why do they differ so much from one another
Read more