Get your posts noticed with #Hashtags for Every Day of the Week
We are all too familiar with the struggles of getting our posts noticed on Social Media. If your brand is still in its infancy the struggle is much harder than those brands that have already gained the trust of loyal fans.
The struggles of getting your brands exposed on social
Facebook doesn't work without boosting your posts so this can be quite pricey if you have a limited budget. With Twitter and Instagram, hashtags do wonder to give you that little boost you need (see post for the correct way to use hashtags on various social platforms.
Why use daily #Hashtags?
While digging deep for the most appropriate hashtags for your content is always a great idea, this plan should not be abandoned but rather optimised. Daily hashtags always are some of the most used hashtags across Instagram and Twitter and will give you post a little boost in visibility. Although they are no competition for old faithful's like #nofilter (~ 196,052,219 posts), hashtags like #MondayMotivation and #FridayNight have approximately 5,514,615 and 10,704,883 trending posts respectively. So if something that takes as little effort as adding a hashtag to your post will give you some added exposure, why are you even hesitating?
Top Trending Hashtags to use for every day of the week
Quickly Find what you looking for:
Please note: All stats below are based on public posts on Instagram and does not take into consideration private accounts.
#Monday
Top Results for Monday Hashtags are as follows: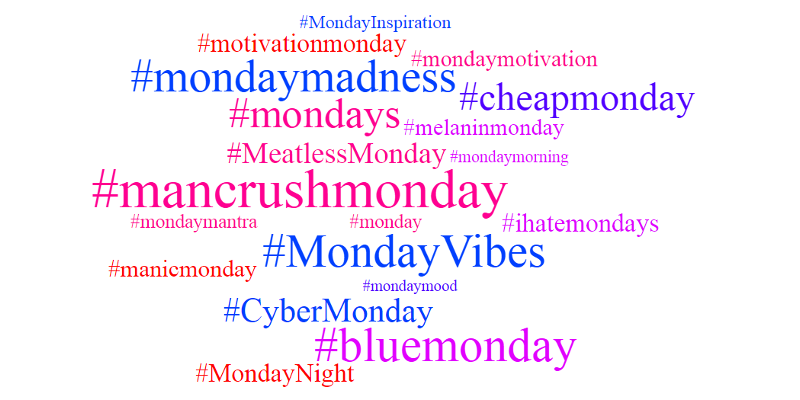 #monday
#mondaymotivation
#motivationmonday
#happymonday
#mondays
#mondaymorning
#mancrushmonday
#motivationalmonday
#mondayblues
#CyberMonday
#mondayfunday
#mondaymood
#MondayNight
#musicmonday
#MondayVibes
#nevermissamonday
#melaninmonday
#MeatlessMonday
#manicmonday
#caseofthemondays
#mondaymadness
#bluemonday
#ihatemondays
#motivationmondays
#cheapmonday
#hellomonday
#MondayInspiration
#musicmondays
#mealprepmonday
#mondaymantra
#Tuesday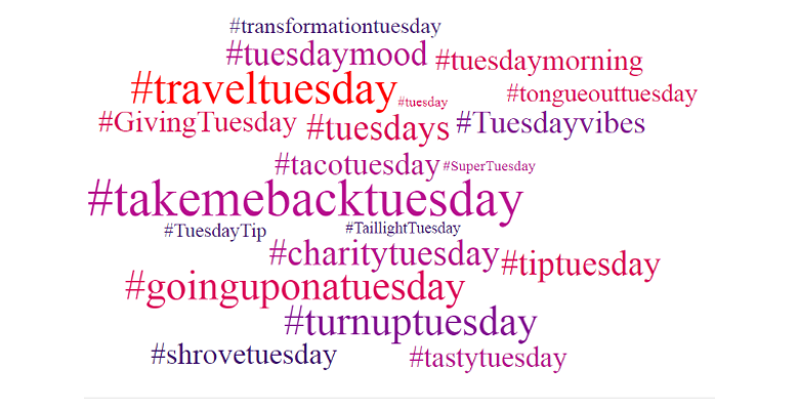 Top Results for Tuesday Hashtags are as follows:
#tuesday
#transformationtuesday
#happytuesday
#tacotuesday
#tongueouttuesday
#traveltuesday
#tuesdays
#tuesdaynight
#tuesdaymorning
#throwbacktuesday
#SuperTuesday
#GivingTuesday
#onatuesday
#tiptuesday
#fattuesday
#tuesdaymotivation
#tuesdaymood
#Tuesdayvibes
#selfietuesday
#tastytuesday
#TuesdayTip
#TBTUESDAY
#shrovetuesday
#takemebacktuesday
#tuesdayshoesday
#turnuptuesday
#goinguponatuesday
#charitytuesday
#TaillightTuesday
#TriviaTuesday
#Wednesday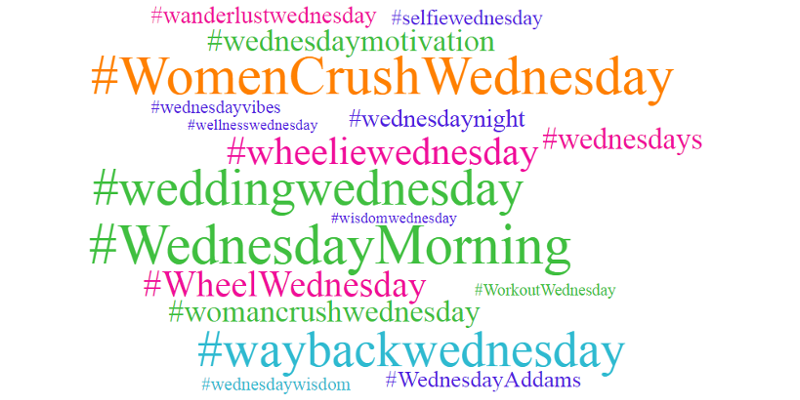 Top Results for Wednesday Hashtags are as follows:
#wednesday
#happywednesday
#womancrushwednesday
#weddingwednesday
#WomenCrushWednesday
#wednesdaywisdom
#winewednesday
#WorkoutWednesday
#waybackwednesday
#bwwednesday
#wednesdays
#wellnesswednesday
#WheelWednesday
#wednesdaynight
#wisdomwednesday
#wanderlustwednesday
#wheeliewednesday
#wuwednesday
#ashwednesday
#WednesdayAddams
#whiskerwednesday
#smexywednesday
#WednesdayMorning
#Brightwhitewednesday
#wednesdaymotivation
#wednesdayvibes
#selfiewednesday
#whitepeoplewednesday
#wednesdayworkout
#onwednesdayswewearpink
#Thursday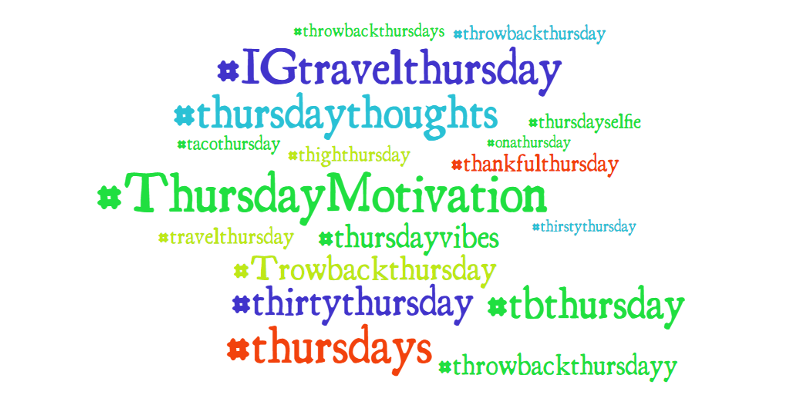 Top Results for Thursday Hashtags are as follows:
#throwbackthursday
#thursday
#thirstythursday
#happythursday
#throwbackthursdays
#ThursdayNight
#thursdays
#thankfulthursday
#tbthursday
#thursdaymorning
#thirtythursday
#transformationthursday
#thursdaynights
#Trowbackthursday
#thursdaythoughts
#thirstythursdays
#throwbackthursdayy
#thursdayvibes
#selfiethursday
#IGtravelthursday
#travelthursday
#thighhighthursday
#onathursday
#ThoughtfulThursday
#ThursdayMotivation
#thighthursday
#tacothursday
#throwbackthursdayyy
#thursdayselfie
#thursdaynightfootball
#Friday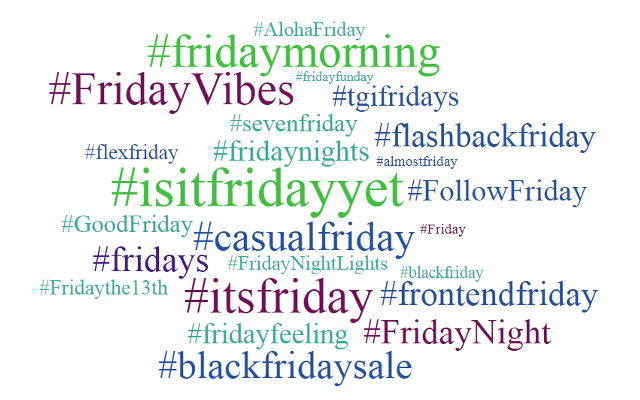 Top Results for Friday Hashtags are as follows:
#Friday
#FridayNight
#HappyFriday
#flashbackfriday
#flexfriday
#blackfriday
#fridays
#fridayfeeling
#Fridaythe13th
#GoodFriday
#FollowFriday
#itsfriday
#sevenfriday
#FridayVibes
#blackfridaysale
#fridaymorning
#tgifridays
#fridayfunday
#fridayfun
#frontendfriday
#thankgoditsfriday
#FridayNightLights
#isitfridayyet
#fitnessfriday
#AlohaFriday
#FirstFriday
#fridaynights
#casualfriday
#almostfriday
#doubleupfridays
#Saturday
Top Results for Saturday Hashtags are as follows:
#Saturday
#saturdaynight
#happysaturday
#saturdaymorning
#saturdays
#selfiesaturday
#smallbusinesssaturday
#saturdaynights
#saturdayvibes
#saturdayselfie
#SaturdayFun
#saturdayafternoon
#saturdaynightlive
#Saturdayevening
#lazysaturday
#saturdaymood
#saturdaynightfever
#saturdayfunday
#lastsaturday
#sexysaturdays
#sexysaturday
#Saturdaymornings
#supersaturday
#SaturdayBrunch
#SunnySaturday
#throwbacksaturday
#everysaturday
#latinsaturdays
#instasaturday
#lastsaturdaynight
#Sunday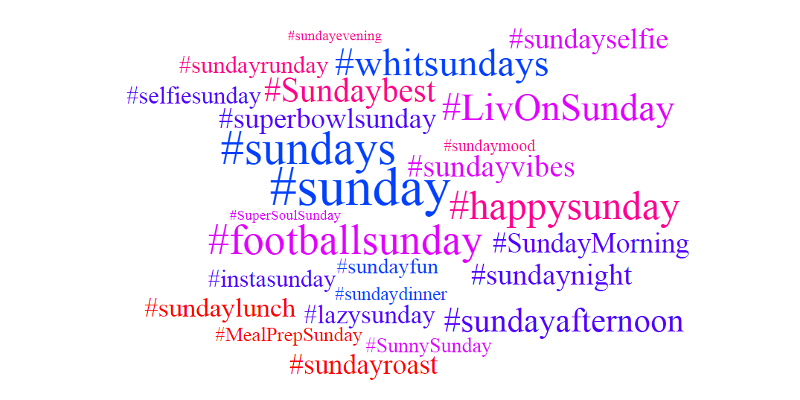 Top Results for Sunday Hashtags are as follows:
#sunday
#SundayFunday
#happysunday
#SundayMorning
#selfiesunday
#sundays
#lazysunday
#sundaynight
#easterSunday
#sundaybrunch
#sundaymood
#sundayvibes
#sundayafternoon
#sundayselfie
#SunnySunday
#sundaydinner
#whitsundays
#sundayevening
#sundaylunch
#sundayfun
#LivOnSunday
#MealPrepSunday
#Sundaybest
#superbowlsunday
#nflsunday
#sundayrunday
#footballsunday
#sundayroast
#instasunday
#SuperSoulSunday
Bonus: Most Popular Hashtags of all time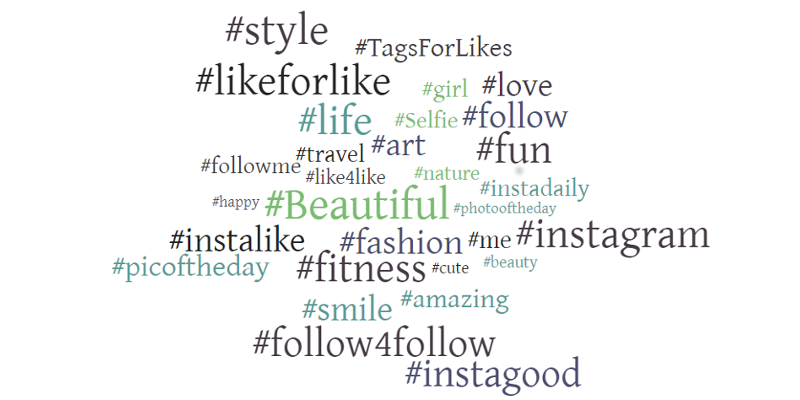 Just to add a little something, something to your daily hashtags strategy, why not try these if they fit your post content as well. Like the old saying goes, If the tag fits...
#love
#instagood
#photooftheday
#Beautiful
#fashion
#like4like
#picoftheday
#happy
#followme
#art
#follow
#instadaily
#style
#instalike
#cute
#life
#Selfie
#instagram
#likeforlike
#fun
#me
#TagsForLikes
#girl
#nature
#amazing
#travel
#beauty
#fitness
#smile
#follow4follow
Contact us
If you have any questions or queries, comment below or contact us here.
Also in this Series:
You might also like
How Chatbots Generate Leads For South African Businesses
A detailed look at how South African businesses have begun to embrace chatbots in their day-to-day operations and how it has helped drive more leads ...
Read more
South African Guidelines For Cryptocurrency Ads
A look at new regulation rolling out in South Africa, which will affect the way companies advertise digital currency and digital asset services can c...
Read more