New AdWords Sitelinks Report Available In Google Analytics
If you're into PPC and running Google AdWords, you should be using site links to improve your click through and gaining a larger search real estate and if you're not, can you really call yourself a paid search marketer? Especially when you're missing out on between 10-15% Increase in CTR (click through rate) according to Google. Site links have become increasingly popular and Adwords has not been shy with rolling out new ad extensions for paid search marketers to froth at the mouth over and beef up their search ads. The most popular extensions are:
Sitelinks extensions
Location extensions
Call extensions
Review extensions
Callout extensions
But there are many others extensions available to you in AdWords.
The feature release
On April 11, 2016, Google Analytics posted "release notes" with a laundry list of features that have been added. If you crave the maximum AdWords data that you can get your hands on, you're going to love this new feature built into Google Analytics. While the release has been over a year ago the report has slowly filtered into accounts across the globe.
How it used to be
Before having this nifty report you might have gone the custom reporting route in order to better track site links performance in your AdWords ads. But Google Analytics has made a chance to now offer Sitelinks reporting as a standard offering in their reporting. Google had mentioned in the past that AdWords site links boost clickthrough rate on average by 10-20%, and for branded terms, 20-50%. Knowing that, plus the data we had access to the in AdWords platform on-site links was enough to keep us happy.
Yes, you can get a fair amount of data on site links by accessing ad extension stats in the AdWords dashboard. Things like clicks, clickthrough rate, costs, average position, etc. This shows you how the individual site links are performing, but we lacked the additional insight on what happened after a click on the site link.
Prerequisite for the report
To get access to this report you will have to sync your Google Analytics account with the Google Adwords account affiliated with your site.
To do this visit your Google analytics account
Select admin
Under properties view
Click all products linking
Select the link AdWords account
Click continue
How it access the report
To access the new Sitelinks reporting, on the left sidebar choose Acquisition -> AdWords section in Analytics and then finally select site links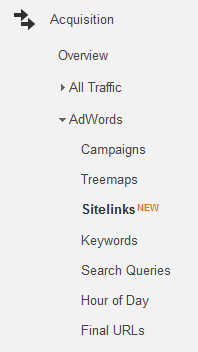 Site links finally have a home in GA
Driving site link data directly into GA not only eliminates old manual tracking practices but makes it easier to build reporting dashboards, do comparisons and run tests. Having all the data in one place will make it easier to provide reports, do A/B testing and ultimately improve the value of site links for paid marketers. Google continues to use Analytics as the place to consolidate its other platforms data making it a more valuable tool for marketers from a range of disciplines. So what do you think of this new site links report? Let us know in the comments section below.
Contact us
If you want to know more about Google Analytics don't be shy we're happy to assist. Simply contact us here Source: Google Analytics release notes
Tags: Data Analysis, Google Adwords, google analytics, Tools
You might also like
Reduce Workplace Injuries On Construction Sites
A review of some of the tactics and protocols construction companies should be putting into place if they want to minimise the amount of on-the-job i...
Read more
Protecting Sensitive Data In Office Environments
We take a look at some of the risks your company faces when collecting and storing data and how you can start to insulate that data from leaks or bei...
Read more