Google My Business and Google Posts Combine Forces
If you've been following our blog in the past you'll know that I'm an avid fan of the Google My Business platform which is continuously giving businesses more real estate and innovative ways to capture users in the organic search space without all the SEO knowledge and efforts. Today Google has taken two of my favourite features and combined them into what I feel will become a staple marketing feature for many brands in the future.
Combining Google Posts and Google My Business to allow users to post updates, offers and more directly into search is a feature to ignore at your own peril. Marketers can now create live posts that display and update in real time and are displayed for brand and brand related search terms. Having complete control over a small piece of search real estate related to your brand can make all the difference if used correctly.
For more on Google posts and how it works, check our article How To Post Updates Directly Into Google Search
Requirements for a Google My business post?
To be able to post live updates into Google search related to your brand you will need to follow the following steps
Register on the Google My Business profile
Verify your profile connection with your site
Verify your location with the verification code sent via postcard
How to create a Google My business post?
If you've used any social media platform like Facebook, Twitter or Google+ then creating a GMB post will be second nature to you. Simply log in to your Google my business profile. Click on the new "Posts" options available on the left navigation panel.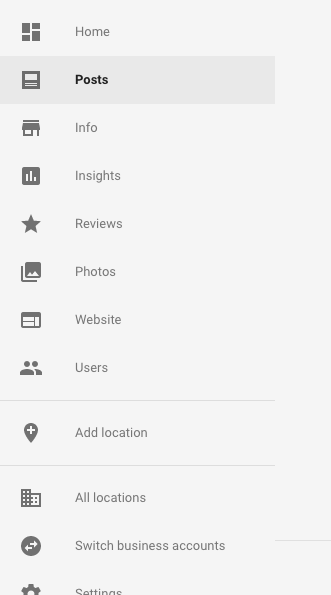 Once you've done that you should be created by an interstitial post creation screen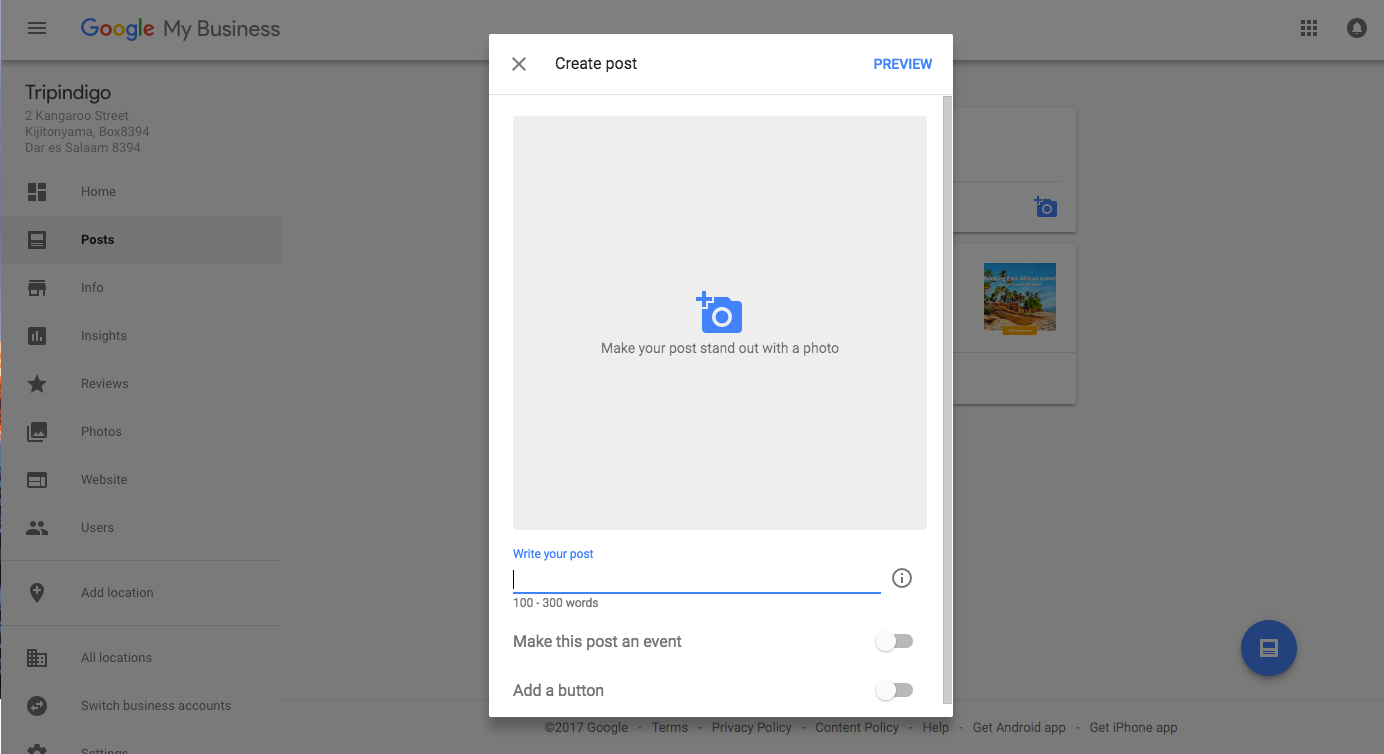 You will then need to include the following
An image. We recommend a 426 x 130 for best results
A post description of between 100 and 300 words
If your post is event based you have the option of creating an event post, if not simply ignore this step
Then select your call to action by selecting the "add a button" slider and choose your call to action. You will have the following options to choose from Learn more, Reserve, Sign up, Buy and Get offer
Finally, supply the URL of the landing page you went users to click through to from the post
Once you've completed your post click preview
If you're happy with the preview, then click publish and you're done.
What does a Google My Business post look like?
Once you've published your post it should render immediately for brand and brand related search terms and can be found within your local knowledge graph underneath your contact details.
Example of an offer GMb post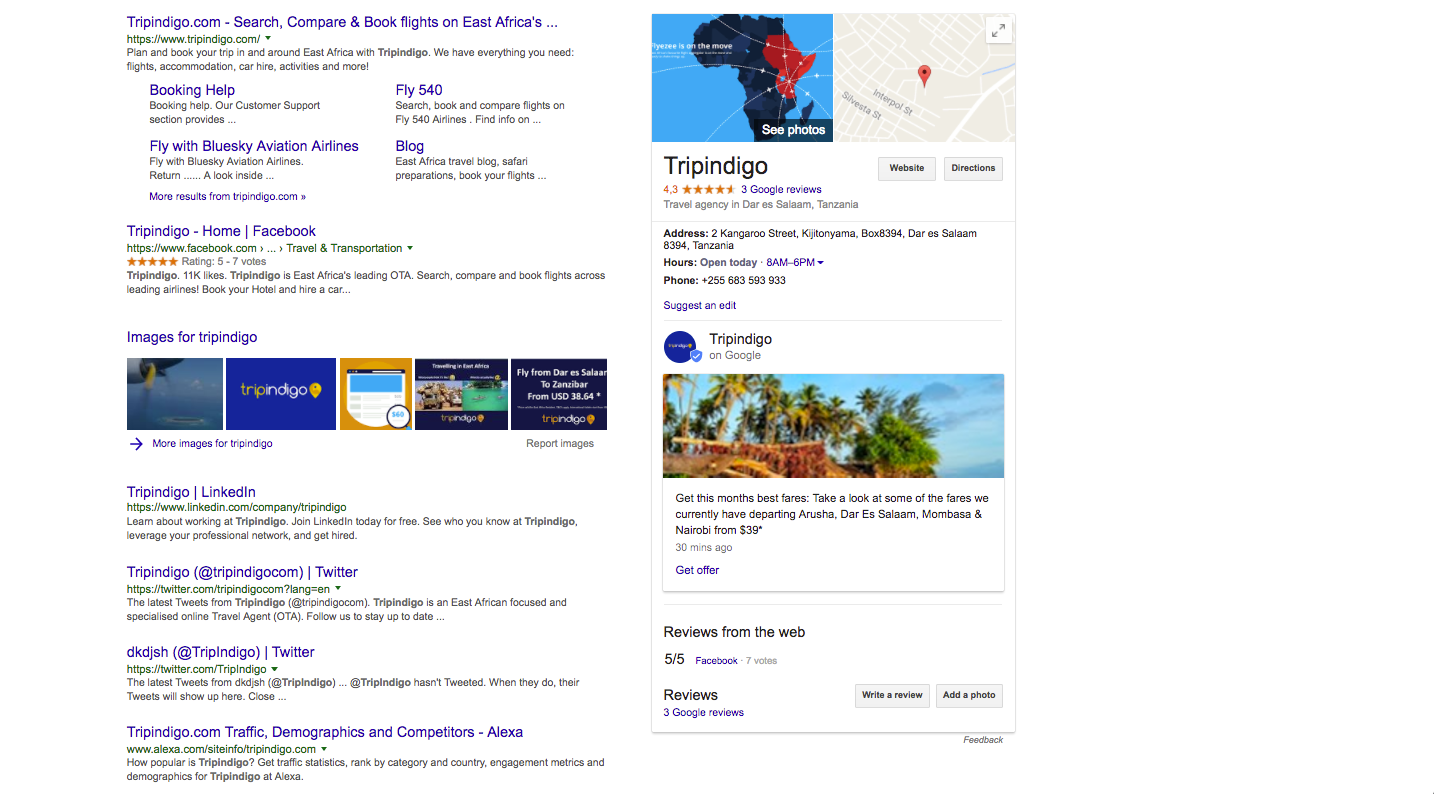 A GMP post for Tripindigo. Note: To replicate this result google the brand term "Tripindigo"
Live updates on your business
Making sure your brand presence is as strong and as dominating as it possibly can be on both desktop and mobile search is extremely important as this forms the baseline for ORM. Making sure your search results are dynamic will not only improve click through but make sure no one is eating into your brand term impression share which is the case for many sites.
I forsee Google My Business posts giving early adopting brands a distinct advantage and I recommend that it should be integrated into your merchandising tools and promotional efforts as quickly and as frequently as possible.
Contact us
If you want to know more about organic search don't be shy we're happy to assist. Simply contact us here
Tags: SEO, organic search, Google
You might also like
South African Guidelines For Cryptocurrency Ads
A look at new regulation rolling out in South Africa, which will affect the way companies advertise digital currency and digital asset services can c...
Read more
83 Black Friday Software Deals 2023
We put together a comprehensive list of software and digital business offering Black Friday discounts on their subscriptions or digital products this...
Read more