Google Closes The Gap On Variant Search
Slowly but surely we're saying goodbye to the tried and tested exact match keyword or exact match phrase search. Google has announced on their Inside AdWords blog that they will soon be making some changes to how the search engine interprets search terms, expanding the current practice to include reordering and rewording of the search terms, in order to deliver more exact results for searchers.
For most marketers invested in SEO, AdWords, and the like this is great news but for some, it could be troubling news, depending on how you've executed your search strategy previously some retrofitting will need to be done.
What is variant search
This update aims to negate the impact of the so-called function words—prepositions (in, to), conjunctions (for, but), articles (a, the), etc.—so long as that doesn't alter the meaning of the initial search.
For many years, close variant matching was the default (optional) setting for the search engine. In the fall of 2014, it became mandatory for advertisers. This change simply takes the existing allowed close variants—common misspellings, singular and plural forms, acronyms, stemmings (-ing), abbreviations, and accented spellings—and adds to them word reordering and rewording (filtering out the function words as mentioned above).
What will change in variant search
Going forward, Exact Match will be somewhat like Broad Match Modifier (BMM), in that both match types can now trigger ads for queries where the search terms are jumbled in any conceivable order. Exact Match differs from BMM, however, in the sense that the query could be [sandals block heeled] and the exact keyword triggered could be [block heeled sandals], which are pretty similar. In BMM, however, the query could be [size 7 blue suede block heeled sandals for women] and the BMM keyword triggered could be +block +heeled +sandals.
It's important to note that this change is mandatory, and advertisers cannot opt-out. It will be rolled out beginning in mid- to late-April of 2017, with a small percentage of traffic and scale from there until all traffic has been subjected to the change.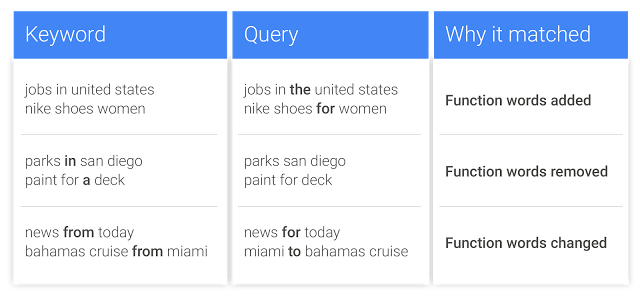 Examples of variant matching searches
Should search marketers be concerned?
No, panicking about function words is unnecessary, although word reordering may seriously change the semantics game. Google has indicated that terms that have the same meaning, but are in a different order, won't match out to word re-orders that insinuate a different meaning.
It remains to be seen, however, if machine learning will really be able to pick up on subtle human nuances of language within the search terms themselves. Marketers shouldn't panic, however, they should be prepared.
Savvy marketers won't be put off by this change, as they are already consistently revising negative lists and ensuring that they are built up for exact match campaigns and ad groups anyway. The biggest concern for some is that we are in a position where we have to trust in the machine-based learning of Google going forward.
This will most likely not drastically change campaign performance. CPCs may increase slightly during the transition and we can expect impressions to increase, but CTRs should still remain healthy, as matched terms won't be drastically different.
What was the reason for the variant search update?
Google is always aiming to make their user experience as hassle-free and direct as possible and this update is no different. Having algorithms do more of the heavy lifting will help alleviate the pressure of building out extensive keyword lists to cover every search term imaginable. This allows marketers to reach those queries they didn't think to build out to and connecting the searcher to their desired results.
It will also drive single pages to rank for multiple terms so see more long-form content rising to the top in a short space of time. Another reason, building of the previous point, might be to increase traffic to your campaign. As previously stated, results will show up for queries that marketers didn't think to build out.
This helps the advertiser reach more potential customers and helps Google benefit from the ad cost increase accrued, this could lead to budgets being exhausted much faster, which is always Good for Google. Another small factor that might have lead to this decision is the issue that as AdWords continues to mature and add functionality through campaign types, ad extensions, various bid modifiers, etc., and account limits become crowded for the larger advertisers.
What steps should you take to stay ahead?
The first actionable step that most savvy marketers will take is to re-evaluate their keywords to make sure that they function during re-ordering without a change of intention, ensuring that their negative lists are updated so there should be little to no issue. Additionally, you will want to:
Monitor Your Search Query Reports: As with any Google update, the details are very vague on what this match type change will do to keywords. You may either see a few "close variant" queries come through on your brand terms, or you could start seeing an abundance of random queries matching your keyword—though this seems unlikely.
Refine Your Keyword Coverage: Based on findings within the search query reports, you may want to look at reevaluating your current keyword coverage and scrub the keywords that overlap with query mapping. You will definitely want to avoid having multiple keywords active that can pick up the same query in order to prevent any CPC increases.
Update Your Negative Keyword Lists: You will want to take steps to ensure that totally irrelevant queries that are being picked up by your exact match keywords will be negated across all your applicable campaigns. While it is counterproductive to go crazy with adding in too many negatives— a potential loss of traffic—you will want to continue making sure that you are targeting qualified queries to avoid any potential CPC increases.
Staying relevant in search
It's a big change, and it will definitely affect how we continue to do business going forward, especially with the fact that this won't be the last instance of this sort of update and we will continue to see enhancements. But, if you take the correct actionable steps, you will be fine, so keep calm and stick to best practices.
Contact us
If you want to know more about SEO don't be shy we're happy to assist. Simply contact us here
Source: Inside AdWords
Tags: SEO, organic search, google
You might also like
Reduce Workplace Injuries On Construction Sites
A review of some of the tactics and protocols construction companies should be putting into place if they want to minimise the amount of on-the-job i...
Read more
South Africas Most Popular WhatsApp Scams
We look at why scams have become so popular on WhatsApp in South Africa and what are the top tricks used by scammers to try and sucker funds out of y...
Read more