Google launches Adwords Ad Bot Pilot Program
Automation has become a buzzword in the digital marketing sphere and is the goal of many tech business offerings. While not many adopted automation within digital marketing that has not stopped Google from playing its first hand. Automation is nothing new in AdWords and has been steadily ramped up within the tool over the years to make paid search marketers lives a lot easier. This month, Google launched a new automation tool. The pilot that adds new text ads to advertisers' accounts. Dubbed Ads Added by AdWords, the program started its rollout on January 26.
While it may sound like good news for some, it's not surprising that this news has set off alarm bells among paid search managers, that worry about Google usurping control over the ad creation and testing process. So is this new bot good or bad? Here is what we know so far about this test.
The initial set of advertisers were notified of the pilot on January 12. For those that chose to participate, ads were added to ad groups two weeks later, on January 26, at which time the second wave of advertisers were notified about the pilot. Currently, 2,000 accounts have been selected for the test. Each has a two-week opt-out window via a form. If you do not receive an email, you haven't been selected for the pilot.
Note: This phase of testing is limited to US-based accounts so South Africans can rest easy for now.
Ad Bot selection criteria
What were accounts considered for this program? Google looked at campaigns with ad rotation settings of either "Optimise for clicks" or "Optimise for conversions" that have ad groups with few ads in them. If you've opted out of automated extensions or are in a vertical with privacy sensitivities such as pharma, your account was not selected for this program.
How does the Ad Bot work?
How are the ads generated? We're told that for the test, the ads were generated by people (as opposed to auto-generated) based on the existing ads in the account and the landing page content. The ads went through review by the product team, among others, for quality assurance. The sales teams were also involved in creative review and account selection for the pilot.
From the Help Center page on this new program, we also know that any ads generated for the pilot will be labelled "Added by AdWords." In the example below (yes, all of the ads are terrible, but try to look past that for now), Google has added two test ads in an ad group that had just one ad. Notice that the headlines, description and paths are all being tested.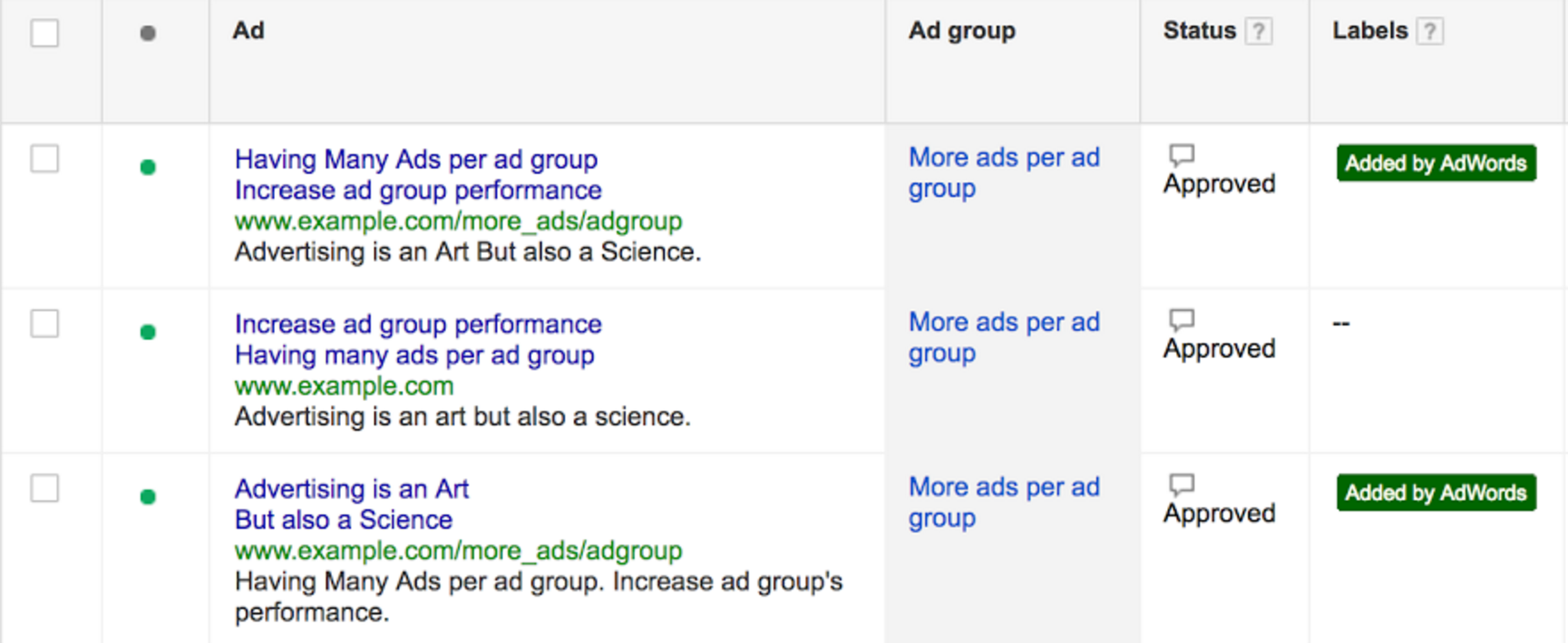 An example of ads added by Adwords
A word from Google
Google says on that Help Center page, "We believe that adding more ads to the affected ad groups can improve these ad groups' performance by 5 to 15%." The new ads are set to run indefinitely, and Google recommends pilot participants not pause the ads. Theoretically, if they perform worse (based on conversion or click-through rates), the ads will be shown less. But certainly, review the ads if you're participating in the test, as Google also advises.
This program obviously raises more questions about advertiser control and the role of machine learning in ad creation. If Google deems the pilot successful and rolls out Ads Added by AdWords more broadly, it's hard to see how the current ad creation and vetting process can scale without automation. One can assume that the machines will be learning from this pilot.
Stay updated
If don't want might miss the notification email from Google about this test, Frederick Vallaeys has been kind enough to write a script for MCC accounts will send an email if it finds automatic ads being generated. You can find it here.
How do you feel about automated ad generation, would it be something you'd use or do you prefer full control over your account? let us know in the comments section below
Contact us
If you want to know more about Adwords don't be shy we're happy to assist. Simply contact us here
Tags: Google Adwords, PPC, SEM
You might also like
5 Tips For Emergency Plumbing Situations
As a home owner or tenant you need to prepared for plumbing issues and break downs or it can cause even more damage so make sure you follow these tip...
Read more
South African Guidelines For Cryptocurrency Ads
A look at new regulation rolling out in South Africa, which will affect the way companies advertise digital currency and digital asset services can c...
Read more