Google Launches Dataset Search Engine
Search engines and Google, in particular, have expanded like crazy in the past few years in order to service the demand for content on the internet. As access to the web becomes, ubiquitous Google looks to remain the front page and gateway of the worlds internet experience. These guys really never rest and make sure we're completely hooked on their range of products for all our data and content discovery needs.
Google dataset search
The kings of the search are back at it again; Google has launched a new type of search engine explicitly designed around helping people find data sets and sources.
This new version of search is called "Dataset Search," and this serach engine provides easier access to millions of datasets across thousands of data repositories on the web.
The new search engine which is still in beta is currently open for anyone to use and Google emphasises the benefits it has for journalists and data scientists.
Why the need for Dataset search?
"In today's world, scientists in many disciplines and a growing number of journalists live and breathe data… To enable easy access to this data, we launched Dataset Search, so that scientists, data journalists, data geeks, or anyone else can find the data required for their work and their stories, or simply to satisfy their intellectual curiosity."
You can try out the beta version
here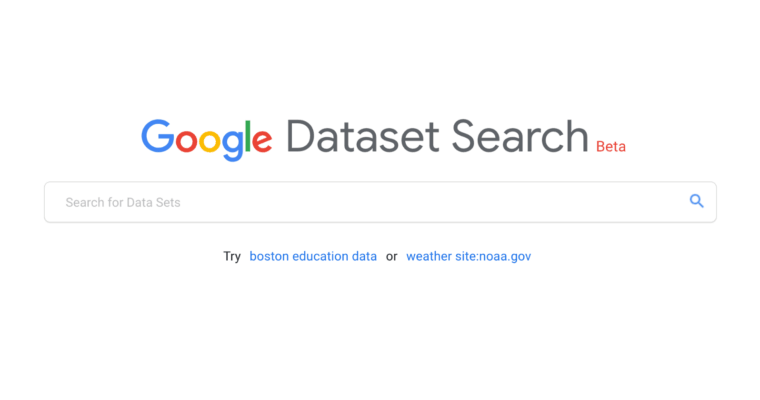 The home screen for Google Dataset search
Where does Dataset search pull its data from?
Similar to how Google Scholar works, Dataset Search lets you find datasets wherever they're hosted, whether it's a publisher's site, a digital library, or an author's personal web page.
To create a Dataset search, we developed guidelines for dataset providers to describe their data in a way that Google (and other search engines) can better understand the content of their pages.
Google's new search engine which was rolled out in July is mainly dependent on the schema markup in order to identify dataset providers. Dataset markup allows publishers to describe their data in a way that Google (and other search engines) can better understand the content of their pages.
What types of data can I find?
Currently, Dataset Search can be used to find references to most datasets in environmental sciences, social sciences, as well as government data and data provided by news organisations.




When more publishers begin using the new schema markup, Google will eventually expand the variety of content included in Dataset Search.




Google encourages dataset providers to utilise these markup in order to have their content included in Dataset Search. Dataset Search provides a brand new search option and real estate which could now put sites that have used schema for ages at a strategic advantage as a preferred source of data.
Getting accurate sources of data
Google's Dataset Seach may seem like a tool purely for academic research but its actually a powerful tool for creating content. You can now find reliable sources of data for case studies in your field of expertise and use that to create superior content and improve your current content marketing strategy.




This is a tool I think digital marketers and specifically SEO and content writers need to consider using regularly.
Contact us
If you want to know more about search engine marketing for your site, don't be shy we're happy to assist. Simply
contact us
Tags: Google Search, search, Tools
You might also like
Protecting Sensitive Data In Office Environments
We take a look at some of the risks your company faces when collecting and storing data and how you can start to insulate that data from leaks or bei...
Read more
Reduce Workplace Injuries On Construction Sites
A review of some of the tactics and protocols construction companies should be putting into place if they want to minimise the amount of on-the-job i...
Read more