Google Maps Gets A Facelift With Redesign
Google Maps is getting an upgrade aimed at putting the information you need most often within easier reach in the app's interface. Using the new interface is simple and with a swipe up from the home screen, you'll now be able to view things like the current traffic conditions – and how that impacts your ETAs to home and work – as well as transit schedules, places to eat or drink, nearby ATMs, pharmacies, and more. The goal, explains Google via a blog post announcing the news, is to provide "helpful everyday info" in real-time, based on your current location.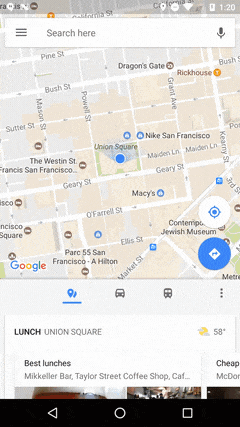 The goal behind the redesign
After swiping up on the home screen, you'll see three new tabs for places, traffic, and transit, indicated by small icons. On the first tab, Google will present its own curated selection of restaurants and bars, organised under various categories like "best dinners," "cheap eats," "business dining" and other categories. Google has been developing these lists of restaurants recommendations for over a year, originally launching its restaurant suggestions in major metros like New York, San Francisco, and London back in fall 2015.
They then appeared in a special "Explore" section within Google Maps. These recommendations later expanded to all markets, and now the feature has been relocated to be more easily accessible right from the Google Maps home screen. In addition to places to eat, this section will direct you to a selection of common daily destinations like ATM, drug stores, grocery stores, gas stations, and other shops. You'll also be able to view the businesses' images and read a short description of the neighbourhood in question, says Google.
Home Screen Places
The second tab will provide you real-time ETAs to home and work, if you have those addresses saved within Google Maps, and will offer a nearby traffic conditions report. There's also a handy feature for those who just want to be kept current on the traffic, but don't need turn-by-turn directions for the daily commute. To use this option, you can just tap "Start Driving" to go into driving mode, and Google Maps will alert you to expected delays ahead.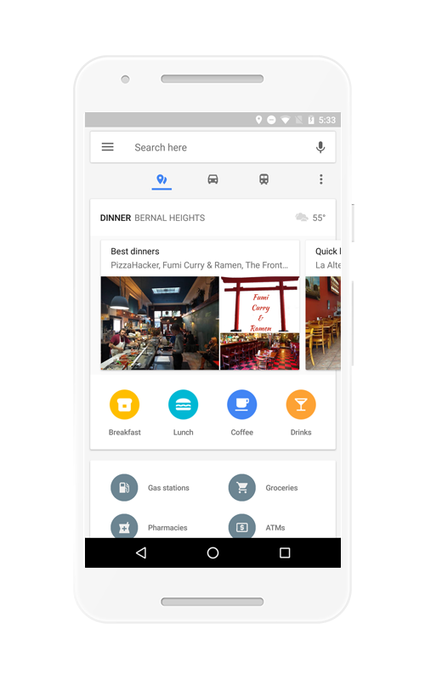 Home Screen Driving
For transit commuters, the final tab will show which bus or train to take, when the next one is arriving, and an ETA for when you arrive at home or work. If you're going somewhere else, you can swipe down for nearby transit stations and real-time schedules. Most of the features offered in the new version of Google Maps have already existed, but this instead simplifies the app's navigation and layout to make it quicker to tap into the various options.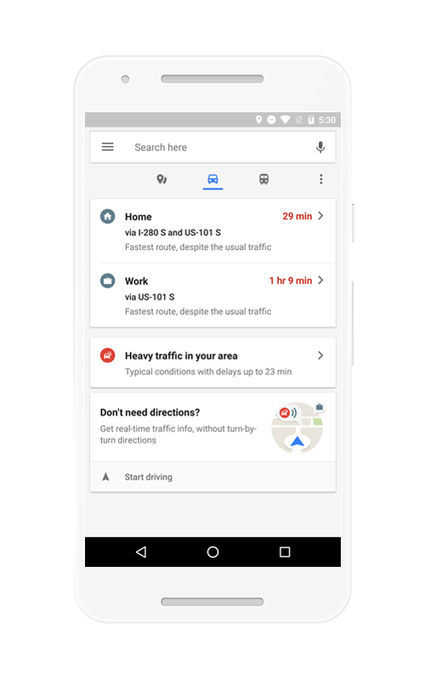 Home Screen Transit
Google says the updated Google Maps is rolling out to Android, starting on the 6th of February 2017, and didn't comment on iOS availability. Typically, however, Android features make their way to iOS after a few weeks or months, given the company's desire for parity between the two applications.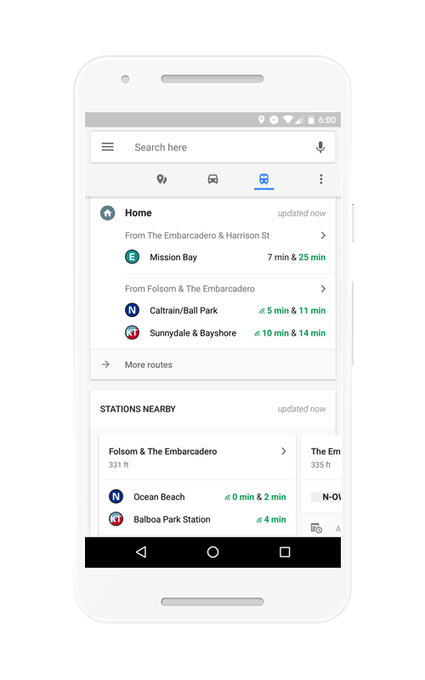 A new look for Google Maps
What do you think of the new Google maps interface? Is it better or worse than the previous design? Let us know in the comments section below.
Contact us
If you want to know more about user experience design don't be shy we're happy to assist. Simply contact us here
You might also like
South Africas Most Popular WhatsApp Scams
We look at why scams have become so popular on WhatsApp in South Africa and what are the top tricks used by scammers to try and sucker funds out of y...
Read more
5 Tips For Emergency Plumbing Situations
As a home owner or tenant you need to prepared for plumbing issues and break downs or it can cause even more damage so make sure you follow these tip...
Read more