Get More Personalisation With Googles News Feed
Google, perhaps more than any other tech giant, holds an astonishing amount of information about you. Your search history alone could be enough to paint a surprisingly vivid portrait of everything, from your current hobbies to your deepest darkest secrets.
Not to mention everything you've ever done in Google's many other services, like Goolge+ YouTube and Maps. Google has used this data in the past become surprisingly good at giving you relevant the most information pertaining to your searches, but they have not stopped there.
Google personalisation continues
Now, Google is taking everything it's learned about you (and everything it's guessed about you) and using it to create a personalised feed. The feed will appear alongside search on Google's apps and, eventually, in your browser and other platforms.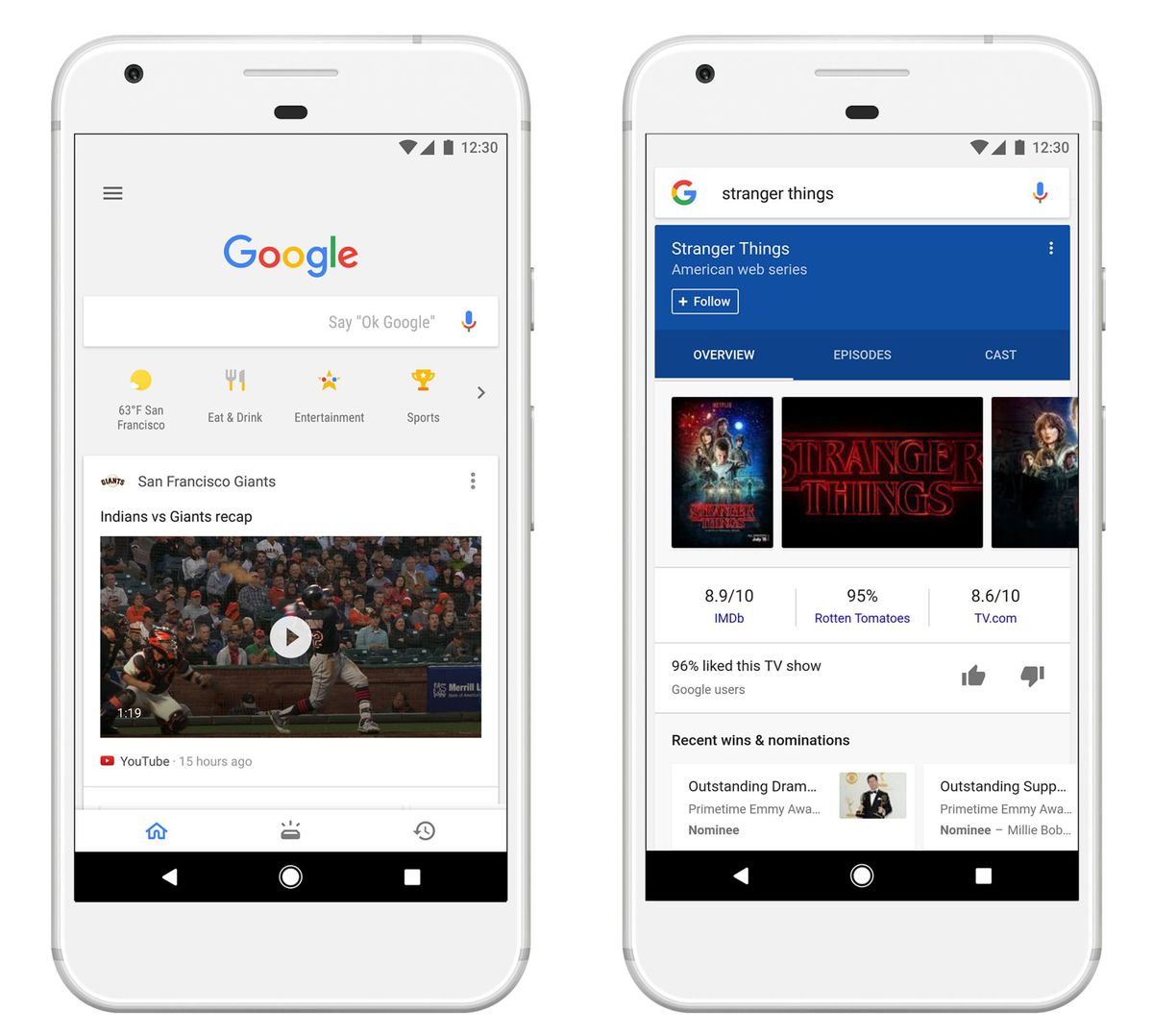 An example of Google Now
This will seem familiar to many users as it does have striking similarities to Facebook's News Feed, only instead of updates from friends, you'll see links to content Google thinks will interest you. The feed itself is a mix of cards with links to news stories, YouTube videos, sports scores, recipes and other content based on what Google's determined you're most likely to be interested in at that particular moment.
It will appear underneath the search box in the Google app, the launcher on the Pixel phone, and — later on — google.com.
If that sounds familiar, that's because the concept of a personalised feed to accompany search isn't entirely new. The search giant has tinkered with various versions of a feed for years — most notably with Google Now, which created a similar interest-based feed as well as proactive suggestions based on what was in your inbox or on your calendar.
How does google feed work?
The feed will appear underneath the search box (left). You can also choose to follow topics directly from search results (right). The feed will appear underneath the search box (left). You can also choose to follow topics directly from search results (right).
IMAGE: GOOGLE
Much more than a repackaged Google Now or Google+
Although the new feed may look similar to what's been in the Google app for some time, the company says it's much more than a repackaged Google Now. For one, it's gotten far more intelligent, according to Vice President of Engineering Shashi Thakur. He says the feed can now discern the difference between topics that are new interests and those that you've been following for a long time.
When surfacing news stories with "multiple viewpoints," it will attempt to showcase "diverse perspectives" and highlight relevant fact checks, when available, he says. (Consider this Google's apparent solution to that pesky filter bubble problem.)
The feed is primarily driven by your search history, but your prior searches aren't the only factors that determine what you'll see. It also takes into account your location, videos you've watched on YouTube, and details it knows based on info from other Google services. If for instance, you're planning a trip, the feed can surface an article relevant to your destination and your interests. You can also choose to follow specific topics from within search results.
There are some downsides
There's a good chance your Google search history is home to at least a few embarrassing or sensitive details that you may not want to be front and centre each time you launch a search (pro tip: incognito mode is your friend). This could be particularly embarrassing if you're in the habit of mixing work and personal accounts. This is the potential downsides to this kind of hyper-personalization.
Google says it has a plan to address these types of issues. Besides being able to explicitly unfollow a given topic, the app will automatically block certain types of content from appearing in the feed, like porn and hate speech. A company spokesperson also said that certain "sensitive interests" — like those relating to sexual orientation and religion — will also not be used in the feed.
You could also opt-out of the feed experience entirely
Google would rather you didn't, of course. While it may not seem like a huge update — depending on how much you use the Google app, you may not even notice the feed at first — Google clearly has big plans for the feature. They plan to roll out the feed to browsers later this year and the company said it could come to more Android handsets and other "surfaces" where people conduct searches from in the future as well.
What does this mean for search engagement and brands?
This sort of hyper-personalisation will only further serve to fragment search results and further convolute rankings making it harder for search marketers to track the real value of a ranking keyword as we move away from this sort of old-school SEO practice.
The feed will also aim to improve time on site for Google, drive more exploration and for the sites, you use normally could see quite a spike in return visitors. These are only my assumptions from years of looking at search and social media behaviour, but who knows how this update will affect the searcher's user journey only time will tell.
Contact us
If you want to know more about search engine optimisation with your site don't be shy we're happy to assist. Simply contact us here
Tags: CRM, SEO, Google, Organic Search
You might also like
South Africas Most Popular WhatsApp Scams
We look at why scams have become so popular on WhatsApp in South Africa and what are the top tricks used by scammers to try and sucker funds out of y...
Read more
South African Guidelines For Cryptocurrency Ads
A look at new regulation rolling out in South Africa, which will affect the way companies advertise digital currency and digital asset services can c...
Read more