Google Rebrands Its Marketing Tools
Digital marketers and online businesses have been relying on Google's various marketing tools in order make a livelihood, and these tools have been a staple in websites arsenal for some 20 or so years.
AdWords and DoubleClick brands are Googles flagship products and provide the majority of their revenue, but these brands will soon cease to be. As part of a comprehensive effort to streamline its offerings, Google's advertising products will receive new names in a total reorganisation to better reflect their current capabilities and where the company sees trajectories for growth.
But as we know Google a simple rename wouldn't suffice, and along with the rebranding, Google will also be introducing some new solutions.
What will change in the rebranding
Moving forward Google will now have three brands:
Google AdWords is now Google Ads.
DoubleClick advertiser products and Google Analytics 360 Suite are now under the brand Google Marketing Platform.
DoubleClick for Publishers and DoubleClick Ad Exchange are integrated into a new unified platform called Google Ad Manager.
If you make use of these platforms regularly you have no need to worry about drastic front end changes as what's under the hood of the products largely isn't changing.
To read more about the rebranding from Google check out the press release here - Introducing simpler brands and solutions for advertisers and publishers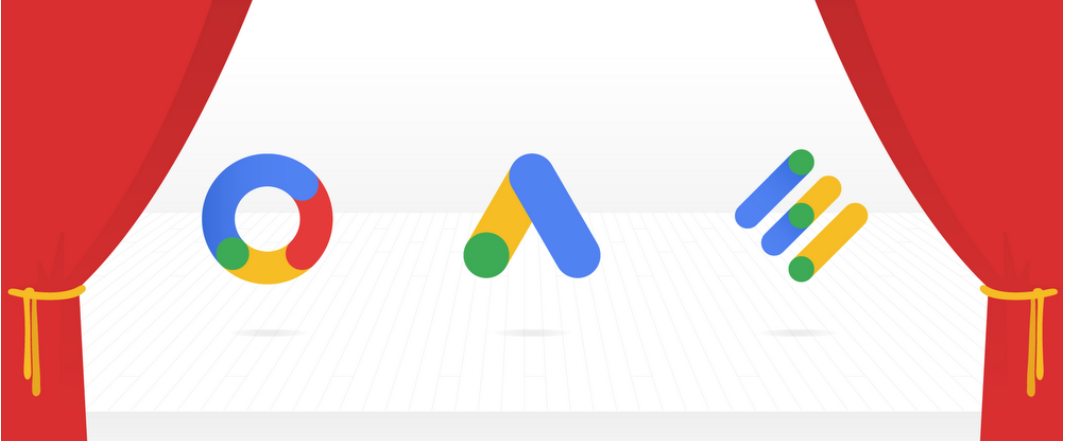 A look at Googles 3 marketing solutions
Why the need for rebranding
Over the past two decades, Google has acquired and developed new ad products, formats and measurement solutions to meet unique requirements. Since then its offerings have become more complex with some tools overlapping. Which made it harder for advertisers, publishers and agencies to identify and select the right Google products for their needs.
The new branding under three buckets makes the starting point for marketers easier to figure out, and new solutions are aimed at helping marketers achieve better outcomes more easily. So what are the new brands? Let's dive in and see!
Google Ads
When it launched in 2000 with roughly 350 advertisers, AdWords was a platform for running text ads on Desktop Search. Google co-founder and CEO Larry Page said at the time. Fast forward some 18 years, and AdWords has evolved into a platform that supports many different ad formats — text, shopping, display, video, app install — across Search, YouTube, Gmail, Maps and a network of partners sites and apps.
Millions of advertisers spend billions on the platform annually and are one of Googles Cashcows.
Clearly, AdWords has outgrown its name, and it was time for a change. As Google's head of ads and commerce Sridhar Ramaswamy said of the new branding in an interview with Search Engine Land on Tuesday,
"With Google Ads as opposed to Google AdWords, it is moving the imperceptible default opinion that you get as an advertiser when you hear 'Google AdWords' … you think, 'Oh, Words. Search.' It's basically a slight cognitive dissonance to all the other great things that we are doing in terms of both the format and surfaces these ads can show. And so, Google Ads, in our opinion, is a much more straightforward representation of what Google advertising can provide. It's that simplicity and alignment of the core message from the first instant you hear the name, which is the goal."
Google Ads launches Smart campaigns
Small businesses continue to present a significant growth opportunity for Google. In furthering the spirit of simplicity, the company announced Smart Campaigns for small companies who don't have the time or resources to manage complex digital advertising campaigns. Smart Campaigns rely on machine learning and, like Smart Display Campaigns and Universal App Campaigns, the ad creative, targeting and delivery are mostly automated.
Google Marketing Platform
For enterprise customers, DoubleClick advertiser products and Analytics 360 are now integrated under the umbrella of the Google Marketing Platform to help them plan, buy, measure and optimise digital media buys in one place.
"Marketers have an increasing need to work across teams," said Dan Taylor, managing director of platforms, "and making that possible is both an organisational and technology challenge."
The inspiration for unifying DoubleClick and Analytics 360 in one platform came from advertisers who were integrating the two products on their own. Google saw that those advertisers who integrated their analytics with their media platform saw better outcomes.
Google launches Display and Video 360
In addition to the rebranding, the Google Marketing Platform also brings with it a solution called Display and Video 360. It consolidates Google's enterprise display advertising products: DoubleClick Bid Manager (DBM), media planning and reporting solution DoubleClick Campaign Manager, rich media ad creator tool DoubleClick Studio and data management platform Google Audience Center 360.
Google's enterprise-level search management platform DoubleClick Search is becoming Search Ads 360
Google Data Studio, Optimize 360, Surveys 360 and Tag Manager 360 are all also part of the Google Marketing Platform.
A new Integration Center that explains how the tools work together and to connect them. Marketers can combine Display and Video 360 + Analytics 360, Google Ads + Analytics 360, and Analytics 360 + BigQuery quickly in the Integration Center.
Google Ad Manager
The final piece in the 3 step program is Google Ad Manager. Which unifies DoubleClick for Publishers (DFP) and DoubleClick Ad Exchange (AdX). Bringing DFP and AdX together has been a three-year process.
Google beat out Microsoft, Yahoo and AOL to acquire DoubleClick in 2007 for $3.1 billion. It was an ad serving solution for desktop display ads. Two years later, Google launched DoubleClick Ad Exchange for large publishers to sell advertising inventory in real time.
Google Ad Manager will help publishers monetise all the new places where people are engaging, such as live streams, connected TVs, Accelerated Mobile Pages (AMP), mobile games and other apps, and platforms like YouTube and Apple News, Bellack explained.
New look for a new direction
The new branding and definitive solutions are aimed at freeing up advertisers to focus more on improving outcomes and less on product selection to keep the momentum going for the next 20+ years.
This is strategic decision to clearly define entry points for various business sizes in order to integrate more users into its entry-level tools and later upsell them into more complex enterprise solutions as businesses continue to scale Google wants to their for every step of the growth cycle.
Contact us
If you want to know more about digital marketing, don't be shy we're happy to assist. Simply contact us here
Tags: Google Adwords, google analytics, google tag manager, Tools
You might also like
South Africas Most Popular WhatsApp Scams
We look at why scams have become so popular on WhatsApp in South Africa and what are the top tricks used by scammers to try and sucker funds out of y...
Read more
5 Tips For Emergency Plumbing Situations
As a home owner or tenant you need to prepared for plumbing issues and break downs or it can cause even more damage so make sure you follow these tip...
Read more