Google Shop Enabled Image Ads Have Arrived
Google text search has become one of the most competitive online marketing landscapes the world over with millions of businesses competiting for attention via its paid search platform Google Ads.
This paid auction for attention consideration has been hugely profitable for Google and is one of the key drivers in its growth and success over the past decade.
Googles 3rd biggest search engine
Seeing as this tool is such a money driver Google is always looking at ways to increase ad spend and offer paid search marketers new tools to use as we've seen with Google shopping ads.
Google's 3rd biggest search engine (since they own YouTube which is technically the second biggest) would be Google Images. Serving up trillions of images a day along with a healthy amount of impressions Google now aims to monetise with a shoppable image ad.
Google images ads
Google is introducing a new type of ad unit that will allow advertisers to display shoppable images on publisher websites.
These shoppable image ads will be displayed on curated content from Google's publishing partners. For advertisers, this is an opportunity to get their product in front of the eyes of targeted audiences. According to Google, a third of holiday shoppers search for images before going out to shop.
"One-third of holiday shoppers said they searched for images before they went in store to shop. The growth of "street style" and online influencers all show the movement towards looking at lifestyle images for visual inspiration."
Google says this new ad unit will benefit publishers by allowing them to offer shoppers a chance to purchase seamlessly.
"For example, a shopper might visit her favorite blog like This Time Tomorrow, and see a selection of visually similar offers after clicking the tag icon in the image."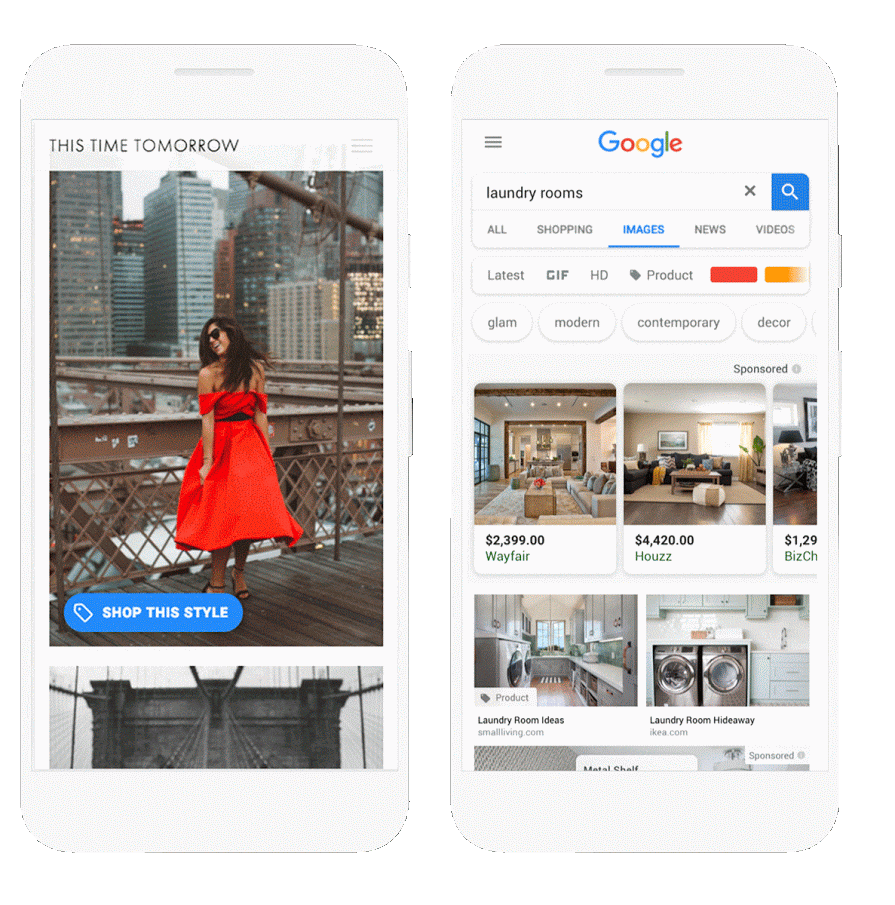 An example of shoppable images on mobile
Shoppable image ads will be rolled out to a select number of publishers at first as a trail and to gather data for optimisation. Once stable Google will go start opening up to more publishers over the next year. Eventually, Google plans to roll this ad unit out to Image Search results.
Dominating a new real estate
When we take into consideration, the low attention spans online and the fact that consumers buying habits are easily stimulated by visuals when compared to text then we can easily assume image ads will be a powerful tool for many eCommerce sites going forward. I've been a long time advocate of image SEO, and I've seen first hand the power of this untapped part of Google search.
For example, you may not rank in Google Search for "Black Leather Bag" but in image search its anyone's game, and with the grid format there is more opportunity to be seen should your picture be of high quality and properly optimised. I think this is an excellent play for smart retailers looking to gain some ground in search marketing.
These retailers will do well to combine image SEO with Google image shopping in 2018 and going forward.
Contact us
If you want to know more about search engine marketing for your site, don't be shy we're happy to assist. Simply contact us
Tags: Google Adwords, Online advertising, paid search, search
You might also like
South African Guidelines For Cryptocurrency Ads
A look at new regulation rolling out in South Africa, which will affect the way companies advertise digital currency and digital asset services can c...
Read more
How Chatbots Generate Leads For South African Businesses
A detailed look at how South African businesses have begun to embrace chatbots in their day-to-day operations and how it has helped drive more leads ...
Read more