Goolge Data Studios Add Third Party Data Sources
Google Data Studio has introduced third-party data connectors via super Supermetrics and a few others to allow you to easily display more data sources in your reports. The new Community Connectors make it possible to easily bring social, display and other platform data into Data Studio.
Sourcing data from multiple sources
Google Data Studio, Google's free tool for creating visual reporting dashboards, now allows you to natively connect to other Google products such as AdWords, Analytics and Google Sheets which was great for reporting but many marketers wanted to consolidate reporting from other channels which were a pain using data dumps into google sheets or setting up an API via google sheets, a taxing and technical process. It is also worth mentioning that importing data from other sources using Google Sheets is not always an elegant or comprehensive solution.
For a look at how to set up custom reports before 3rd party connectors check out our post - How To Create Data Studio Dashboards With MailChimp Data
3rd parties can join the party
Google introduced a beta for third-party connectors with Supermetrics is among the launch partners. Users of data studio will find the new options in the Data Studio Community Connectors Gallery. The native connection enables data from the 20-plus marketing platforms Supermetrics connects with, such as Bing Ads, DoubleClick, Facebook Ads, LinkedIn Ads, Twitter Ads and Yahoo Gemini, to be brought into Data Studio seamlessly.
Users can also connect to multiple accounts in a channel and set a default conversion window when connecting to other channels. Below is a look at the Facebook Ads connector from Supermetrics, which is a paid service and requires a license: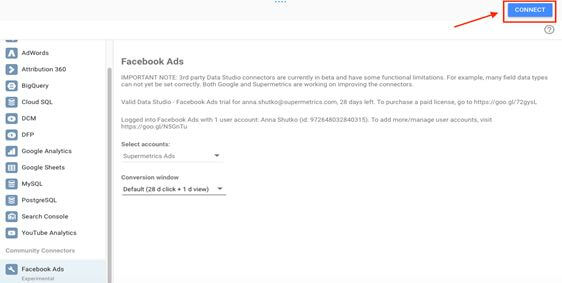 How to connect Facebook data with Google data studios
Benefits of third-party connectors
With this new connection, reports can blend paid and organic reporting from social channels, for example, with data from Google Analytics to get a fuller picture of campaign performance. Or make it easy to show paid search performance from AdWords and Bing Ads side-by-side. Supermetrics' own Google Analytics connector also has an option to avoid sampling. Here's an example of one of the Supermetrics templates for Google Data Studio that shows campaign data from AdWords, Facebook, Twitter and Bing Ads.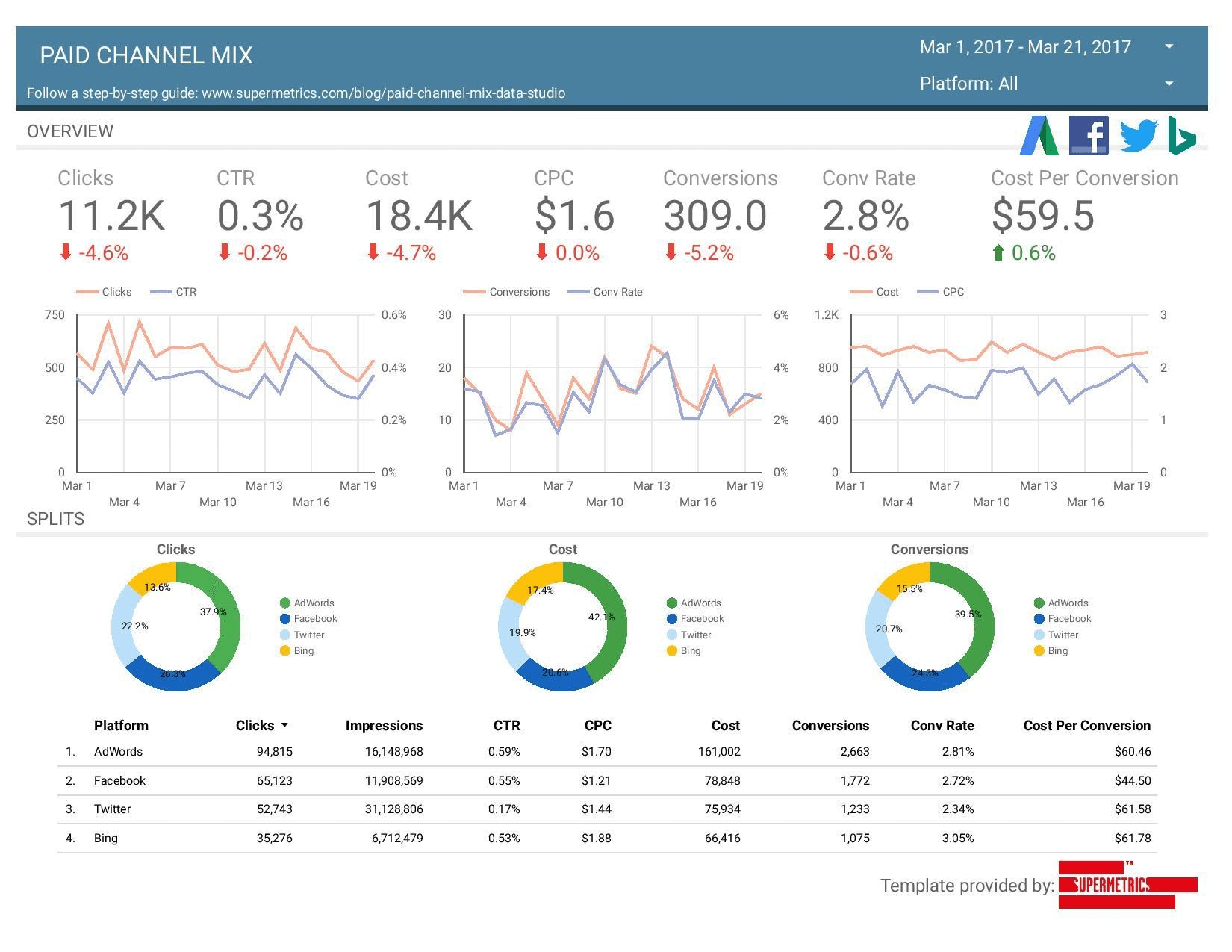 All your paid search data from Bing and Adwords all under one dashboard
Once the third-party connection is established, the process for creating reports is the same as when using Google data sources.
How to connect third-party connectors
Open Google data studios
Click data sources in the menu on your left
Click the + icon in the bottom right-hand corner
Scroll down the list of data sources on your left until you see the explore connectors button and click on it
Then select the connector you would like to use IE Facebook ads
Follow the account integration prompts and you're all set up
Embed reporting dashboards in your site
Along with this new beta, Google has added the ability for users to embed interactive Data Studio reports on their websites. Select Report > File > Embed report, then put the HTML code snippet into an iframe.
Some other updates worth mentioning
Here are some other recent updates:
The ability to export chart data directly to Google Sheets
A new Google Cloud Storage connector
SSL support for the MySQL connector Ability to see the totals in the table visualization
Not quite the complete reporting solution, just yet
While still far off being a complete reporting solution, it is definitely a step in the right direction for Data Studios, but there will still be some teething problems, questionable reliability of the connectors and finally a learning curve and tagging issue when creating your reports from various data sources.
If you're serious about reporting and not keen on waiting for better upgrades and not into dealing with 3rd party issues I would recommend Microsoft's Power BI as a better alternative.
Contact us
If you want to know more about data studios don't be shy we're happy to assist. Simply contact us
You might also like
Protecting Sensitive Data In Office Environments
We take a look at some of the risks your company faces when collecting and storing data and how you can start to insulate that data from leaks or bei...
Read more
South Africas Most Popular WhatsApp Scams
We look at why scams have become so popular on WhatsApp in South Africa and what are the top tricks used by scammers to try and sucker funds out of y...
Read more