How To List Your Services on Facebook
A while back we took you through how to build a Facebook shop, a great marketing tool for users looking to either extract more leads out of Facebook or to even use Facebook solely as their online eCommerce presence. While it's pretty handy for businesses selling a physical product it wasn't really applicable to a serviced base business or a business who provides a combination of products and services.
If you want to know more about a Facebook shop check out our article on how to build a Facebook shop
Thankfully, Facebook has considered the service based business and given you a services tab to showcase your offerings and this is what it looks like.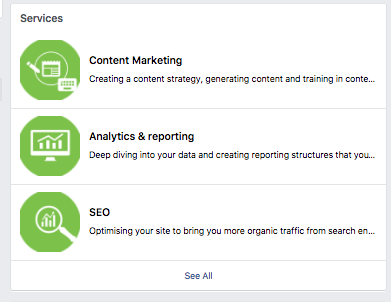 Listing of your services on Facebook
How to list your services on your Facebook page
So how do you get your services listed on my facebook? Is so simple and in a few steps, you're done.
Click Services on the left side of your Page.
Click Add a Service.
Enter the info about your service, like its name, price/rate which is optional and a short description of 200 characters or less and finally a display image.
Then click Save.
To list another service, click Add a Service and repeat the process.
When you're finished listing services, make sure the visible tab is on the right is turned on.
Protip! For services listing images we would recommend using 138 x 138 as the ideal image size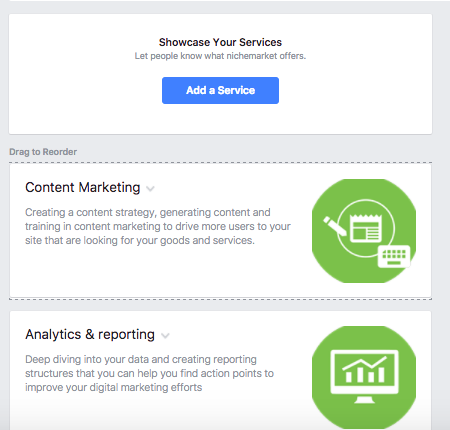 Adding services to your Facebook page - Step 2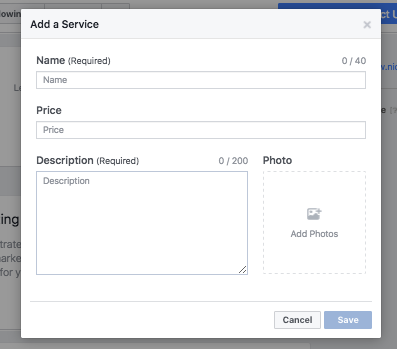 Adding services to your Facebook page - Step 3
Get listed
Once you're done visitors will be able to view your services either by the services tab or within your pages newsfeed.
Bonus tip! To give your services listings a bit more prominence you can have it sit above the fold by rearranging your tabs, under edit page on the settings menu.
Contact us
If you want to know more about social media marketing don't be shy we're happy to assist. Simply contact us here
Tags: facebook, How to, Social Media
You might also like
Resolve vcruntime140.dll error on WAMP in 2 minutes
A step by step tutorial on how to resolve vcruntime140.dll error on WAMP in 2 minutes and get back to working on your local in no time
Read more
Support Local Distilleries By Drinking Any Of These South African Gins
If you are into the growing craft gin scene then here is a complete list of more than 30 locally produced Gins that you can get your hands on and enj...
Read more