Instagram Shopping Coming Soon
Yesterday Instagram announced that they will be going eCommerce with the introduction of Instagram shopping. The photo-sharing giant which reached 500 million monthly active users as of June this year currently enjoys a steady stream of photo updates. Millions of graciously contributed photos per day to the platform have an untapped shopping intent and potential. Now that the user base has been established and businesses have come on board to Instagram with I'm sure a little help and influence from big brother Facebook. Insta has decided to allow more monetisation of the platform in recent months.
Instagram business accounts
One step to monetisation was launching the Instagram business account, which gives users access to reports like reach, impressions, profile views and demographics. You can also boost your post reaches and set up multiple contact points for users visiting your profile, like email or call, giving businesses a little taste of the Instagram audiences.
According to selfstartr, only 36% of marketers are using Instagram for business, compared to the 93% who use Facebook.
Instagram Ads
Then businesses were given a sponsored spot in users Instagram feeds. You can do this via your Facebook for businesses account and as you would facebook set up ad campaigns and sponsor your content, target select audiences, set your spend and daily budget and all that jazz. I won't be going down that rabbit hole so don't worry.
Introducing Instagram Shopping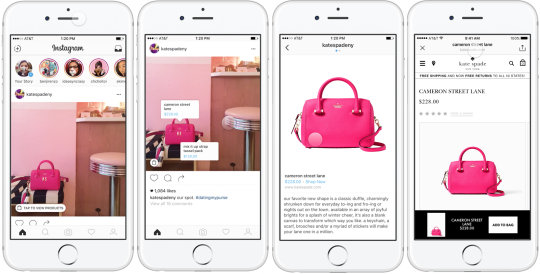 Being rolled out in the US only as of this month, to 20 selected retailers Instagram have given the privilege of testing out Instagram shopping. Many users share images of products they love on Instagram but there has always been a disconnect between "wow I love that" and "how do I get it". Traditionally you would have to leave Instagram and prepare yourself for the longest google image search of your life or DM the person who posted it and hope for the best. So with this user behaviour in mind, Instagram has decided to package a workaround and sell it to retailers.
How does Instagram Shopping Work
It may be basic but what it essentially does is turns your Instagram feed into a digital storefront and the process will be as follows.
Users will see a shopping-enabled photo
It will ll look like a normal photo, except the bottom-left of the image will have a "Tap to View Products" callout
User tap that to see tags laid over up to five products in the photo with their names and prices
Tap one of those tags, and you'll see a zoomed-in view of that product with its description where the caption would normally be
You will also find a button to "Shop Now" where the likes count would normally be
Tap the "Shop Now" button, and Instagram's in-app browser will open to the product's page on the retailer's site
Current restrictions

Unfortunately it does not currently work for video at the moment
Only available for iOS users
Only available in the US
Only available to selected retailers
Do you think Instagram shopping ads would work for your business? Would you try it out? Let us know in the comments section
Contact us
If you want to know more about Instagram Shopping don't be shy we're happy to assist. Simply contact us here
Tags: Social Media, Tools, instagram
You might also like
How To Keep Your Smart Home Data Private and Secure
If you live in a smart home you are creating a wider data footprint that can expose a lot about you, here is how to secure that data or limit data cr...
Read more
A Guide To Earning A Secondary Income In 2022
If you are looking to supplement your income in 2022 because your wages are not stretching as far as they used to, then some of these strategies migh...
Read more