Manage Multiple Locations With A GMB Agency Account
Google has announced that the Google My Business Agency Dashboard is launching this week. They had previously announced that the feature was coming a month ago and they've finally delivered. So what's all the fuss about?
The Agency Dashboard lets local marketing agencies and local SEOs manage multiple listings in a more efficient and productive manner. If you are an agency, you can register to gain access to the new dashboard. Here are the features available within the new Agency Dashboard:
Manage all your locations under one account:
All registered agencies can now manage thousands of locations within a single Organization Account with fast performance—you're no longer limited to 100 locations per account.
Send and receive invitations to manage listings:
The new Agency Dashboard makes sending and receiving invitations to manage Google listings easier. You can view the status of all of these requests right from the agency dashboard.
Location Groups:
To simplify location management, all locations within an Organization account are now required to be contained within a location group(previously known as a business account). Agencies can request access to a customer's location through a location group, or customers can invite an agency's location group to co-manage their listing
User Groups:
User Groups enable agencies to effectively manage teams and control access to their location groups.
Search:
The Agency Dashboard lets you efficiently search for locations within your entire account or within a particular Location Group.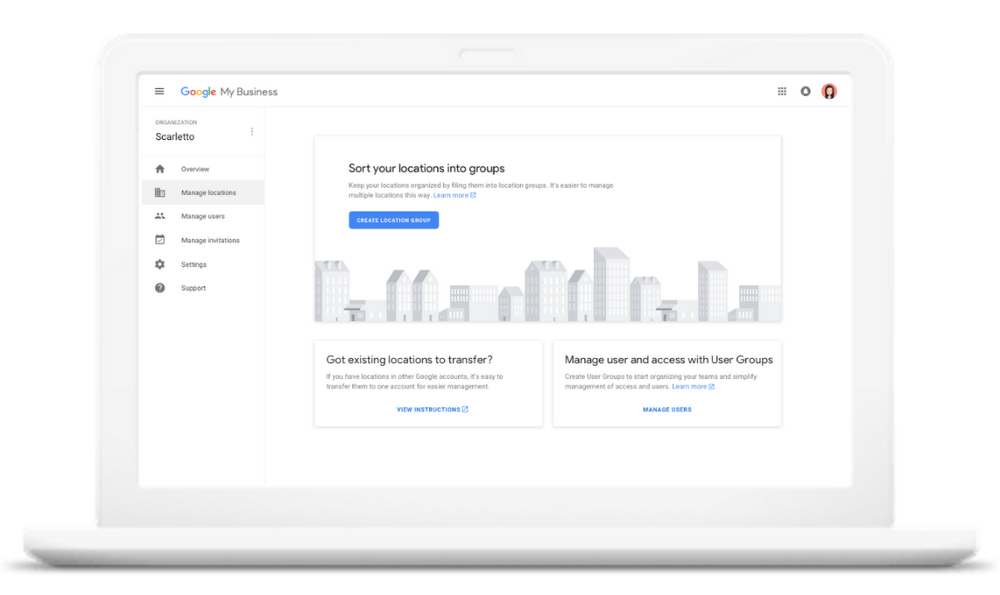 Example of the GMB agency dashboard
Register your agency on Google My Business
Google My Business now allows agencies to register directly with Google and receive exclusive benefits. Registered agencies can enjoy more robust account management options and Google support that's tailored to their needs.
Benefits of registering
The benefits of registering your agency with Google include:
Google support that's focused on agency-specific needs
Account structure that's designed for third parties to manage all their listings under one account
Ability to create user groups to manage teams within your agency
The new and improved process to manage invitations via your agency dashboard
Get started
To start the registration process:
Click Start now.
Follow the instructions to register. (You'll need a new Google account that doesn't own any listings.)
Get organized
Once you register your agency, you can easily structure your team and listings more efficiently from your agency dashboard. Once you get access here are five steps to effectively organize your agencies' locations and users:
Register your agency on Google My Business using a Google account that doesn't contain any locations or location groups.
Create a location group to start managing locations. You can create more than one location group.
Get access to your customers' locations

Individual locations: Request access to a single location, or have the customer invite your location group using the location group ID
Location groups: Have the customer invite your organization using the organization ID.

Create user groups to give people in your organisation access to specific location groups. Invite users to join your new user groups.

Note: Users can only join a user group if they don't have any locations or location groups in their account. If there are locations in their account, users will need to remove access to any locations and location groups before accepting the invite.

If you already manage locations and locations under other Google accounts, migrate them to your organisation account.
What is Google My Business?
If you're not familiar with Google My Business, then allow me to give you the grand tour. GMB is a free and easy-to-use tool for businesses and organizations to manage their online presence across Google, including Search and Maps.
All you have to do is submit your listing to Google, and once it's verified, it will be displayed in Google Search for brand terms and certain location-based queries. GMB also allows you to make live edits your business information and can help customers find you and keep them informed.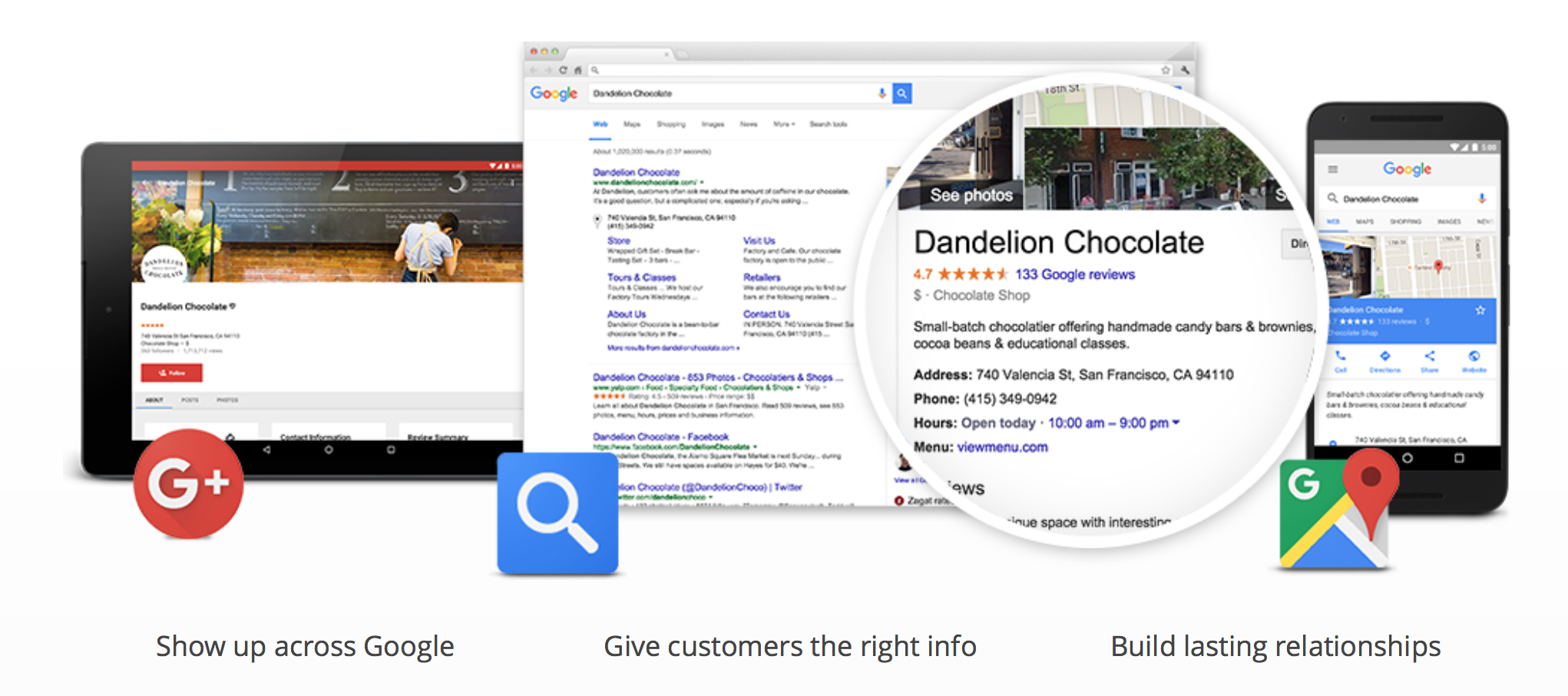 An example of a Google My Business listing
Benefits of Google My Business
Market your business
GMB lets you easily manage the information that Google users see when they search for your business or the products and services that you offer. Google has stated that businesses that verify their information with Google My Business are twice as likely to be considered reputable by consumers. When people find your business on Google Maps and Search, make sure that they have access to information like your hours, website, and street address.
Community management
GMB also allows customers to provide feedback and have their say on interactions with you're business. Read and respond to reviews from your customers, and post photos that show off what you do. Google says that companies that add pictures to their listings receive 42% more requests for driving directions on Google Maps and 35% more clicks through to their websites than companies that don't.
Insights
See insights on how customers searched for your business, and where those customers are coming from. You can also see information like how many people called your company directly from the phone number displayed on local search results in Search and Maps.
Manage multiple locations
If you are an agency that manages multiple businesses listings or you're the marketing team for a multi-national or international franchise you can now rejoice in the fact that those manual updates of one account at a time are a thing of the past.
Contact us
If you want to know more about Google My Business, don't be shy we're happy to assist. Simply contact us here
Tags: Google Search, How to, Tools
You might also like
83 Black Friday Software Deals 2023
We put together a comprehensive list of software and digital business offering Black Friday discounts on their subscriptions or digital products this...
Read more
Reduce Workplace Injuries On Construction Sites
A review of some of the tactics and protocols construction companies should be putting into place if they want to minimise the amount of on-the-job i...
Read more