#Roastmysite with nichemarket
nichemarket was started a little over two years ago, and in that time we've reviewed and audited a range of different websites all with their own unique pros and cons. We've worked on websites built with different technology, across various industries, countries and sizes but ultimately all of them were looking to achieve the same goal, and that was to attract more visitors. While working on these websites, we also began to blog about some of the industry changes, strategies and tools we used and built an award-winning business blog in the process.
The feedback from our blog has been tremendous (see website traffic stats below) and while many visitors find these articles useful there are great many who won't since they don't even realise the issues plaguing their websites. In order to help website owners identify problems with their sites, we've launched the #Roastmysite project.
What is the #Roastmysite project?
The #Roastmysite initiative is aimed at educating website owners and helping them identify key areas which they can focus on. Providing guidelines that will help their understanding of websites, improve rankings on Google, align their website with Googles best practices and finally build healthy sustainable traffic in order to achieve business goals. Whether you're an eCommerce site, SAAS business or a service orientated business we can all do with some more targetted website traffic, am I right?
How to enter #Roastmysite
Scroll down to the bottom of this post and comment with a link to your website
Share this page on any of your social media pages (Facebook, Twitter, LinkedIn or Google+)
Tag the post with the hashtags #nichemarket and #roastmysite
Then wait for us to respond :) As soon as we pick up your entry we'll have a look at your site and provide you with 10 key issues you should look at addressing at no cost.
Protip! Tag our us in your social media post if you really want to stand out and grab our attention. You can find the links to our social media pages above in our main menu
The proof is in the traffic
According to the Google Analytics account, our digital marketing blog received 211,971 visits from 01 January 2017 - 31 December 2017. Our primary traffic driver is organic traffic with 148,575 visits making up 70% of our traffic.
We think this is a strong indication that there is a significant demand for content around digital marketing and that we know what we're talking about :P
We'll continue to support the digital marketing community with our content so look out for new articles each week or sign up to our newsletter and get the latest articles mailed to you.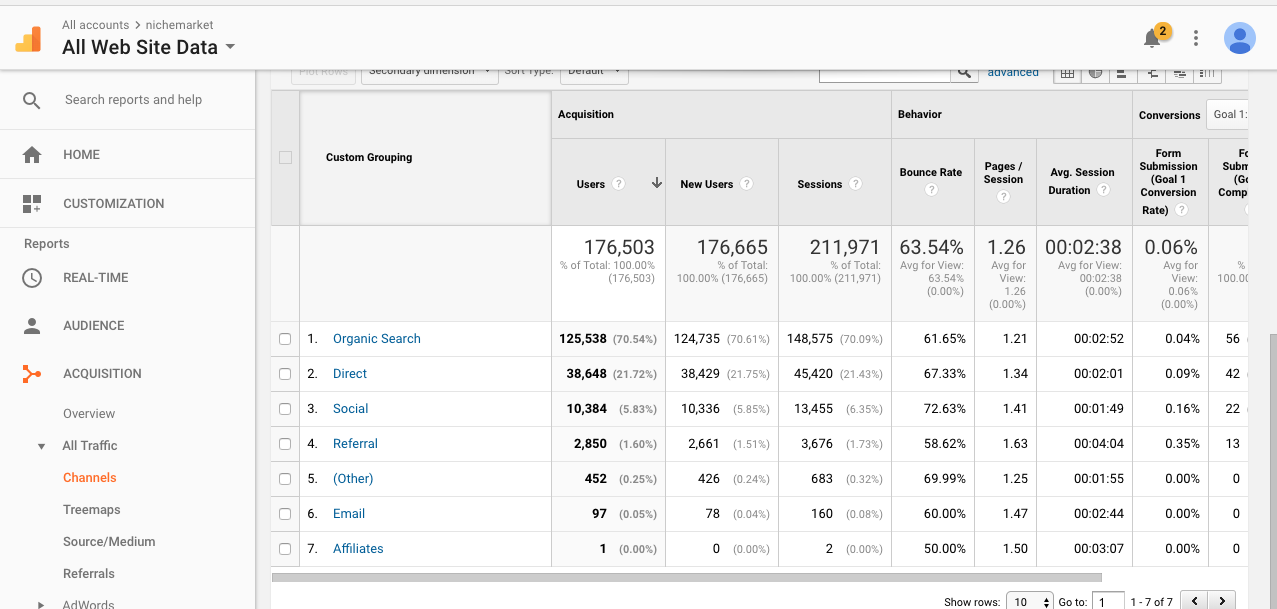 nichemarket website traffic stats from Google Analytics (click image to enlarge)
Contact us
If you want to know more about SEO don't be shy we're happy to assist. Simply contact us here
Tags: Content Marketing, SEO
You might also like
83 Black Friday Software Deals 2023
We put together a comprehensive list of software and digital business offering Black Friday discounts on their subscriptions or digital products this...
Read more
How Chatbots Generate Leads For South African Businesses
A detailed look at how South African businesses have begun to embrace chatbots in their day-to-day operations and how it has helped drive more leads ...
Read more