Is Your Site Seeing Ghosts?
When there's something strange in your website stats who you gonna call? Digital marketers aka the traffic ghost busters! Seeing as Halloween is right around the corner I thought it would be the perfect time to tackle the topic of ghost traffic.
What is ghost traffic?
A supernatural entity from the spam family and a very popular issue when it comes to skewing website analytics are called ghosts. These spooks got the name because they never actually access your site but show up in your analytics report. How is that even possible? As unusual as it sounds, this type of spam doesn't have any interaction with your site at all and that face is important to keep this in mind, as it's key to creating a more efficient solution for managing these traffic ghouls.
How do ghosts haunt websites?
They do it by using the Measurement Protocol, which is an API that allows people to send data directly to Google Analytics' servers. Using this method, and probably randomly generated Google Analytics tracking IDs (UA-XXXXX-1) and then leave a "visit" with fake data, without even knowing who they are hitting.
How do i find ghosts and spam bots?
These little buggers normally lurk within your organic and referral traffic channels. Once you filter into your traffic sources by medium you may see a few sources pushing high volumes but with either a 0% or 100% bounce rate. Once you have your suspicions you can confirm them by adding a secondary dimension "hostname" and if any of those sources return a "Not Set" hostname, then my friend, you have a ghostly infestation on your hands.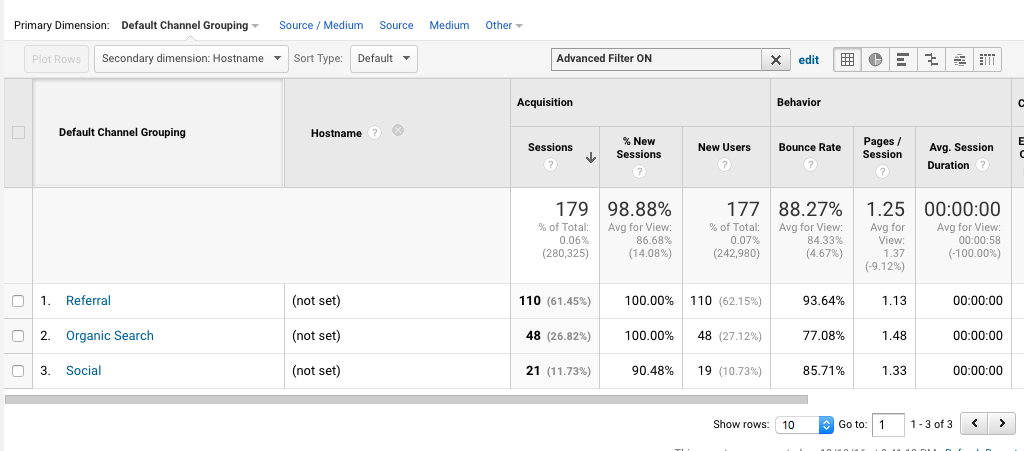 How do i expel ghosts from my analytics?
If you've dealt with spam before we're you may have used one of the following techniques which unfortunately won't work on ghosts.
Blocking ghost spam from the .htaccess file
Using the referral exclusion list to stop spam
So now that we know these ghosts have no soul or rather no hostname we can use that to create an exclusion and rid them from our site for good. You can do this by creating view filters which if done incorrectly can further skew your data so make sure you know exactly what you're doing or work on a duplicate profile before applying view filters. Since I've never been a fan of filtering out data because I always want to have the complete view of everything that goes on within my websites analytics. I recommend using the custom dashboard or shortcut feature. Simply create the exclusion while under acquisition and channels and save it to your dashboard or shortcuts to refer back to later when you want to look at clean data for reporting.
Contact Us
If you want to know more about ghost traffic don't be shy we're happy to assist. Simply
contact us here
You might also like
How Chatbots Generate Leads For South African Businesses
A detailed look at how South African businesses have begun to embrace chatbots in their day-to-day operations and how it has helped drive more leads ...
Read more
Protecting Sensitive Data In Office Environments
We take a look at some of the risks your company faces when collecting and storing data and how you can start to insulate that data from leaks or bei...
Read more