How To Take Advantage of Personalised Marketing
Marketing personalisation and 1 to 1 communication strategies have been popular buzzwords in the digital marketing sphere and while very popularly mentioned is very rarely used and when used poorly executed by many sites. Marketing personalisation goes far beyond having a user profile and a Hi, username greeting upon login in, which most sites deem enough to claim they their site is personalised.
It's about adapting the site and its offerings to individual user segments, behaviour and interests and giving users an optimised path to find exactly what they want faster than before.
The research behind personalisation
Research shows that consumers are hungry for more personalised marketing and as a millennial I am a real-life example. I'm happy to provide information to sites on my interests so they can tailor my search results better. This is evident on how relevant my Youtube and Google+ feeds are, with around 85% likelihood of showing me exactly what I'd find interesting or amusing.
As a generation, 63% of Millennial consumers and 58% of GenX consumers are willing to share data with companies in exchange for personalised offers and discounts. This finding, from the recently published "State of the Connected Customer" report, shows that consumers are craving more customised marketing. For these Gen X (those ages 35–51) and Millennial consumers, personal data is a small price to pay in exchange for personalised in-store or online shopping experiences, or for product recommendations that match their needs.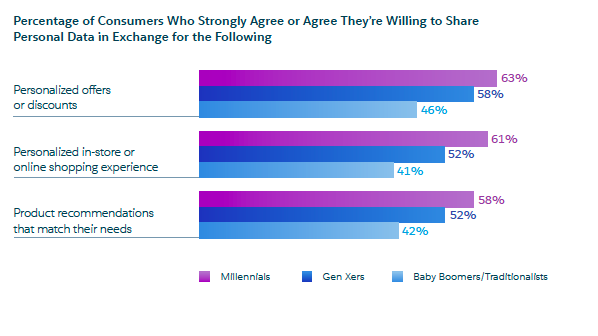 The beauty of personalisation
The goal of marketing has never been forcing a message down customers throats, but an experience, a referral, something as close to word of mouth as possible. When consumers feel like they're spoken to directly, they become attached the brand and eventually fall in love with the brand. Ever heard of Romancing the customer? The personalised marketing experience can remove the footwork that's usually required on the customer's part, it doesn't feel like marketing. It feels like an easy interaction with a company that "gets" them.
Seventy-two percent of consumers expect companies to understand their needs and expectations.
Ways to personalise a digital experience
To truly create a personalised experience second to none, one that will keep users coming back for more, making you their preferred destination and recommending you to their network takes an enormous amount of data collation. The more data you have, the more intimate you can be, the more intricate your implementation, the more meaningful the message and finally more customer lifetime value, which is what businesses are after. So how do you set up touch points to gather the relevant data? You can start with the following:
1. Leverage their friendship circle
Recommendations from friends
Referrals from friends
2. Interests and Habits
People of similar interests
Customer visit, browse and purchase history
Geolocation
3. Gather qualitative data
NPS measurement score
Site Polls
Site surveys
Chatbots
4. Analytics
Social media interest segments
Google interest segments
Remarketing lists
Paid and organic searcher intent
Implementing personalised marketing
Once you've gathered enough data you can start mapping out distinct user behaviour which you can then entice or encourage using your CRM strategy. Firing off personalised emails, app push notifications, personalised on-site prompts, optimised feeds and conversion funnels and so much more. In 2017, look to giving your users the gift of a more personalised experience and I guarantee you will have more satisfied customers more often.
Contact us
If you want to know more about personalised marketing don't be shy we're happy to assist. Simply contact us here
You might also like
Protecting Sensitive Data In Office Environments
We take a look at some of the risks your company faces when collecting and storing data and how you can start to insulate that data from leaks or bei...
Read more
Comparing Boarding Schools In England And Switzerland
What are the features of boarding schools in England compared to boarding schools in Switzerland, and why do they differ so much from one another
Read more