How To Effectively Track Your One Page Site
The beauty of the web lies in that there is no single coding language, framework, strategy or style that is ultimately superior. It's all about using the ones that correctly satisfy the product you're aiming to build and that is true for one-page websites.
As technology has improved and resources become better optimised, as mobile devices have risen to prominence on the web, so too has one-page websites. The one-page website has become a popular option for many businesses. All for different reasons from branding sites, catalogue sites, user portals gaming, one-page sites can fit them all.
Rise in popularity
Google has even begun to take note of the growth in one-page sites and is slowly adapting its search engine bots to be able to engage with these sites and attribute it to relevant queries. It also promotes the use of Angular which is a front-end framework ideal for one-page execution.
User experience benefits
So now that we've taken care of the business needs one-page sites satisfy, it's only right that we look at the technical advantages it provides. One-page sites offer several UX benefits and plenty of UI designers opt for one-page execution as far as possible. So what are these benefits?
It's seamless, intuitive and easy to digest
Today, when you land on the average website you are greeted with a few prominent trends: a large image slider, top or side navigation, the main body of text/images/icons and a sidebar with various links, images and CTAs which with minimum effort can be found and understood by the user.
It's better for conversion
None of the above would be worth anything if they did not result in higher conversion rates. Sure, beauty, design and a good story are all great in and of themselves, but in the context of building websites, there really is one metric that matters most: Conversion. This is where a single page website is at its best. It's simple, straightforward design combined with a great story and visceral interactions propel site visitors along a single path towards that final goal. It's more focused than a standard website and more elegant than a mere landing page. The numbers have proved it works best again and again.
It's better for mobile
Mobile devices are about speed and mobile users crave it, one-page websites are usually very light in terms of server calls and resources needed and also with a single page load call it makes the mobile experience a delight.
It's easy to update and improve
Not only does a pageless design convert better by default, but making changes based on analytics and user feedback is easier, faster and more effective. It's easier and faster because there's only one page to deal with. Instead of trying to weave a good user experience across multiple pages you've already crafted a concise and powerful one-page story. Now all you have to do is tweak the specific details and interactions you've created in order to make them even more satisfying than they already are.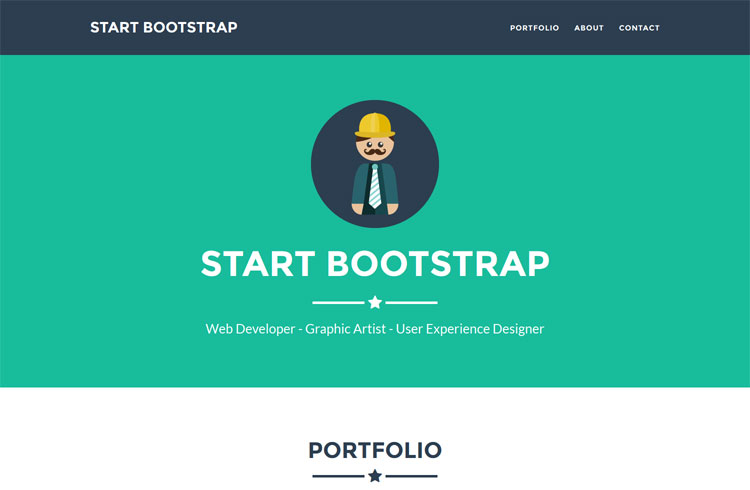 Example of a one-page website template using Bootstrap
Tracking one page sites correctly
Tracking a one-page site isn't as straightforward as it may seem when using Google Analytics. Google Analytics is a tracking tool based on a page view model and with only one-page load/page view it's very easy to get skewed results. Normally one-page sites not tracked correctly will have an extremely high bounce rate and a large time on site.
But wouldn't you like to know what your users were doing on your site for all that time? Then add the following tracking to your one-page site to find out
Page view tracking
As I've mentioned before having a one-page site and using a page view based tracking tool doesn't sit well with each other, so to get them to talk to one another you will need to initiate virtual pageview tracking. This can be done on certain clicks you determine/pre-defined as a would-be a page view, once you install your virtual pageview tracking you can start building behaviour flows and find blockages and leakages in your user flow
if your using # fragment urls in your one page site check out How To Track # Anchor Tags as URLs
Click tracking
Click tracking can be added to anchor text, divs, buttons and images and can give you a sense of which elements work best in driving the click on your site.
Event tracking
If you have elements like sliders, lightboxes or modals on your one-page site, event tracking is perfect for tracking the effect of these elements.
Scroll depth tracking
Since all your users time is spent on one page, one page sites can be exceptionally long and scroll tracking can give you insights into how deep down the rabbit hole goes, which content should be placed above the fold and which can be placed below the fold.
eCommerce tracking
Tracking purchases is naturally a key metric every site that has an eCommerce flow. Adding eCommerce tracking to your one-page site along with the tracking I've mentioned above will open up datasets that will provide real value.
Once you've installed eCommerce tracking you GA will then be able to attribute sales to elements in your event and click tracking, while also providing you with the most profitable pages on your site. You will also be able to map out user flows and behaviours, create user funnels to conversion and so much more.
Note: These tracking strategies can be one manually or via google tag manager
One page of insights
Once you can effectively track your one-page site's performance you will be able to gather a wealth of data. Data you can use to make UX changes and technical updates to further improve and customise the experience your site offers and ultimately get more conversions.
Contact us
If you want to know more about email marketing don't be shy we're happy to assist. Simply contact us here
Tags: google analytics, How to, tracking
You might also like
3 Tips To Rekindle the Emotional Connection in Your Marriage
If your emotional connection in your marriage is on the rocks and you want to avoid separation then here are a few tips you can use to keep things mo...
Read more
5 Tips To Choose Top-Notch CBD Products
If you are thinking of buying CBD products but do not have the first clue how to review them for strength or quality then this checklist is the ideal...
Read more