Twitter Testing Out Premium Subscription
In the world of online advertising, Google and Facebook continue to dominate the market and have done a great job of monetizing their platform, improving the value for advertisers and publishers alike. As for Twitter, they've struggled to keep up with the pace and really maximise the monetization of their user base. As Google and Facebook continue to improve their self-service advertising platforms Twitter has been busy quietly.
They've been trying to come up with an angle that both different and useful to businesses and marketers, to try and squeeze into the money advertising budgets brands make allowances for in online advertising. So how do they plan on doing this?
Subscription advertising
Twitter is testing a premium subscription plan designed to boost the reach power users and small businesses get from their tweets, a bid by the struggling company to tap into a larger pool of advertisers.
How will Twitter Subscription advertising work
For Twitter users who were invited and pay $99 per month, Twitter will automatically promote your account's tweets onto people's timelines that don't follow your account. Twitter's advertising products already allow users and business to pay to promote their tweets to a broader audience. But the subscription is aimed at people who may not be experts in online marketing or Twitter ad campaigns and would prefer a service that does it automatically.
This model is aimed at targeting a wider range of businesses and first-time Twitter advertisers to try and lure them into their ad platform. A low risk and low barrier to entry look like a solid plan, however, Twitter will need to provide valuable traffic, leads and conversions if they are to make the subscription package sustainable.
By invite only
The "private beta" program is aimed at small businesses and individuals - not big brands. Twitter confirmed that the subscription is currently being tested with a small set of accounts that had previously advertised on the social network. Some Twitter users, including anonymous personal accounts, received an invitation to try the service free for the first thirty days on Friday. "We've developed a way for you to grow your following and have your Tweets reach more people without creating ads or managing campaigns," according to a page on Twitter's business site about the program.
Limitations of the new service
The way it works is that you tweet from your account as you normally do, and Twitter will programmatically select tweets to promote into other users' timelines - "the extent each Tweet is promoted may vary based on performance," according to an FAQ about the trial. "Retweets, Replies and Quoted Tweets will not be promoted, but, at this time, you cannot customize which original Tweets will be promoted," reads the FAQ.
So users can't select individual tweets to promote in this trial. But they can target either a metro region, such as New York, or an interest, like "technology and computing." One big reason why Twitter users might subscribe to a service like this is to potentially gain additional followers. At the end of every week, Twitter will send subscribers a "report card" with "additional reach, followers, and engagements."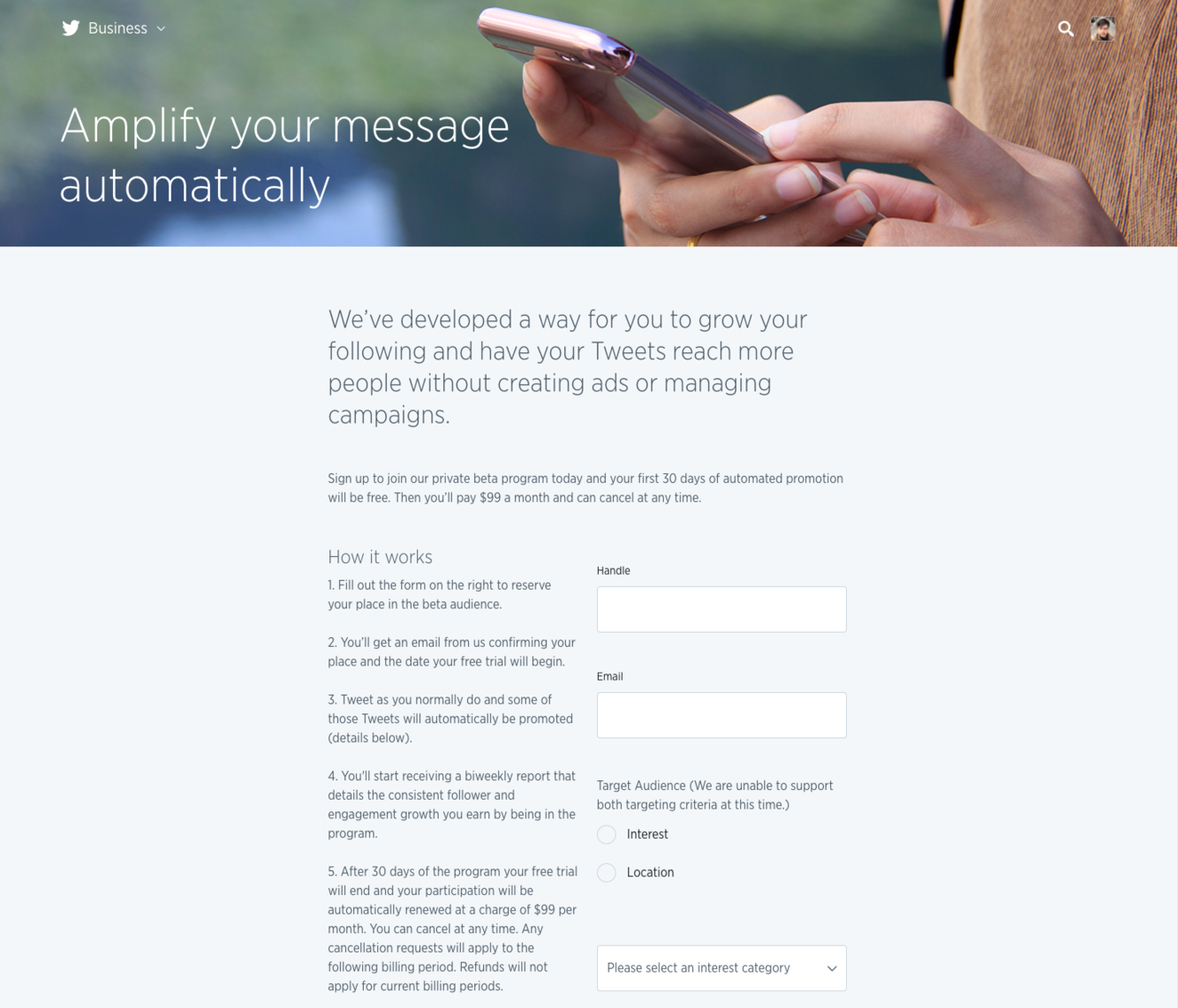 Twitter subscription beta sign up
Twitter advertising needs a new lease on life
This new offering comes as Twitter looks for ways to boost its advertising business after three consecutive quarters of declining ad revenue. Twitter announced that advertising revenue dropped 8% on an annual basis during its quarterly earnings report earlier this week so it makes sense that they're looking to reach a wider audience of smaller advertisers.
It remains to be seen if businesses will adopt the service as well what is value it will provide going forward. What sort of ROI will $99 worth of advertising get you on Twitter and will it be better than spending that same $99 on Facebook ads or Adwords? I guess we will just have to wait and see. If you have had an approved invite, how has it been working for you? Let us know in the comments below
Contact us
If you want to know more about social media marketing with your site don't be shy we're happy to assist. Simply contact us here
Tags: Social Media, Twitter
You might also like
Reduce Workplace Injuries On Construction Sites
A review of some of the tactics and protocols construction companies should be putting into place if they want to minimise the amount of on-the-job i...
Read more
South African Guidelines For Cryptocurrency Ads
A look at new regulation rolling out in South Africa, which will affect the way companies advertise digital currency and digital asset services can c...
Read more