Vimeo expands their social video publishing tool
Video marketing continues to grow as the medium of choice for many digital marketers and online influencers along while social media platforms have placed a major focus on supporting video content of late. In recent times we've seen developments like Facebook's Edge algorithm prioritising video content and providing it with more organic reach to encourage more creation.

We've seen Instagram launch video, stores and Instagram TV, we've seen the rise of SnapChat, TikTok (& music.ly) all off the back of video content. As this trend continues it was only natural for other social media sites to adopt a similiar approach and this is no different with LinkedIn. LinkedIn influencers have are starting to find traction and video has is their medium of choice. Video content has started to take over social media as online attention spans wane and reading seems to be seen as a tedious task when comapred to watching or simply listening to a video.
Another contributing factor is the speed of internet both hardline and mobile has improved dramatically over the last few years along with device and browser capabilities making video a smoother more fluid experience on both native and internet browser.
Video demands resources
While video clearly has its advantages for reach and branding in the new digital spectrum it's not easy to pull off. Coming up with concepts, capturing footage, editing, hosting videos, transcribing text, optimising for SEO & optimising for various social media formats can be one taxing and time-consuming task. Video content creators and brands either have to make a choice between doubling down on a certain platform that works best or spread themselves too thin and reduces the quality of the content.
Vimeo adds LinkedIn Integration
Popular video hosting platform Vimeo has seen this issue as an opportunity and created an end to end solution with its "Publish to Social" update. Marketers can now publish videos to their LinkedIn company pages directly from a Vimeo account via the 'Publish to Social' feature.
Instead of manually uploading videos to each social destination, Vimeo members can distribute their videos directly from Vimeo with one click all over the web. This includes their LinkedIn Company Pages, their websites, and other social destinations. Now you can host it alongside your other videos, and promote it at any time. Each social platform supports its own specific audience with its own unique benefits, so you can pick which videos to publish where — all it takes is a single click. This saves you time, money and is a whole lot easier than the manual alternative.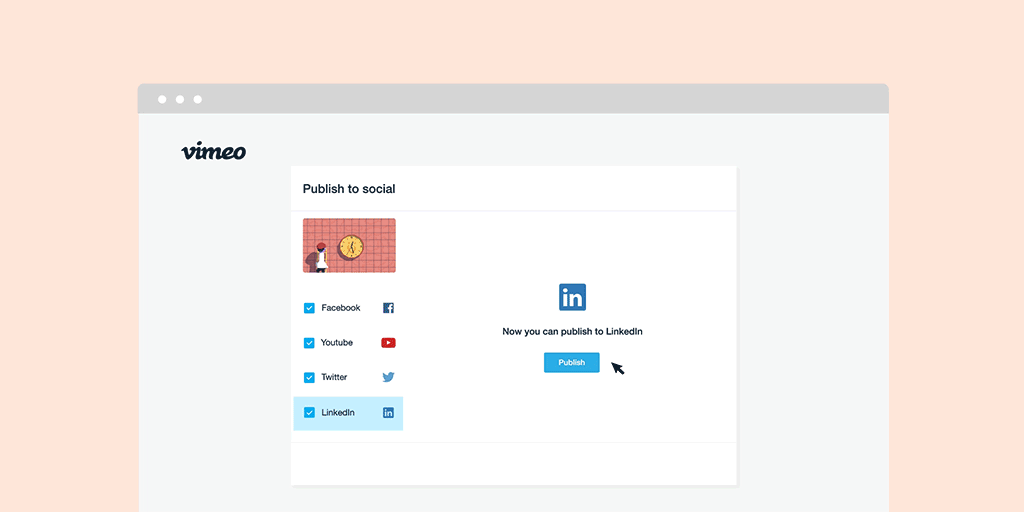 What publish to social looks like in action
What does this mean for marketers?
Vimeo announced on Monday that it is the first video platform to offer end-to-end integration with LinkedIn company pages, making it possible for paid subscribers to publish Vimeo videos directly to LinkedIn from their Vimeo accounts using the existing 'Publish to Social' feature. Vimeo's stats dashboard will also include LinkedIn analytics for marketers to see how their videos are performing on the social network aimed at professionals.
"Over the past year, Vimeo has invested heavily in building a central distribution hub for video content to be shared everywhere and across platforms. Our Publish to Social feature makes it possible for creators and businesses to reach audiences in more places, while also enabling them to better understand video performance," said Vimeo CTO Mark Kornfilt in a release announcing the LinkedIn integration news, "We're excited to be the first video platform to integrate with LinkedIn, and to extend this feature to an essential destination for professional content."
LinkedIn first introduced native video uploading on its platform in March, allowing marketers to run native video ad campaigns and include native video on their Company Pages. At the time, LinkedIn reported video content on a Company Page was five times more likely to start a conversation among members than other types of content and members spent, on average, nearly triple the amount of with video content versus static ads.
Note that this feature is part of the paid subscription features that comes along with a Vimeo Business account. This costs $50 per month and includes 5TB of video storage, business tools for creating, distributing and customizing video content and advanced privacy and video-embed options.
What are the benefits for marketers?
Improved reach:
LinkedIn marketers can amplify their reach and engagement with native video uploads. According to LinkedIn, videos on company pages receive five times the engagement of any other type of post.
Ease of distribution:
Using Vimeo's 'Publish to Social' feature, marketers can save time by distributing their videos to multiple destinations with one click.
Video analytics in one place:
Marketers can access all of their video analytics from LinkedIn (and other social networks) from the Vimeo dashboard. They can track performance, viewership, and engagement across each destination where they distribute videos.
The video seems to have no sign of slowing down
In order to stand out from the crowd and have a successful content strategy going forward making use of multiple mediums will become commonplace. Brands and businesses will not only have to rely on creating written content, but audio as voice search begins to gain traction as well as video. Creating the content is half the battle and effectively disrupting it will quickly become a hurdle that many video content creators fail it.
Making use of end to end solutions like Vimeo may be what sets you apart from the crowd and allows you to create faster and more innovatively making that business account subscription fee a worthwhile purchase.
Contact us
If you want to know more about social media marketing for your site, don't be shy we're happy to assist. Simply contact us
Find local videographers
If you're interested in creating video content for your business check out our latest freelancer listings and if you offer video production services why not register your business for free.
Source: Vimeo
If you liked this post you may also like:
You might also like
Reduce Workplace Injuries On Construction Sites
A review of some of the tactics and protocols construction companies should be putting into place if they want to minimise the amount of on-the-job i...
Read more
South Africas Most Popular WhatsApp Scams
We look at why scams have become so popular on WhatsApp in South Africa and what are the top tricks used by scammers to try and sucker funds out of y...
Read more