Facebook Launches eCommerce Action Buttons
Facebook continues to drive eCommerce on its platform in a variety of ways in a bid to keep being relevant in consumers lives and offer higher value for brands using the platform. In the last year, they've delivered a range of commerce tools and capabilities, many of which are directed at local and offline transactions.
Facebook wants to be relevant for small businesses
Facebook has become a staple for larger brands but for the vast majority of small businesses its been ignored as a medium of exchange. Facebook now wants to correct that by becoming a mobile solution for local businesses.
It is also keen on positioning itself as a local commerce platform for consumers. The company's recent introductions of Marketplace and its Events app are indications of a full court press into local.
For more on facebook marketplace check out our post - Facebook Looks To Get Into Daily Deals
New Facebook tools for local businesses
Facebooks latest foray is aimed at the following user behaviour
Booking and ordering for pages
Social recommendations
Local event discovery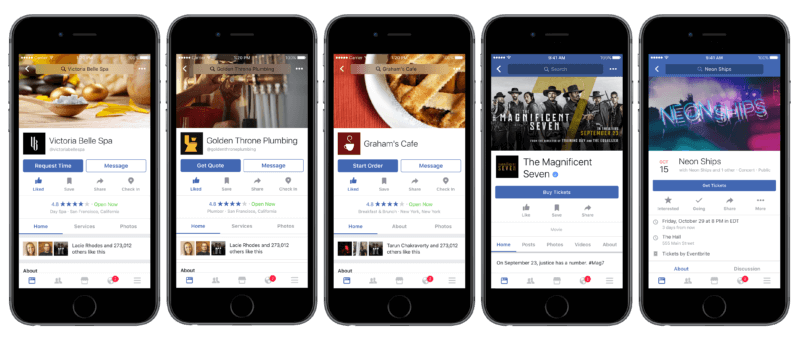 Examples of Facebook Call To Action Buttons
The most significant of these new tools is online food ordering and the ability to buy tickets and book appointments on Pages through "call to action" buttons. Which is run via an ecosystem of third-party partnerships, which Facebook will continue to grow.
In a few cases, users will be taken into a Messenger interaction with the business owner which could be taken over by chatbots at a later stage. A scenario in which confirmation would occur through Messenger could be requesting an appointment from a hair salon is one.
Facebook's third-party eCommerce ecosystem
Installing eCommerce call to actions will be done via the help of partners. These launch partnerships include Booker, BookingBug, Front Desk, HomeAdvisor, MyTime, Pingup, Schedulicity, Setster and Simplybook.me. Users will be able to buy event tickets through EventBrite and Ticketmaster, as well as movie tickets through Fandango.
Facebook users will also be able to request a quote from businesses using Porch or TalkLocal. In most cases, local companies will need to be tied to one of these providers to enable the functionality on their Pages. From what we can see so far apparently, there are no transaction fees for Facebook when using the 3rd party call to action product.
In the last month, Facebook has combined options from some food ordering services like EatStreet, Delivery.com, DoorDash, ChowNow and Olo, as well as restaurants like Jack in the Box, Five Guys, Papa John's, and Panera, in order to improve on their 3rd party network.
This has given rise to food order on Facebook. The platform is now working with delivery aggregators and restaurant chains directly to be comprehensive food ordering tool. So users don't have to search through multiple places to find what you're looking for, they can find restaurants, order via their page and then do their usual food sharing and tagging social posts, all without ever leaving the app or site.
Local eCommerce is going social
This kind of end-to-end experience adds greater utility for consumers and ultimately keeps users tied to the social media service more often. It will be great for local businesses and 3rd parties by driving a more natural booking flow, and conversion rates should improve.
But this is no selfless update by Facebook as they continue to monetise their user base. The more services Facebook offers consumers, the longer you use the service, the more ads they can serve you which generates more revenue for Facebook via paid media.
Contact us
If you want to know more about social media marketing, don't be shy we're happy to assist. Simply contact us
Tags: facebook, Social Media, eCommerce
You might also like
South Africas Most Popular WhatsApp Scams
We look at why scams have become so popular on WhatsApp in South Africa and what are the top tricks used by scammers to try and sucker funds out of y...
Read more
How Chatbots Generate Leads For South African Businesses
A detailed look at how South African businesses have begun to embrace chatbots in their day-to-day operations and how it has helped drive more leads ...
Read more