The BandAid Strip Counselling/Coaching Services
---
We specialise in
Personal counselling in Pretoria and e-counselling nationwide ...
By qualified and professional counsellor/therapist ...
Marriage, relationship, couples counselling and divorce mediation ...
AFFORDABLE, convenient, anonymous, confidential ...
Your own time, your own pace, your own space!
Self-help healing workshops, self-help healing e-course ...
About us
The BandAid Strip Counselling/Coaching Services is a place of hope, healing and new beginnings as it offers popular, effective and AFFORDABLE personal and e(mail) counselling for relationship/marriage problems and everyday trauma: divorce, financial problems, addiction, dread disease, depression, fear, worry, abuse, loss, emotional scarring, etc.
---
---
OPERATIONAL NOTICE:
FOR ALL PROBLEMS AND TRAUMA: Marriage counselling, relationship counselling, couples counselling, divorce mediation, trauma counselling, emotional healing, bereavement counselling, email counselling, personal development, self-help healing workshops, self-help healing e-course, support groups, public speaker.
LISTING INFO
Listed: 31 August 2019
Last updated: 14 August 2022
ADDRESS
Keet Street
Les Marais, Pretoria
1
South Africa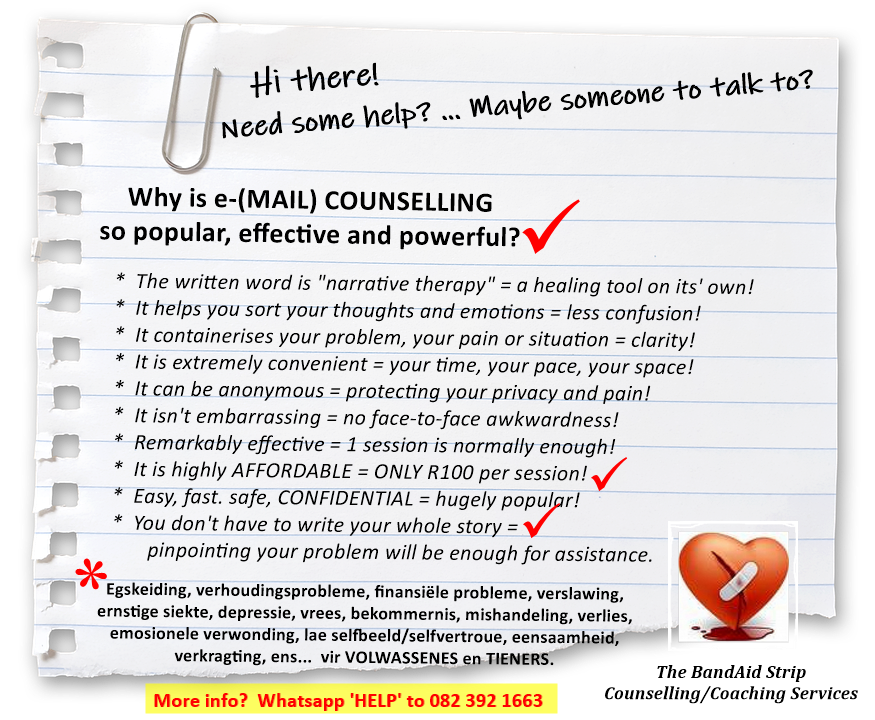 How can I help my child to cope better with school, studies, and life?
How can I save my relationship/marriage?
How can I take back control of my life when everything is falling apart?
Rate & Review
---
---
---

{{review.sUserName}}
{{review.iDayLastEdit}} day ago
{{review.iDayLastEdit}} days ago
{{review.sReview}}
---