---
We specialise in
Affordable Life Policies
Affordable Funeral Policy with Cash Payout
Affordable Legal Products
Employee Benefit Products
Non-Profit Community Development
About us
Like-minded professionals and experienced practitioners in their respective fields teamed together and developed a range of affordable financial products and services for families, businesses, and communities.
---
---
OPERATIONAL NOTICE:
We gladly take appointments after work hours.
LISTING INFO
Listed: 04 October 2021
Last updated: 08 October 2021
ADDRESS
Building 1, Silver Lakes Office Park
Muirfield Boulevard
Silver Lakes, Pretoria
184
South Africa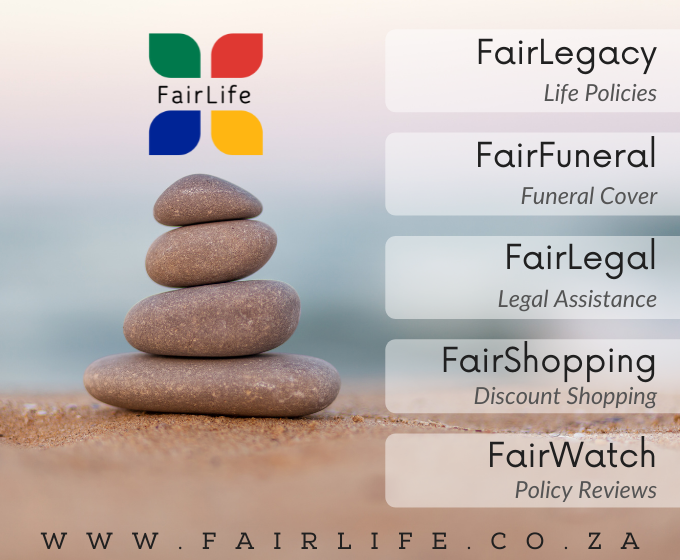 We are company that creates affordable financial products, not only for individuals, but also businesses, communities or groups. Our motto is: "It's not what you need, It's what you can afford."
An opportunity for investment. Our products, or a combination thereof, are suitable for CSI projects relating to SED (Social Economic Development) and ED (Economic Development). Section 18/3 administrative assistance for estates less than R250 000 as a standalone or in combo with one or more of our other products and services will have a positive contribution for the proper alienation of the assets of a deceased. The FairShopping product can help community members to spend up to 16% less on groceries. This will have an immediate impact on their discretionary income. Our products can be used for SED or ED, and we do issue a SARS 18A certificate to give you the tax benefit your company deserves.
An Employee Benefit Product. Business Managers and HR Managers searching for new, creative, and sustainable ways to add cost-effective employee benefits to their Business Remuneration Policy. Our range of products can be a standalone or combo benefitting employees and the business and in so doing improve the ESI (Employee Satisfaction Index). Let us assist in creating a cost-effective employee benefit for your company, addressing the current WFH challenges. Do not hesitate to contact us to develop an Employee Benefit Product, suitable for all the job grades in your business.
Rate & Review
---
---
---

{{review.sUserName}}
{{review.iDayLastEdit}} day ago
{{review.iDayLastEdit}} days ago
{{review.sReview}}
---