---
We specialise in
A POS card machine that sells airtime and electricity
easy and simple application process
Accept Payment on. Tap n Go, Swipe, Card Chip and QR Scan
No Once Cost
No Transaction Fee
No Start up Cost
About us
We offer a mobile payment solution that rewards the merchant for going about business as usual.
---
Features
Customer Service Call Centre
---
OPERATIONAL NOTICE:
One Merchant Machine with, all POS service incorporated... Vodapay POS System Product Benefits - No credit checks, no data required to use the app only when you download. -  Commission on any sales including Voda points on your, Voda card will be included with your merchants machine delivery. and convert to your bank account. Commission will be earned in % value of what your business turn over is, please see attached rates and ask your sales manager to explain in detail should you not understand and do the calculations with you. -  Because you are taking it now in the next few weeks we will be giving you all those options to sell everything else with just one machine and all sales you get paid for. - Cost for swiping, Vodacom will be paying this back in Vodapoints for you to convert and place back into your personal bank account as cash. - Limitless swipe even as little as a R10, almost no cost. Immediate sms notifications. - Fnb account holders will receive their payments immediately, any other bank 48 hours the money will reflect in your account. Remember you still get your notifications via sms, that the transaction went through on your card machine immediately. - Few paper rolls free with your delivery of your, mechant machine. you can buy them anywhere. -  Unlimited amount of machines for your business but individual charge, per unit on the monthly fee. For example if you have 5 shops or 5 companies, each company gets a merchant machine with individual monthly cost to it. All machines and merchandise can be delivered to the required/requested address at no additional cost. - Call Centre to contact client 24 hours after delivery, follow up call on call centre 08217855 - Delivery can take up to 3-5 working days after application has been submitted. - Open up own vendor shop, when you use the merchant machine in your own capacity. Remember you will be receiving products like, lotto, Airtime, bus tickets, water, electricity etc. to sell as a owner (This all will be launching in November date to be confirmed via call centre). - Please see rates attached and the tier sheet so that you may select the correct option, on what your turnover will be for your business. If you have more than 1 business please note, turn over for each business needs to be noted individually. This is one of those products you wish you had, so that you may manage one POS system and have all your costs cut. Remember this Product gives you money back in your pocket all the time. After today no one can say, they cannot pay you they only have a card
LISTING INFO
Listed: 10 November 2020
Last updated: 10 November 2020
ADDRESS
Cape Town, Cape Town
8001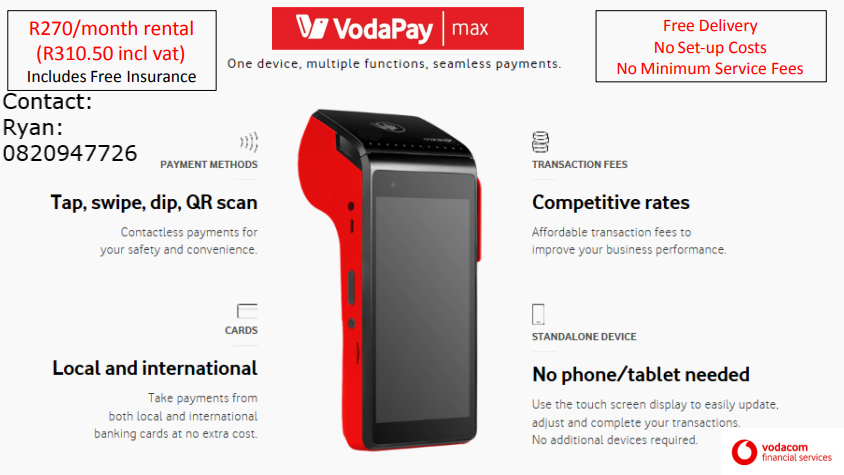 As a VodaPay MAX client you are entitled to commission. This is dependent on your monthly card turnover
No, this is a rental agreement that has no time constraint.
Rate & Review
---
---
---

{{review.sUserName}}
{{review.iDayLastEdit}} day ago
{{review.iDayLastEdit}} days ago
{{review.sReview}}
---