Add A Booking Service To Your Google Knowledge Graph
If you're a local business that takes orders and appointments such as food delivery, dinner reservations, and booking service appointments can now add an additional call to action in Google SERPS with the help of your business' Google My Business page. For a while, Google has hinted at this change to their Google My Business (GMB) platform. Now it is clear that this feature will allow users to link to third-party booking and ordering services, such as OpenTable and Seamless, where they will then be able to complete their order or reservation.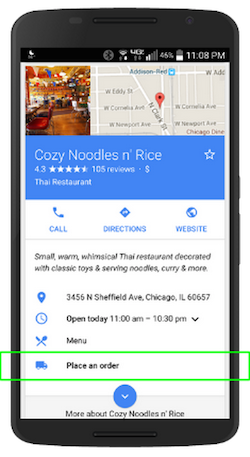 Booking service requirements
If you're a reservation platform: You will need to operate an online service that allows local businesses to directly accept online orders, appointments, reservations, or other similar services If you're a business: You need to have an account with a registered third party booking platform and alert them that you have a GMB page. On your, GMB makes sure that your business category is properly filled out on your Google My Business page.
The more specific you are, the more likely you are to be eligible. If your business is currently connected to an online booking or delivering service, make sure that your Google My Business page is somehow linked to that website. For example: if you own a restaurant and accept deliveries through seamless.com, make sure to add your seamless.com menu to your Google My Business Page.
How to apply for a booking service
Action buttons will be added to your Google my business knowledge graph at Google's decretion. There is currently no way to set up a J-SON LD or HTML markup to initiate an automated request for this kind of functionality but you can request this manually.
The team at Google will evaluate your request and if applicable will action the update. The action button to booking options will appear automatically for eligible businesses. To apply for an action button, please complete the following form and submit it to Google for review I'd like to submit for an order button.
Contact us
If you want to know more about improving your organic traffic don't be shy we're happy to assist. Simply contact us here Source: Google My Business Blog
Tags: Google+, SEO, Organic search
You might also like
5 Tips To Choose Top-Notch CBD Products
If you are thinking of buying CBD products but do not have the first clue how to review them for strength or quality then this checklist is the ideal...
Read more
Why Are Electric Cars So Expensive?
A review of the various costs that impact the manufacturing of electric motor vehicles and why it has become so expensive to create these EVM transpo...
Read more