Bing Now Supports JSON-LD Schema Markups
I know when Bing is ever mentioned in conversation its always as a running joke due to Google's dominance but as an SEO I cannot ignore opportunities to gain search traffic, and Bing provides just that. Microsoft's competing search engine always seems like a few steps behind Google, but it doesn't mean we should ignore Bing.
Rich media listings
As you may have noticed search engines have continuously strived to provide a richer search experience with the help of sites providing markup data. You can now get info on recipes, events and more directly in your search results and has become somewhat of a standard practice. Google has since offered webmasters the option of marking up their data in 3 different ways with JSON-LD being the latest iteration of the protocal. Not surprisingly Bing has finally launched its long-awaited support of JSON-LD in Bing Webmaster Tools, with a new Markup Validator Tool.
Bing is proud to introduce JSON-LD support as part of Bing Webmaster Tools, as announced at the 2018 SMX Advanced. Users can login to Bing Webmaster Tools and validate their JSON-LD implementation through the Markup Validator Tool present in the Diagnostics and Tools section. After the inclusion of JSON-LD support, the Markup Validator now supports seven markup languages, including Schema.org, HTML Microdata, Microformats, Open Graph and RDFa.
Site owners have been waiting for Bing to launch official support for JSON-LD as those who migrated or only used JSON-LD had no rich snippets avialable on Bing SERPs. However, earlier this year, Bing began to use JSON-LD markup in the search results, eliminating the need for site owners to use multiple schema implementations for various search engines. Google has supported JSON-LD for years and is now recommending JSON-LD for marking up content.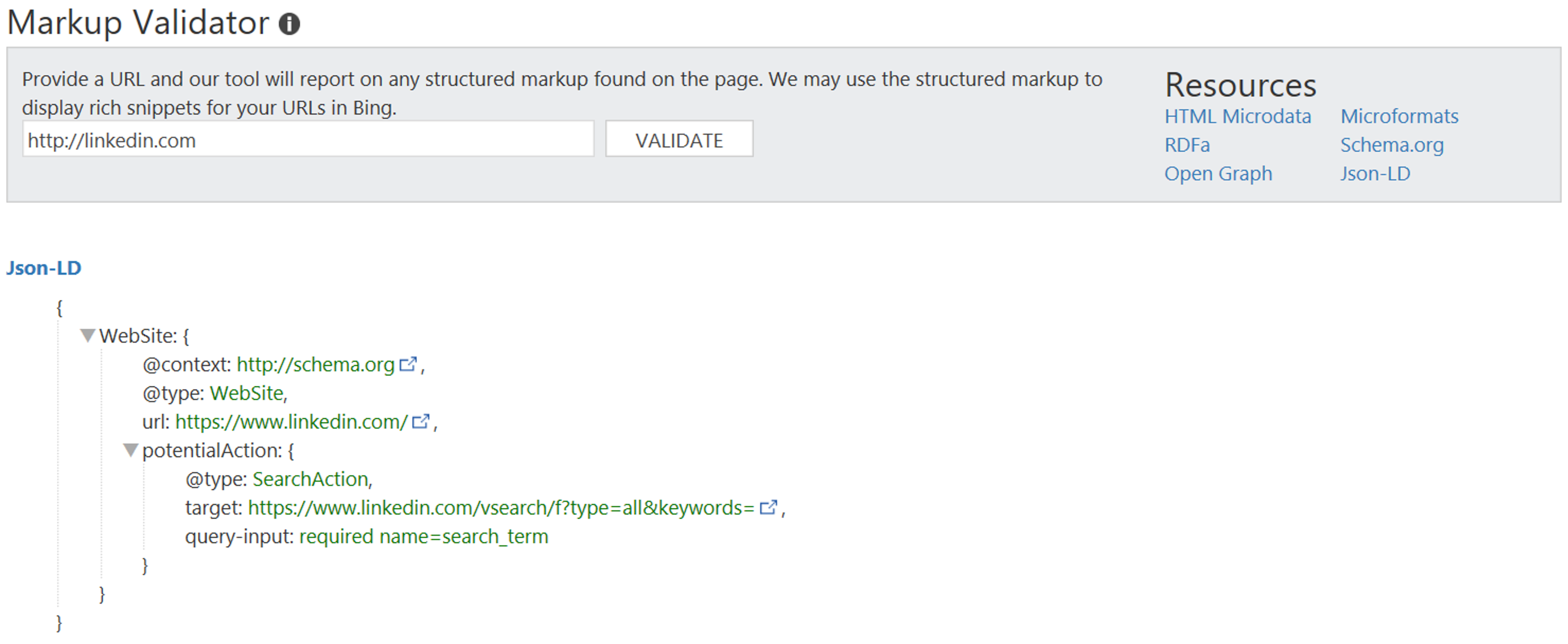 Bing markup validator in its webmaster tool kit
Which schema uses does bing support?
| | | | |
| --- | --- | --- | --- |
| Scenario | Microdata support | Microformats support | RDFa support |
| Breadcrumbs | Yes | No | Yes |
| Businesses and organisations | Yes | Yes (hCard) | Yes |
| Events | Yes | Yes (hCalendar) | Yes |
| People | Yes | Yes (hCard) | Yes |
| Products and offers | Yes | Yes (hProduct) | No |
| Recipes | Yes | Yes (hRecipe) | Yes |
| Reviews | Yes | Yes (hReview) | Yes |
| Reviews (aggregated) | Yes | Yes (hReview-Aggregate) | Yes |
| ClaimReview (aka Fact Check) | Yes | Yes (itemReviewed) | Yes |
For more information on Bing schema, how to implement and debug your markups I suggest you check out their webmaster tools dashboard.
Marking up your site
It is important to note that the presence of annotations alone does not guarantee Bing or Google will use your annotated content to generate a visually rich snippet. At all times, we will take the relationship between the annotated content and its surroundings into account. Once you have implemented your annotations, the Bing andamp; Google crawlers will pick up on them the next time they visit your pages.
In addition to the relevance verification outlined above, some reasons may prevent your visually rich search results from appearing on our site:
Schema and data validation failure
Please carefully verify your annotations before publishing them on your site. The Bing crawlers validate your annotated data against the schema specified by the format of your choice as well as against the defined data types.
For example, if your price is a date or vice versa, our crawlers will ignore your annotation. Similarly, please verify you have provided enough data for the scenario you have selected. An event without a date, or a person without a name, will also be ignored.
Global availability
Visually rich snippets are currently not supported in every market, although annotations will be processed and validated in every market. This data helps us prioritise markets appropriate as Bing plans the next phase of a global roll-out of this feature.
Contact us
If you want to know more about search engine optimisation, don't be shy we're happy to assist. Simply contact us here
You might also like
A Man's Guide To Summer Essential Wear
We take a look at the items every man should have in their wardrobe come summertime and why these items should be part of your style this upcoming su...
Read more
The Best Plant-Based Bobotie
A step-by-step guide to making South African favourite food with a vegan twist, here is how to make your first bobotie dish but still have that local...
Read more