Google Analytics Launches Sample Dataset for BigQuery
If you've upgraded to Google Analytics 360 for your website, you're probably dealing with millions of visits on a monthly basis, and handling volumes of data on that scale can quickly become a housekeeping nightmare and that in turn affects the integrity of your data.
Also extracting relevant subsets data can quickly become complicated and time-consuming. If you've had to do an audit on a large account before you'll know exactly what I'm talking about. Thankfully Google has looked to address this issue with its new BigQuery support built into analytics.
What is Google Big Query?
BigQuery is Google's serverless, highly scalable, low-cost enterprise data warehouse designed to make all your data analysts productive. Because there is no infrastructure to manage, you can focus on analyzing data to find meaningful insights using familiar SQL, and you don't need a database administrator.
BigQuery enables you to analyse all your data by creating a logical data warehouse over managed, columnar storage as well as data from object storage, and spreadsheets. BigQuery makes it easy to securely share insights within your organisation and beyond as datasets, queries, spreadsheets and reports. BigQuery allows organisations to capture and analyse data in real-time using its powerful streaming ingestion capability so that your insights are always current.
Google Analytics Big Query
Since Google's latest product update Analytics 360 now supports integration with Google BigQuery and now gives analysts the opportunity to glean new business insights by accessing session and hit level data and combining it with separate data sets.
Organisations and developers can analyse unsampled analytics data in seconds through BigQuery, a web service that lets developers and businesses conduct an interactive analysis of big data sets and tap into powerful data analytics.
How to use Google Analytics alongside Big Query
To help users get practical experience with analysing analytics data in BigQuery, Google has also announced the availability of a Google Analytics sample dataset. This is accessible directly through the BigQuery interface.
The dataset includes data from the Google Merchandise Store, an E-commerce site that sells Google-branded merchandise. The typical Google Analytics 360 data you would expect to see such as AdWords, Goals and Enhanced E-commerce data can be queried.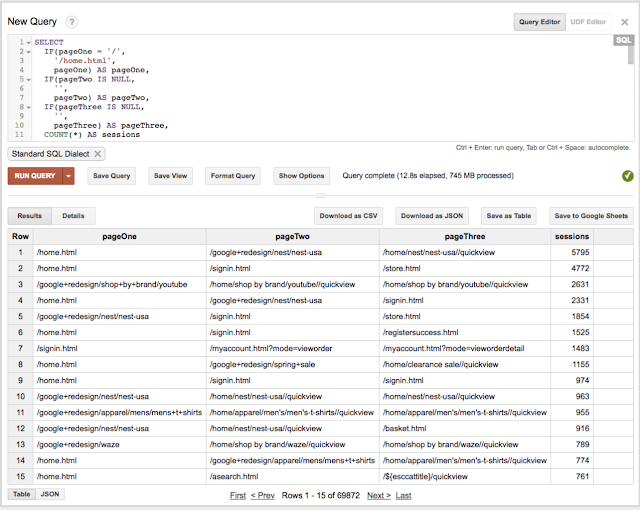 Google Analytics Sample Dataset for BigQuery
Self-learning with big query
You can use the sample dataset to learn how granular information can be extracted from analytics data in BigQuery. Google also supplies a guide to help you create queries to find answers to the following for the Google Merchandise Store:
What is the average number of transactions per purchaser?
What is the percentage of stock sold per product?
What is the average bounce rate per marketing channel segmented by purchasers?
What are the products purchased by customers who previously purchased a particular product?
What is the average number of user interactions before a purchase?
Big query educational programs
If you're an educator or manager trying to teach others to use BigQuery, then you can use the sample data to create task-based assessments and other learning materials for your students or staff who would benefit from it.
Access and assess your data
Big Query will not only give you easier access to critical data points, but it will provide you with new and exciting ways to analyse it and take advantage of trends that would have otherwise gone unnoticed.
Contact us
If you want to know more about tracking options and Google Analytics for your site, don't be shy we're happy to assist. Simply contact us
You might also like
Protecting Sensitive Data In Office Environments
We take a look at some of the risks your company faces when collecting and storing data and how you can start to insulate that data from leaks or bei...
Read more
South Africas Most Popular WhatsApp Scams
We look at why scams have become so popular on WhatsApp in South Africa and what are the top tricks used by scammers to try and sucker funds out of y...
Read more