The Pros & Cons Of Google Web Stories
The mobile internet has far outstripped the traditional internet at this point, more of are dual internet users and switch between mobile and desktop. In contrast, others are mobile internet users as its the only device they use to access the internet. The mobile revolution has changed the way we code websites, approach design, improve performance and drive marketing.
Handset makers are doing their best to improve the internet experience on their devices with improved performance through hardware, OS and of course browsers, native app and PWA support. Still, yet Google feels that these mobile efforts are not enough, and they need to bridge the gap.
Google started with "Mobi sites", then pivoted to responsive and dynamic serving, which the majority of websites are using, then they decided no the best way to do things is if they host the content, so AMP was birthed. Now I'll openly state to you I am not a fan of AMP, yes it gives you all the speed you could want and is better for a specific type of user but it is by no means a trade-off with without considerable concern.
What is AMP?
AMP is effectively the second version of your site hosted by Google, taking your content serving it to searchers and then pinging you to say users checked it out. It's a watered-down experience for mobile users. It gives Google far more power over serving content and far less ability for sites to drive users deeper into their website or other conversion elements. You effectively don't own that visit; you only get it attributed to your analytics.
Google effectively hollows out your sites mobile traffic and keeps it in a safe space that they define.
AMP met with mixed reviews
AMP was by no means a breakthrough success; some sites adopted it for its speed increases which gave them preferential serving in mobile serach. However, this tends to drive poor practices. If AMPs outrank standard pages, AMP content can be less valuable and still outrank the competition. Having a split in how many people adopted AMP, set Google on a mission to try and balance AMP content with standard site content, as they still need to maintain a semblance of the best quality content ranking top.
So AMP began to fade into the mid-distance as the content is still the primary factor for engagement and user experience; speed only gets you so far.
So what did Google do? Give up on the project? No, of course not, they would double down and have no released Google Web Stories a new AMP format that we're sure only publishers will jump on and the rest of us will ignore and forget in a few years.
However, for now, it will have its hype cycle, and sites will try it out, of that I am sure.
What are Google Web Stories?
A Web Story is a new visual storytelling format built on the AMP framework and served in Google Search results. This new content format immerses the user in a tap-through full-screen experience. Web Stories can also appear in Google Images, Discover, and the Google app.
This additional reach for Google Web Stories is what makes it such an attractive proposition for sites looking to leverage new traffic channels with organic reach and possibilities.
Once you've set up Web Stories and your content meet the criteria for Google Search, they can be eligible for display in a variety of ways on Google. For example, Web Stories can display as a single result, like this (this appearance is available in all regions and languages where Google Search is available):
Google Web Stories Main SERP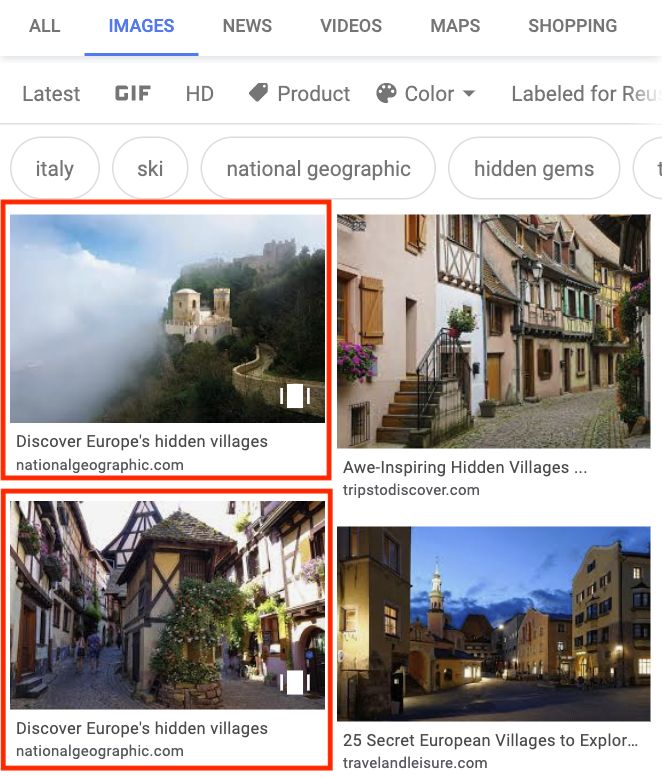 Google Web Stories Discover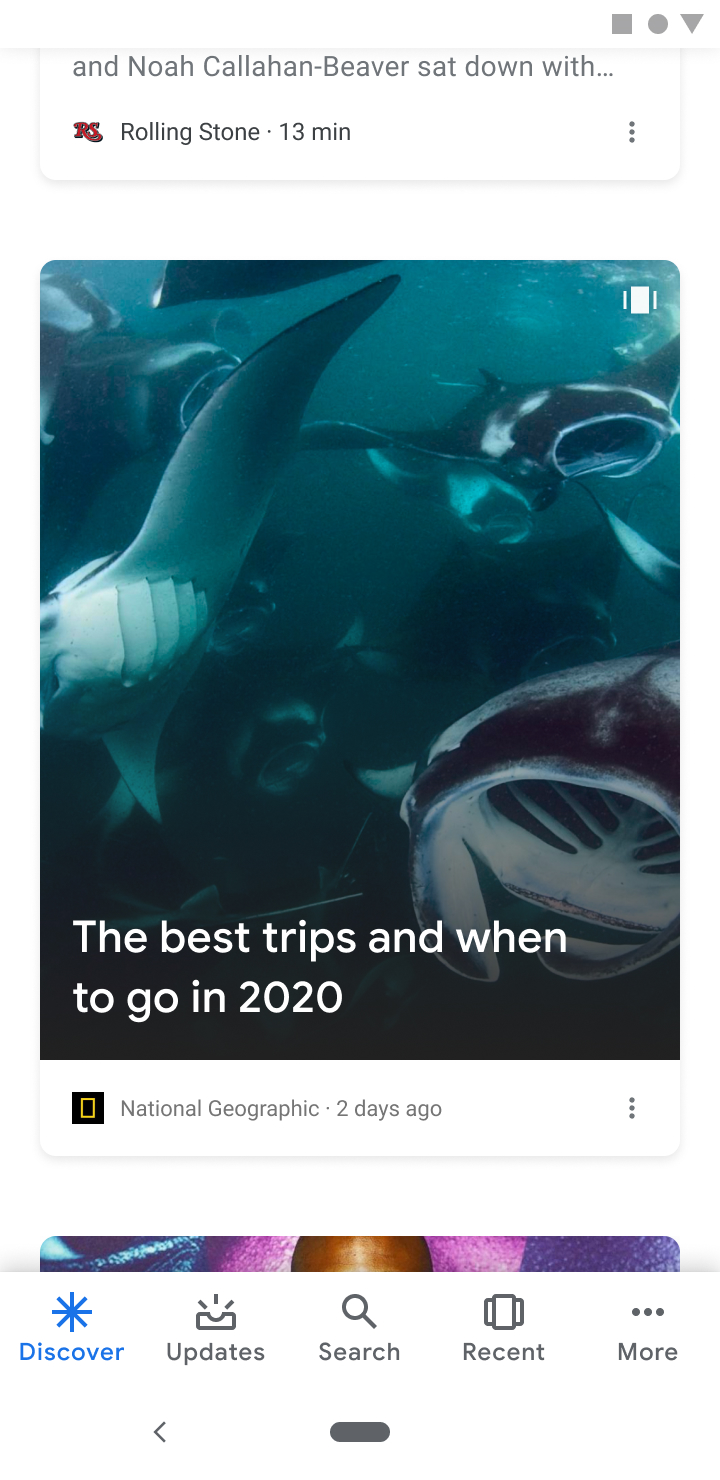 Google Web Stories Image SERP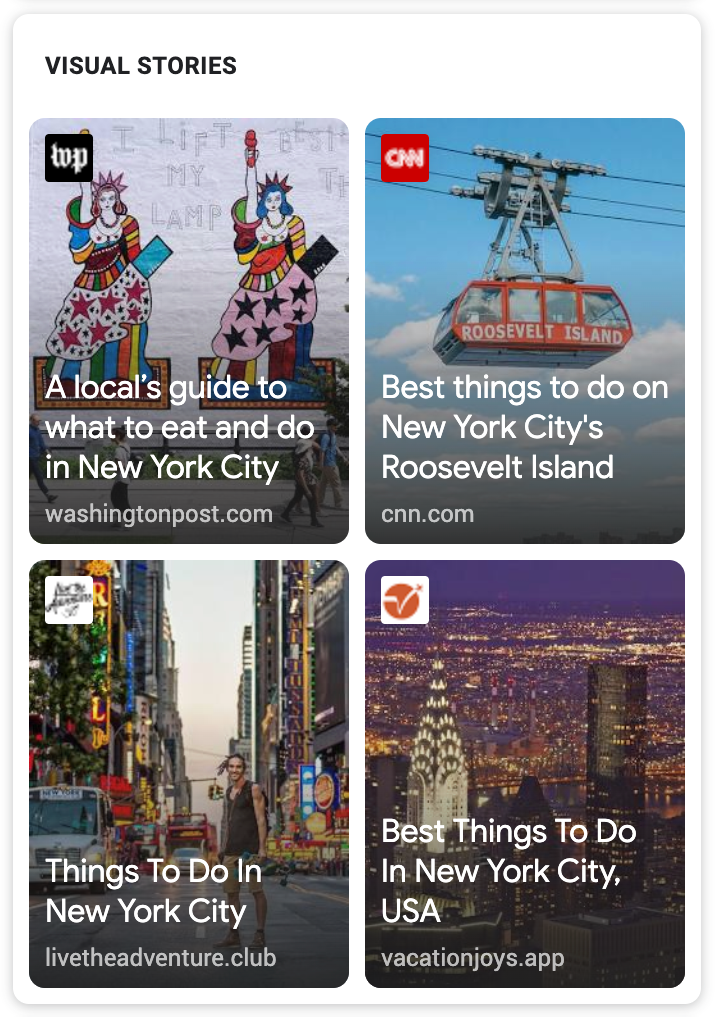 How do Google Web Stories work?
Web Stories will be available in a grid view for specific results. For example, When people search for "things to do in New York", the grid view shows Web Stories from multiple publishers. When people search for a specific publisher, the grid view shows only Web Stories from that publisher's site.
Note: The grid view appearance is currently only available in English in the US.
How to enable web Stories on Google
To make your Web Stories eligible for display on Google Search, Google Images, Discover, and the Google app follow these steps:
Build a Web Story with AMP.
Make sure that the Web Story is valid and ready to serve on Google by using the AMP Test.
Follow the Web Story Guidelines.
Optional: To help Google better understand your Web Story, you can add structured data to your Web Story. When you add structured data, Web Stories can also be eligible for other types of rich results (for example, the Top stories carousel or a host carousel).
Consider adding the applicable structured data, based on your content-type:
Article
LocalBusiness
Recipe
VideoObject
We also recommend reviewing AMP's best practices for creating a successful Web Story if you want to ensure your stories get accepted by Google.
Technical guidelines for Web Stories on Google
Here are some technical guidelines that can help your Web Story succeed on Google.
Completeness:
Make sure that your Web Story is complete, tells the full story, and isn't overly commercial. Here are some examples of what to avoid: Web Stories that require users to click links to other websites or apps to get essential information. Web Stories that have more than one outlink or attachment per page. The outlinks and attachments must include the appropriate disclosures.
Affiliate programs:
If you use affiliate links in your Web Stories, we recommend that you only use one affiliate link per story and that you follow the Quality guidelines for affiliate programs. Story length: We recommend that the length of your Web Story be between 5-30 pages, with a suggested target of 10-20 pages.
Title length:
Use shorter titles. We recommend that your title length be less than 40 characters.
Text:
Keep the text on each page short (less than 200 characters per page). Focus each page to a single idea.
Video:
If you use videos in your Web Stories, we recommend that videos be less than 15 seconds per page and less than 60 seconds per page. We also recommend that you provide captions for the video.
WordPress:
If you don't have the technical knowledge to set up Web Stories, but you run a WordPress site, you can install the official plugin released by Google, and it should sort out all the technical requirements while all you need to do is create the content.
The Pros of Google Web Stories
Additional reach across Google's properties
New content format to engage consumers
A new avenue to showcase your brand
New premium position above search and has a bias to displaying to top queries
Speed of content load is far faster
Stealing market share from those who don't opt for this format
The Cons of Google Web Stories
You don't own the content
Additional format to consider when creating content
Performance and ROI unknown at this point
You're at the mercy of Googles AB testing for search results
Reduction in on-site traffic for certain queries
Technical requirements needed to run
Google is the gatekeeper of this format
Snacking on content
Google knows all content and queries aren't created equal, and the popularity of listicles has turned many Google searches into a bias for this format. Google knows that instant answers and listicles are a hit and now want to use this format for their gain. The point of the Web Story is what Google calls, snackable content and reduce the need to leave Google for even more queries.
Site owners and content creators can, however, use this format to provide relevant information but still create long-form content that tanks. The Web story can work as a referral with long-form content made available as an attachment link. This is a useful feature because it allows a publisher to sneak their content to the viewer's attention via a Web Story and convert them over to read the entire article if it is interesting enough for them.
Tell us your traffic story
Have you been using AMP how has it worked out for you? Will you be trying Google Web Stories? Let me know in the comments down below
Contact us

If you would like us to improve your site's traffic or want us to create a marketing strategy for your site or want to know more about digital marketing for your business, then don't be shy we're happy to assist. Simply contact us
Are you looking to promote your business?
South African Business owners can create your free business listing on nichemarket. The more information you provide about your business, the easier it will be for your customers to find you online. Registering with nichemarket is easy; all you will need to do is head over to our sign up form and follow the instructions.
If you require a more detailed guide on how to create your profile or your listing, then we highly recommend you check out the following articles.
Recommended reading
If you enjoyed this post and have a little extra time to dive deeper down the rabbit hole, why not check out the following posts on traffic stats.
You might also like
What Are The Major Categories of Blockchain?
We take a deep dive into the six major categories of digital assets available and why they have these different characteristics and how they are used...
Read more
5 Ways To Improve Your Air Conditioner Performance
A review of five ways you can keep your home airconditioner running smoothly and last longer so you can get the full benefit without adding extra cos...
Read more