How To Track Social Sharing In Google Analytics
Social media has become a powerful marketing tool and is essential to just about any sites success online. It has taken the concept of word of mouth and digitized and amplified into one of the most rewarding free traffic drivers available today. Social media metrics have become more and more important to the modern marketer and gathering data on how content performs on social is key to improving your presence on these platforms.
However, In recent months Twitter, LinkedIn and Google+ have altered their API's to remove the share counter, and you can no longer request the data from them to display on your site. So how do you know what content is popular and on which channels? By using social tracking of course.
Social tracking options
Fortunately, there are 3rd party social sharing apps that capture this data on their server and store it for you but you are then tied to that platform, and these are more often than not, paid services. If you're not too concerned about having your shares displayed publicly on your site or just want more insight into what content is being shared then setting up your social tracking reports in Google analytics is a must.
How to track social media shares with google analytics
Hardcoded
If you're using Google Analytics Universal on your site you're running custom social interaction buttons you can add on click event tracking to each of your elements. Add the following code to each of your elements and update with the relevant social media channel and action.
ga('send', 'social', [socialNetwork], [socialAction], [socialTarget], [fieldsObject]);
| Field Name | Value Type | Required | Description |
| --- | --- | --- | --- |
| socialNetwork | text | yes | The network on which the action occurs (e.g. Facebook, Twitter) |
| socialAction | text | yes | The type of action that happens (e.g. Like, Send, Tweet). |
| socialTarget | text | yes | Specifies the target of a social interaction. This value is typically a URL but can be any text. (e.g. http://mycoolpage.com) |
Note: By default, Google Analytics provides integrated reporting for the +1 Button. This means if you have implemented analytics.js and a +1 Button on the same page, all +1 interactions will be automatically reported as social interactions via each of the trackers on the page.
Plugin
There is a range of social plugins available that can do the job, but my personal favourite is Shareaholic. It's available as a WordPress plugin or as a tag template in Google Tag manager.
All you will need to do is set up a Shareaholic account
Follow the installation details and get your Shareaholic ID.
Add your ID to the tag and finally set the trigger to fire on all pages

Google Tag Manager
If you're not keen on injecting 3rd party scripts on your site and you're running GTM then you can create your own custom tag. You will need to first set up an click tracker on each element you want to track. Once you've set up a trigger and then create a Google Analytics Universal tag.
Select the track type social
Add your parameters for each social network
Finally, set the tag to fire on all the pages hosting your native social prompts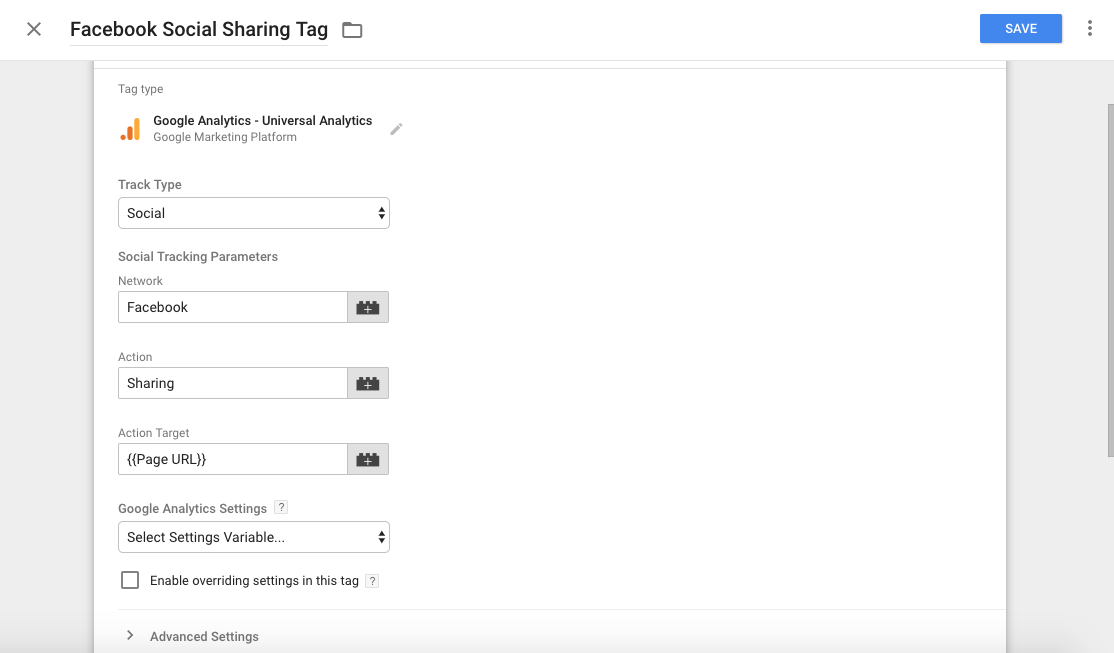 How to find social media reports in Google Analytics
Once you have your reporting set up and would like to start reviewing your data.
Login to your analytics account
Click on the acquisition tab
Click on social
You should now have access to 6 new reports based on your site users social media activity.
Explore your social circle
While social media reporting is available in Google Analytics, it is not enabled by default so you will have to do some research on how to set it up correctly for your website.
Once it's set up correctly, you will have access to a wealth of data particularly if you're site relies heavily on social media as a source of traffic.
In my personal opinion, this is one of my favourite reports to get up since it gives you great insights into traffic from dark social (Non tracked social media traffic) which is usually attributed to direct traffic.
Note: There are also additional metrics you can look at adding and if you want to know more about custom metrics check out our post - 30+ Metrics You Can Track Using GA Custom Dimensions
Contact us
If you want to know more about analytics or social media marketing for your site, don't be shy we're happy to assist. Simply contact us
You might also like
What Are The Major Categories of Blockchain?
We take a deep dive into the six major categories of digital assets available and why they have these different characteristics and how they are used...
Read more
How Your Workplace Disputes Can Be Eased With Legal Help
A review of how an employee rights lawyer can be brought into a company to handle disputes and reduce the time in reaching a settlement between parti...
Read more