Child Friendly Internet Browsing With Kiddie Search Engine
If allow your kids access to the internet or there own internet ready device then I'm sure you're well aware of the dangers that freedom allows. If you've ever checked the search history of your kid's Tablet and found entries such as "boobs" or "poop" boy, do we have great news for you! There's a kid-friendly search engine that promises to all but eliminates the possibility of your child stumbling upon Miley Cyrus' 2013 VMA legendary twerking performance while you're too busy cooking dinner to pay attention!
A search engine for kids
Introducing Kiddle, a search engine aimed at providing kid-friendly search results and content. It's powered by Google safe search but not owned by them, however, it looks an awful lot like the Google search interface we're all familiar with, but includes some cute child-like tweaks. Instead of the familiar white background, there's a fun outer space theme with a robot alien near the search bar. Kiddle also allows kids to search for general web content, images, news articles and video just like Google.
Content curated for kids
According to Tech Times, Kiddle offers search results hand-picked by editors to ensure their kid-friendliness. The first one to three results will always be curated by the editors — safe sites written specifically for children. The next few results will feature sites in simple language that will be easy for kids to understand. The rest will be sites tailored to adults that may be harder for kids to digest but are still filtered by Google safe search to avoid them stumbling on anything inappropriate.
What about your kid's privacy
In its "about" section, Kiddle promises your child will be safe in their searching. The logs are cleared every 24 hours and Kiddle collects no personal information.
Searching for restricted content
We tested the "safe content" promise by searching a few unsavoury keywords kids might try to search. Searches for "butts" and "penis" yielded an angry robot man telling your kid to go back to square one and try again. Keeping kids in line until hopefully, once they get past the thrill of typing in naughty words, they'll actually look up subjects that interest them.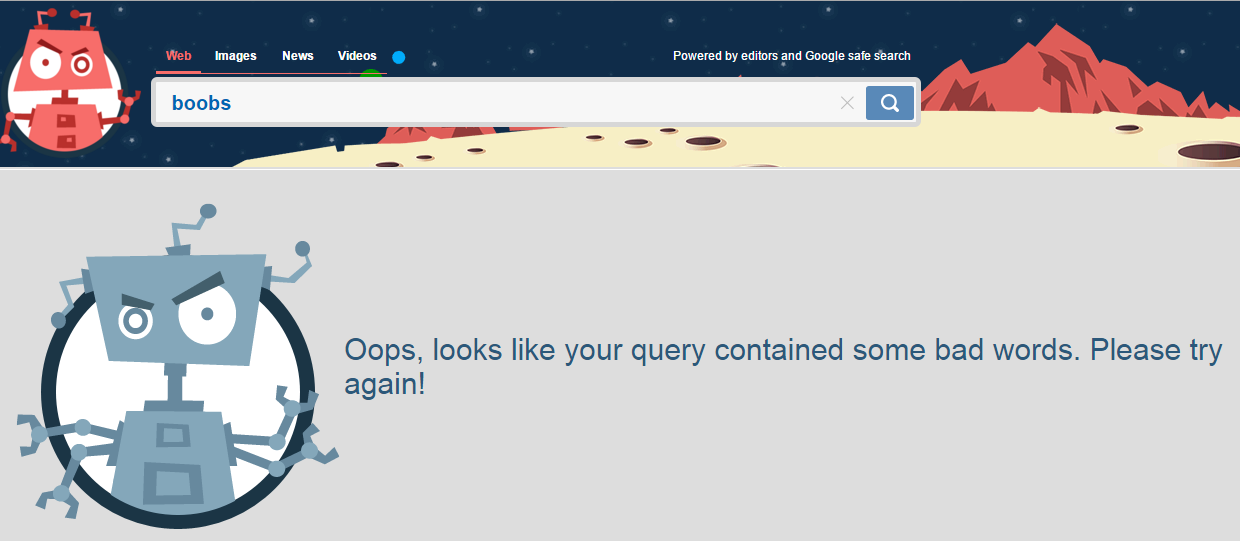 Freedom for kids and assurance for parents
It looks like a great initiative as the internet becomes crowded with unsavoury content and fake news. Kiddle might be the answer to giving kids a little more reign for a school project without worrying that they'll find "Girls Gone Wild" videos in the process. Of course, we can only shield them from so much, but we have to at least there is now an option.
Contact us
If you want to know more about the web don't be shy we're happy to assist. Simply contact us here Souce: Techtimes
Find baby and kids specialist services with nichemarket
Browse our listing to find niche baby and child products and specialists. From baby stores, child-care professionals and more or connect with mommy bloggers currently listed with us.
List your baby-related business for FREE
You can add your baby-related companies and get more exposure online. Create your free business listing on nichemarket. The more information you provide about your business, the easier it will be for your customers to find you online.
If you require a more detailed guide on how to create your profile or your listing, then we highly recommend you check out the following articles.
Recommended reading
If you have time to spare and would like to dive deeper down the rabbit hole, then check out the following articles:
You might also like
Reduce Workplace Injuries On Construction Sites
A review of some of the tactics and protocols construction companies should be putting into place if they want to minimise the amount of on-the-job i...
Read more
South African Guidelines For Cryptocurrency Ads
A look at new regulation rolling out in South Africa, which will affect the way companies advertise digital currency and digital asset services can c...
Read more