Facebook Looks To Get Into Daily Deals
Facebook's Marketplace may soon expand outside of peer-to-peer sales. As of this month, Marketplace has begun showing a new Daily Deals tab on the mobile app for select users, sourcing deals from eBay. The new partnership allows users to browse eBay deals inside the Facebook app, but they must go to eBay's site to check out.
A second bite of the cherry for Facebook
Facebook is again getting into the daily deals space, but this time in collaboration with eBay. The new addition expands the focus for Marketplace, Facebook's answer to Craigslist. This section today is prominently positioned in Facebook's mobile app, occupying the central spot on the bottom bar on iOS (or top bar on Android), in between the Video and Notifications icons.
Launched publicly last fall, the idea has been to aggregate the "for sale" postings from the social network's various "buy and sell" groups, allowing for an easier, more centralized way to search and shop for items from local sellers. You can also list your own items for sale, and chat with buyers or sellers via Marketplace's integration with Messenger.
A shift in strategy for a marketplace
To date, however, it has been a peer-to-peer marketplace, not a source for deals from third-party websites, like eBay. That has now changed, as some users will see a new "Daily Deals" section when clicking into Marketplace.
The deals will emphasize those products in the Consumer Electronics, Fashion, and Home and Garden categories. At the top of the page, there's a countdown that indicates how long the deals will be available. Each item also displays the percentage off. But to see the actual sale price, you have to click on the deal itself.
There will be around 100 new items posted to this section daily, we understand. Deals can be shared with others via SMS or Messenger, which will link to the deal via eBay's ShopBot app.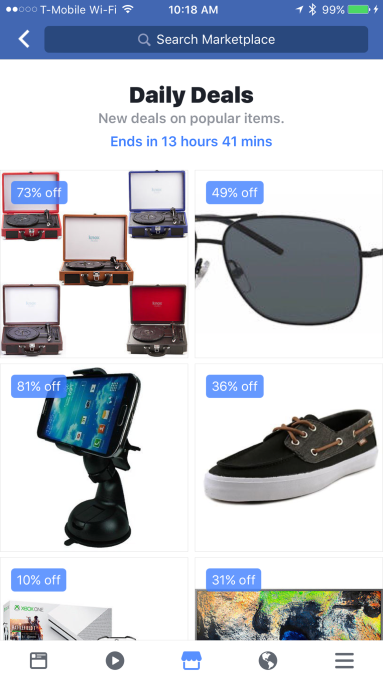 Facebook characterizes this as a test
"We're conducting a test to determine if people are interested in shopping for discounted products when they visit Marketplace," a Facebook representative told The Verge. As with all Facebook tests, the feature may not end up being offered to all users, or it may be killed if users don't love it." said Facebook Product Manager, Akash Anand.
The daily deals test sample and deal structure
The Daily Deals feature is currently available to a small percentage of people in the U.S. as of earlier this month and is displaying on both the Android and iOS Facebook mobile apps. While eBay is the current source for these deals, Facebook's arrangement with eBay is not exclusive. That means if this proves to be a popular feature, Facebook could expand Daily Deals to include those from other third parties as well.
For the time being, transaction revenue is not being shared between eBay and Facebook. Instead, users who click on a deal will be linked over to the eBay website within the Facebook app, where they can view more product details, and complete their purchase.
The daily deal is an area Facebook explored years ago, during Groupon's heydey. The idea back then was to connect users to deals for area restaurants, shops, group activities, and more, from local businesses. But these days, businesses that want to reach customers on Facebook set up their own Pages, and run ads. Plus, they can entice users with Facebook Offers, which can also be run as ads.
The new Daily Deals section, on the other hand, gives Facebook more of a "real" shopping feature – a way to browse products from eBay's trusted sellers, then buy right in the Facebook app. Though a different angle on daily deals than before, it's not the first time Facebook has dabbled with enabling commerce on its site.
Most notably, the current "Shops" feature (originally called the "Shopping" feed) pulls in product listings from Facebook Pages, then lets you check out from the seller's own website, while still in Facebook.
eBay also confirmed the test of Daily Deals on Facebook
"At eBay, we are always looking to broaden our reach and surface inventory through new channels," a spokesperson said. "We are currently running a test with a small subset of people on Facebook in the U.S. who can browse eBay's Daily Deals on Facebook Marketplace."
What is Facebook marketplace?
Facebook Marketplace, which relaunched last year, gives people a way to buy and sell on Facebook's platform, marking the company's deeper involvement with e-commerce. It's been considered a competitor to Craigslist and eBay, which makes this new partnership a bit unexpected.
Facebook marketplace continues to expand
This month, Facebook expanded the Marketplace feature to 17 European countries, which include Germany, France, Spain, Italy, Ireland, Portugal, the Netherlands, Norway, Sweden, the Czech Republic, Austria, Belgium, Finland, Denmark, Hungary, Luxembourg, and Switzerland.
Contact us
If you want to know more about social media marketing don't be shy we're happy to assist. Simply contact us here
Tags: facebook, Social Media, eCommerce
You might also like
10 Elements of Successful Content Marketing Strategy
A review of the top 10 elements you need to incorporate into your current and future content marketing strategies if you want to take this channel se...
Read more
What Are The Major Categories of Blockchain?
We take a deep dive into the six major categories of digital assets available and why they have these different characteristics and how they are used...
Read more