Enviro Concrete Slabs and Stairs
---
We specialise in
Polystyrene rib and block Slabs
Concrete rib and block
Designer staircases
Roof Slab
Engineering, inspection, certificate
Manufacture, supply, installation
About us
Concrete and Polystyrene Rib & Block Slabs, Reinforcing Steel and Designer Staircases. 1. Concrete Rib & Block Slabs 2. Polystyrene Rib & Block Slabs 3. Roof Slab 3. Y-10 Ref 100 Mesh 4. Designer Stairs 5. Reinforcing Steel : Beams, Ribs, Lintels 6. Manufacture, supply 7. Installation 8. Ready-mix 9. Engineering, Certificate
---
---
OPERATIONAL NOTICE:
5 STAR RATING ! 90% of projects are REFERERRALS from happy, satisfied clients. Long-term customer base with multiple projects over more than a DECADE. Quick and Professional Service. Always available for clients, builders, contractors, engineers, architects, developers, agents, suppliers and any questions. Always available on WhatsApp. Quick and professional service.
LISTING INFO
Listed: 29 June 2020
Last updated: 20 January 2022
ADDRESS
Doornpoort
Pretoria, Pretoria
186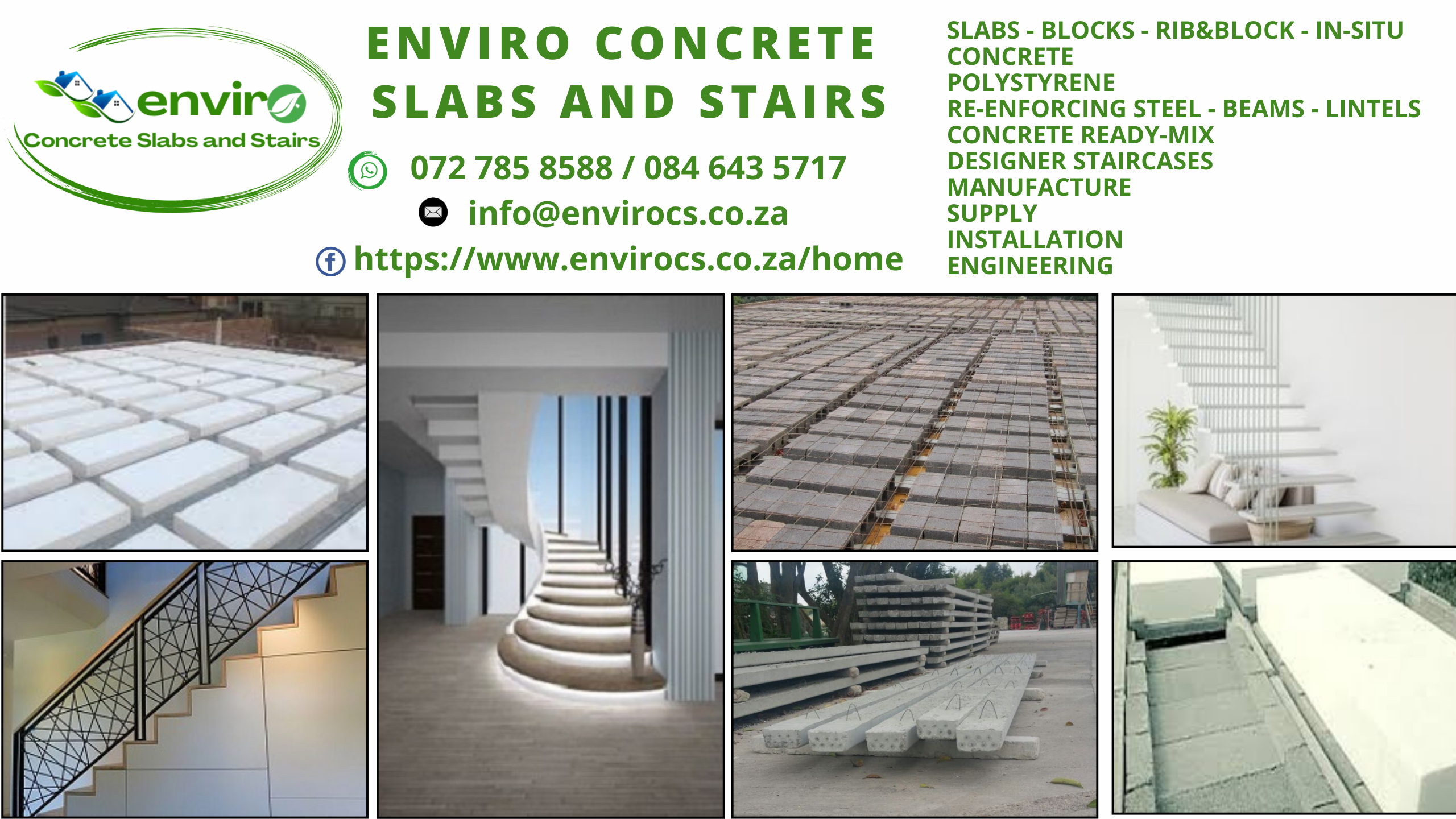 1. Polystyrene Rib & Block Slabs 2. Concrete Rib & Block Slabs 3. Roof Slabs 4. Reinforcing Steel Ribs, Beams, Lintels 5. Staircases – Specially designed 6. Ready-mix Concrete Concrete and Polystyrene Slabs: NHBRC. Manufacture, supply, installation Polystyrene SANS 204, R-VALUE 5.8, Soundproof, Insulation, Fire retardant, Carbon footprint free, green product: government endorsed for energy efficient building. Stairs: design, manufacture, installation. Ready-mix: supply, pouring, levelling. Advantages of Polystyrene Rib and Block Slabs: 1. 90% Lighter than concrete rib & block 2 system. 2. Lightweight 4.5kg, compared to concrete blocks 125kg. 3. Cheaper transport cost due to weight. Up to 200m² on 1 x 8-ton truck. 4. One polystyrene block covers 1m². 5. SANS 204 energy efficiency compliance. R-value of 5.8. 6. Soundproof. 7. Carbon footprint free. 8. Fire retardant material. Insulation. Isolation. 9. Green product - endorsed by government for energy efficient building.
Rate & Review
---
---
---

{{review.sUserName}}
{{review.iDayLastEdit}} day ago
{{review.iDayLastEdit}} days ago
{{review.sReview}}
---