Alternative Dispute Solutions
---
We specialise in
Commercial Mediation
Divorce Mediation
Conflict Mediation
Dispute Resolution
Conflict Management
About us
Alternative Dispute Solutions (ADS) specializes in a variety of services, our forté is commercial mediation, internal church and church-related mediation, as well as divorce mediation (family law - maintenance duty, education, etc.) and conflict management of organizations or businesses (internal and external).
---
---
LISTING INFO
Listed: 29 April 2019
Last updated: 02 May 2019
ADDRESS
Exell Offices
25 Buffeldoorn Road
Wilkoppies, Klerksdorp
2570
South Africa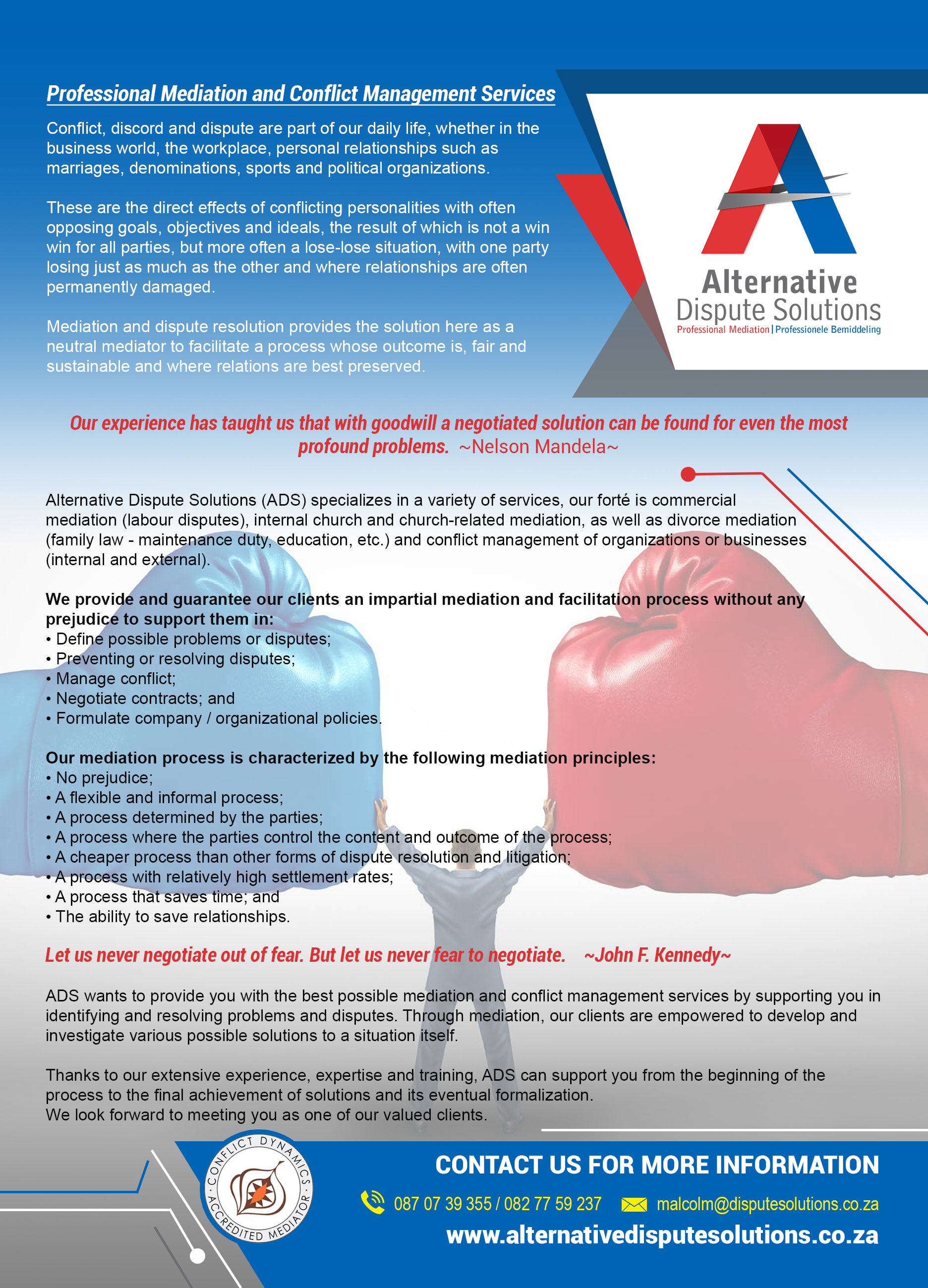 Mediation is used whenever and wherever negotiation has failed or is in need of assistance.
In mediation the parties resolve their dispute themselves, assisted by the mediator which facilitates the process. In litigation as well as arbitration the dispute is taken out of the hands of the parties and is decided by a judge or arbitrator from the evidence provided, and the outcomes forced onto either parties. • Mediation focuses on the underlying concerns and interests of parties, exploring ways in how they can be satisfied. In litigation and arbitration the focus is on the legal rights of the parties and not on their true interests and concerns, which are rarely taken into account. • In mediation creative thinking is encouraged, invariably optimising value for both parties with win-win outcomes and the prospect of future relationships. Litigation is a complex and time consuming processes which results into a win-lose outcome which is decided for you, regardless of whether or not the legal outcome is what the parties really want.
Rate & Review
---
---
---

{{review.sUserName}}
{{review.iDayLastEdit}} day ago
{{review.iDayLastEdit}} days ago
{{review.sReview}}
---