Personal Trainer Cape Town
---
We specialise in
Transforming your body
Weight loss that works
No boring training sessions
Achieve goals you have always wanted
Get rid of that built up stress
Let me get you back on track
About us
With many years experience as a Certified Personal Trainer, I've helped many people in Cape Town CBD,Green point, Sea Point, as well as overseas clients from all over the world to meet their goals, overcome limitations, and challenge themselves. Feel free to contact us or go to our website for further information for your Personal Training needs.
---
---
LISTING INFO
Listed: 28 June 2020
Last updated: 12 January 2022
ADDRESS
long street
Cape Town, Cape Town
8001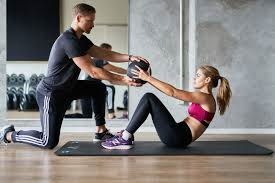 This normally takes an hour, and is a completely free consultation that includes a health, dietary and lifestyle analysis. It will give you the opportunity to talk very openly about your goals and objectives and we can obtain the information required to create a customised training programme for you to achieve them. It helps to ascertain what exercises work best for you, and you're most comfortable with. To book you simply email me with your contact details and I will get back to you asap.
Of course you can train alone.  But I believe that my main purpose is to motivate you and develop a customised training programme with you that corresponds to your requirements, problems and goals. I will mainly be your advisor.  We can detect when your posture is not quite right or when you are putting too much pressure on the wrong muscles.  Also we can recommend running paths or the right exercise.
The purpose of a personal trainer is to provide a specific programme based on underpinning expert knowledge.  Each client has an initial consultation discussing barriers, objectives and goals in preparation to beginning training. The barriers to achieving your goals are just as important, so I can identify these and look at ways at overcoming them. It is my job to both advise and motivate you to maintain your full commitment to the programme and to continually adapt and progress your programme to keep you interested and focused on achieving your goals.
Rate & Review
---
---
---

{{review.sUserName}}
{{review.iDayLastEdit}} day ago
{{review.iDayLastEdit}} days ago
{{review.sReview}}
---