---
We specialise in
Pain relief and stress release
Providing a remote service that is safe & effective
Remediation and rehabilitation using Pilates and other methods
Personalised intervention
Providing an adjunct to or a possible solution where other interventions have failed
Any age or level of fitness
About us
Backed by professional skills and 29 years of experience in the fields of Occupational Therapy and Pilates, this remote service offers pain relief and stress release by calming fascia using gentle motion and visualisation. Conducted via WhatsApp, SensAbly Pilates offers both individual and group classes.
---
---
OPERATIONAL NOTICE:
Femia's trading hours are by appointment only. Please contact her via WhatsApp to schedule a one-on-one call. Feel free to visit her website www.sensably-pilates.yolasite.com Please note that she is not available on weekends or on RSA public holidays. However, group classes receive remote classes on public holidays.
LISTING INFO
Listed: 25 May 2022
Last updated: 12 June 2022
ADDRESS
Remote Service using WhatsApp
Pretoria, Pretoria
181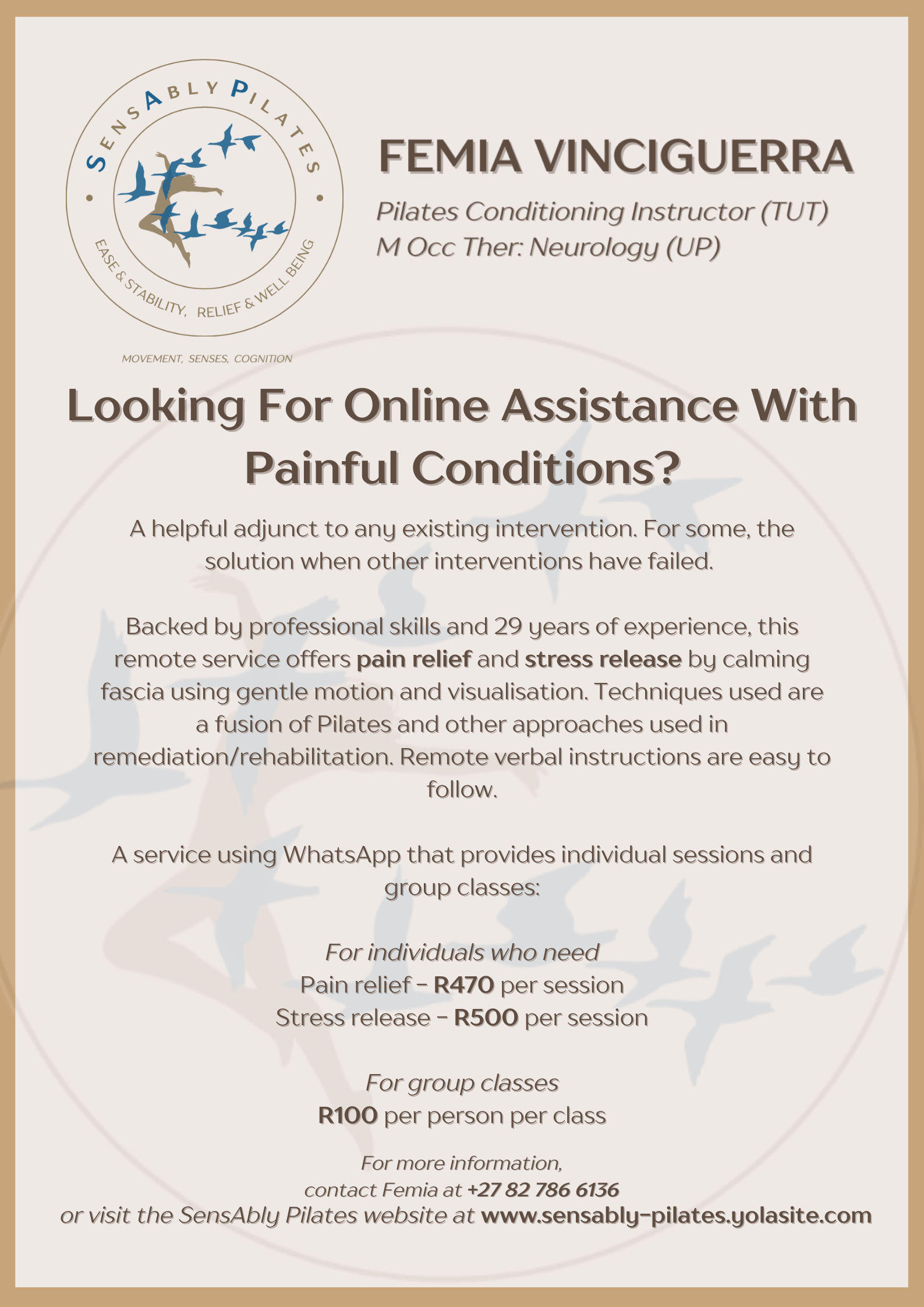 People and their bodies are individual. Experience has taught Femia that although Pilates is a wonderful tool, it is not helpful to all. The best success is gained when "listening" to the body and collaborating with fascia and other systems, including the muscular and nervous systems. Therefore, this service caters for an array of clients with diverse needs for whom Pilates alone does not provide the help they need. What makes this service unique is that it employs a repertoire of tools, and so increases your chances of success.
Gain enhanced movement, flexibility, balance and strength. Soothe and possibly halt aches and pains. Receive a tailor made home programme. Counter the negative effects of trauma, injury, prolonged sitting and surgery.
Follow simple, verbal instructions that allow you to access your body's innate capacity for healing. For example, verbal instructions will be given to guide gentle movement and visualisation that harmonise the body, calm the mind and peel away emotional triggers of pain. While some people feel great relief following one session, most feel a significant shift after five or six sessions. Generally, any gains made need to be maintained. Therefore, this service offers a lifestyle change.
Rate & Review
---
---
---

{{review.sUserName}}
{{review.iDayLastEdit}} day ago
{{review.iDayLastEdit}} days ago
{{review.sReview}}
---