Trigger Point Sport's Therapy
---
We specialise in
The pressure is uniquely chosen for You
Instant effect on your body
Experience of professional approach
Atlantic Seaboard view in its beauty
Calming atmosphere
Reboot of your body and mind
About us
Sports massage is a separate type of manipulation aimed at muscles and joints. It is specially designed for people with active lifestyles and strenuous physical activity. Professionals are sure that the achievements of an athlete are 50% dependent on the qualifications of his masseur.
---
---
OPERATIONAL NOTICE:
No pain no gain or what the benefits of sports massage: This technique attracts the attention of many, since every professional athlete practices the technique during active training, preparation for competitions, after injuries, fractures, sprains. The procedure is also used by amateur athletes, for example, bodybuilders. The results of applying the technique: increase in body endurance relieving muscle spasms accelerating the recovery process after physical exertion combating the consequences of sprains, hematomas, reducing pain reducing the risk of injury and damage reduced fatigue improving the speed of the athlete's reaction increased muscle elasticity improvement of lymph outflow, blood circulation, removal of toxins from the body improvement of general physical condition getting rid of stagnant lactic acid after serious physical exertion increasing the level of stress resistance of an athlete
LISTING INFO
Listed: 21 December 2020
Last updated: 23 December 2020
ADDRESS
1 Cavalcade road
Green Point, Cape Town
8005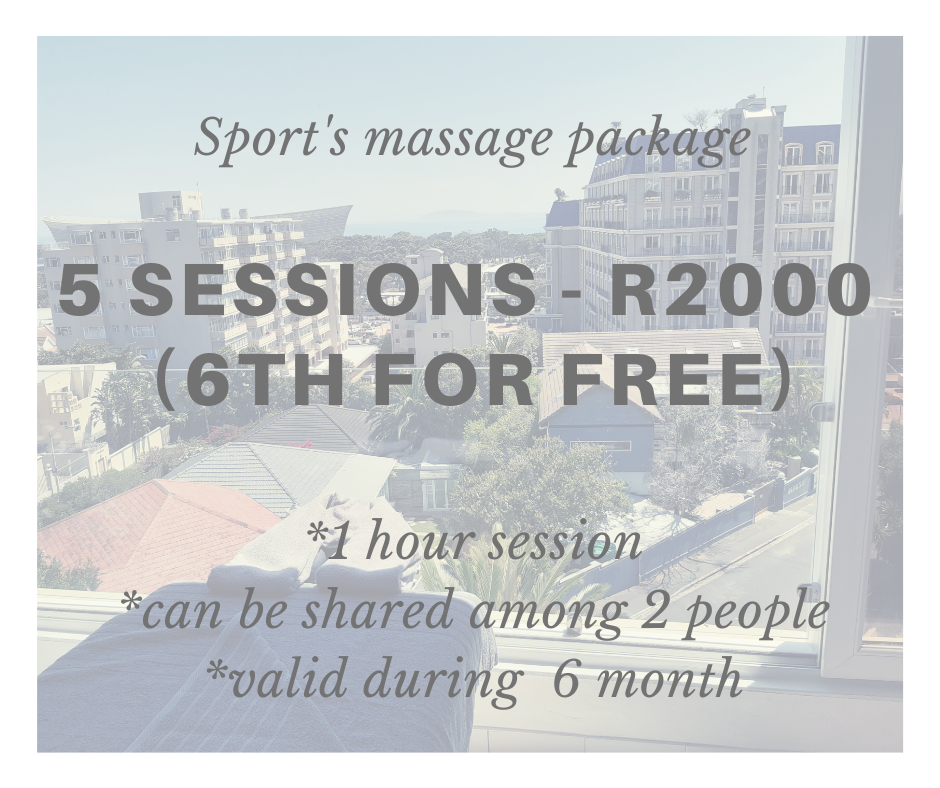 Only at January 2021: 60 min sport's massage session - R400 (instead of R550)
Get 5 sessions of sport's massage to solve your body issues and 6th one is for free!
Get an experience of "best massage ever" for your friend or family member
Rate & Review
---
---
---

{{review.sUserName}}
{{review.iDayLastEdit}} day ago
{{review.iDayLastEdit}} days ago
{{review.sReview}}
---