How To Stake Tron For Energy
The world of cryptocurrency moves at break beck speeds as innovation in this sector shows no sign of slowing down. As it expands and more operations are moved from central authorities to on-chain applications, the more you need to know about how to operate on-chain. If you're already using dapps, DEX's or DEFI protocols, you'll know that these trustless applications come at a cost.
On-chain fees tend to add up pretty quickly, and these resources can eat into your kitty for fun on-chain or, worse, your profits you're making from various on-chain applications. Having to pay on-chain fees means you need to seriously consider the trades you make and how you use the chain, and while TRON is far cheaper to use than most chains, it doesn't mean these small fees don't add up over time.
In fact, with smaller fees, you more likely to be brazen and make changes thinking the prices are negligible only to find out they stack up to a significant amount over time.
Securing resources on TRON
If you're an avid TRON user making plenty of transactions and confirmations daily, it may be worth your time securing resources instead of paying per transaction. You can avoid paying fees by locking up TRON tokens on the network. When you lock up funds, you are given what is known as "ENERGY".
The energy is then used to fund your transactions on-chain and then replenish each day, so you don't have to use your wallet funds to fund transactions.
What is TRON energy?
Energy is the name for a unique resource used to process smart contracts on the TRON network. Smart contracts consume "Energy" in addition to Bandwidth, so be sure you have enough of both when moving your tokens around!
How much energy do I need to use TRON?
You don't need any energy to use TRON as long as your account is funded and you can pay the mining fees, but if you want to avoid those costs, you need to do some calculations. Depending on a few metrics of how you use the chain, you'll have to use several calculation tools and work out your needs based on:
Amount of transactions
Size of transactions
Frequency of transactions
Once you've figured that out, you can lock up TRON for energy and lock up TRON for Bandwidth and continue to use the chain while avoiding mining fees.
How to secure TRON Energy
To secure TRON energy, you will need to have a TRON wallet like TRON-Link and open it up in your browser and follow these steps.
Unlock your wallet by putting in your password
Once the interface loads, click the "FREEZE" Icon
You will be redirected to the TRON scan website.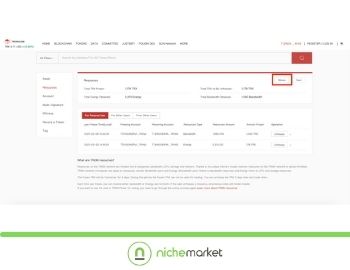 Head to TRON scan to obtain resources
Then select the "obtain" option.
A lightbox will pop up and select the option "TRON power and energy."
Add how many TRON tokens you want to lock up.
Select that you confirm to lock up TRON for 72 hours
Then click freeze, and you're done.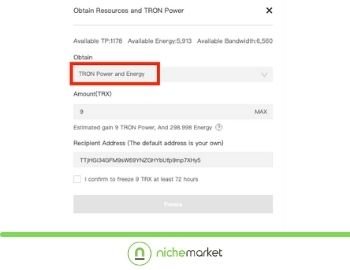 Secure energy for your TRON on-chain activities
That's it; it's as simple as that. Now you can see your energy available in your wallet, so once you perform a transaction, you'll know how much energy you've consumed and, if you need to hold off on transacting, top your energy by freezing more TRON or pay fees for additional transactions.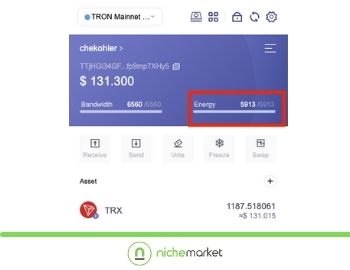 Energy ready in your TRON wallet
Earn the chain
Have you been using staking chains? How has it helped your crypto experience? Let us know in the comments section down below.
Contact us
If you would like to know more about digital assets or would like to market your digital asset company or how to set it up for your business, then don't be shy we're happy to assist. Simply contact us
Are you looking to promote your business?
South African finance business owners can create your free business listing on nichemarket. The more information you provide about your business, the easier it will be for your customers to find you online. Registering with nichemarket is easy; all you will need to do is head over to our sign up form and follow the instructions.
If you require a more detailed guide on how to create your profile or your listing, then we highly recommend you check out the following articles.
Recommended reading
If you enjoyed this post and have a little extra time to dive deeper down the rabbit hole, why not check out the following posts on cryptocurrency and blockchain.
---
Disclaimer: This article should not be taken as and is not intended to provide any investment advice and is for educational purposes only. As of the time posting, the writers may or may not have holdings in some of the coins or tokens they cover. Please conduct your own thorough research before investing in any cryptocurrency, as all investments contain risk.
Tags: Tron, Blockchain , Cryptocurrency
You might also like
5 Reasons Why Impact Windows Are Worth The Cost
A review of the benefits you will get from spending a little more money on securing impact windows for your home and why it is a good investment long...
Read more
7 Ways To Build Wellness Into Your Work Day
Work can take a toll on your mental health, while it is an integral part of how we make a living, it should not be the reason for destroying yourself...
Read more