How To Vote For SR on Tron & Earn Rewards
The explosion of blockchain technology has unlocked a range of income opportunities, from microtasks, freelancing for crypto to DE-FI and more. One of the more popular methods of earning through cryptocurrency is the method known as staking. There are several staking coins available today, such as TRON and each chain has its method of distribution method through staking.
If you already have a TRON-link wallet and would like to start staking to earn rewards, then this tutorial should be able to assist you.
Note: You will need to TRON wallet that speaks directly to the blockchain, one where you control the private keys, so exchange and custodial wallets will not work for you.
Once you've installed your TRON-link wallet and sent some TRON to it, you can then being staking it directly on-chain by following these steps.
Open up TRON-link
Select the menu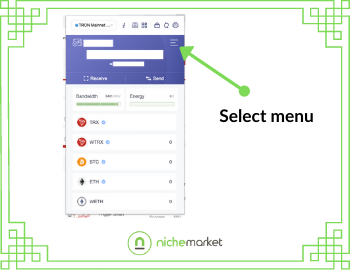 Opening up a TRON Link Wallet
Freezing your funds
Select the FREEZE/UNFREEZE option first
Your browser should redirect you to the TRON Scan website under the resources section.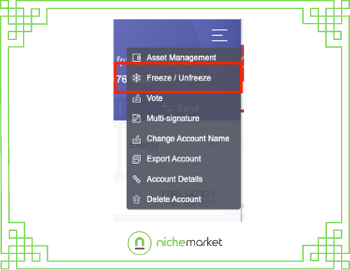 Freezing TRON with TRON Link
If your browser does not, you can find the direct link here
Click "obtain" in the top left-hand corner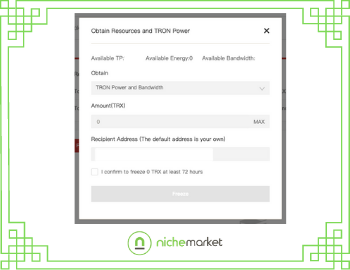 Freezing TRON on TRON Scan
A lightbox should appear
Make sure it's set to "TRON Power and Bandwidth."
Select how much TRON you would like to freeze.
Add your wallet address if it's not already prepopulated
Confirm the amount
Select freeze
Voting on TRON
Now that you've secured Bandwidth by locking up your TRON, not energy, you can now start to vote for Super Reprenseitives (SR's). When you allocate your staked vote to these SR's, they will reward you with a portion of TRON from their mining rewards.
To vote for a Super Reprenseitive, head back to your TRON-Link wallet and open the menu.
This time select vote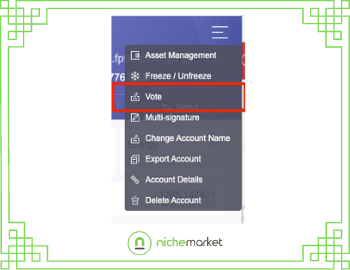 How to vote with a TRON Link wallet
Your browser should redirect you to the TRON Scan website under the resources section.
If your browser does not, you can find the direct link here
Select "Voting" in the top right corner
Depending on how much TRON you've frozen, you can then allocate it to 1 or several Super Reprenseitives, add the amount you want to stake with each rep.
Click Voting, and you're done.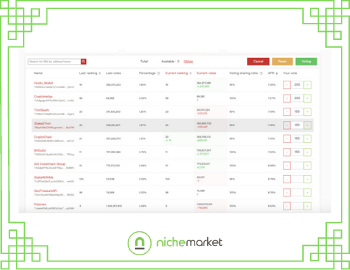 Voting for TRON Super Reps
TRON voting
Voting requires freezing TRX. For every 1 TRX frozen, you can get one voting power (TRON Power). After voting for the Super Representative, the voter will receive a part of the Super Representative's reward as a voting reward. The reward changes according to the voter's sharing rate, the number of votes, and the number of output blocks.
The reward will change with total votes of TRON, total votes for the SR, your votes for the SR, SR type and voter's sharing rate set by the SR.
When you unfreeze TRX, the voting rights obtained through the freeze will disappear, and previous votes will be invalidated.
When cancelling voting, due to TRON network restrictions, the total number of votes needs to be at least 1. If you want to cancel all, you can unfreeze all frozen TRX.
Due to block failure and other reasons, the actual reward may differ from the calculation result.
Calculation formula of reward
Vote for SRs (Top 27) : Daily reward = (((your votes for the SR) * 4,608,000 / total votes of TRON) * voter's sharing rate) + ((460,800 / 27) * voter's sharing rate) * (your votes for the SR) / (total votes for the SR) TRX
Vote for SR Partners: Daily reward = (((your votes for the SR) * 4,608,000 / total votes of TRON) * voter's sharing rate) TRX
What is A TRON Super Representative?
On the TRON network, any account can become a Super Representative candidate and have the opportunity to become a Super Representative. Each account can vote for the Super Representative candidate. The 27 Super Representative candidates with the highest number of votes are the Super Representatives and have the right to secure blocks on the TRON blockchain.
Earn the chain
Have you been using staking chains? How has it helped your crypto experience? Let us know in the comments section down below.
Contact us
If you would like to know more about digital assets or would like to market your digital asset company or how to set it up for your business, then don't be shy. We're happy to assist. Simply contact us
Are you looking to promote your business?
South African finance business owners can create your free business listing on nichemarket. The more information you provide about your business, the easier it will be for your customers to find you online. Registering with nichemarket is easy; all you will need to do is head over to our sign up form and follow the instructions.
If you require a more detailed guide on how to create your profile or your listing, then we highly recommend you check out the following articles.
Recommended reading
If you enjoyed this post and have a little extra time to dive deeper down the rabbit hole, why not check out the following posts on cryptocurrency and blockchain.
---
Disclaimer: This article should not be taken as and is not intended to provide any investment advice and is for educational purposes only. As of the time posting, the writers may or may not have holdings in some of the coins or tokens they cover. Please conduct your own thorough research before investing in any cryptocurrency, as all investments contain risk.
Tags: Tron, Blockchain
You might also like
How To Add Your Business To Apple Maps
A detailed guide you can use to add your business to Apple Maps directory which will allow all iOS users to find your business from their native GPS ...
Read more
eBay Account Suspended? Learn Why And Get It Back
We take a look at the various reasons why an eBay account would be suspended and what you can do to get your account back and start selling online ag...
Read more