Five Ways to Design a Business Report Using Charts
Making a report that effectively shares information while still being engaging doesn't have to be an onerous task. You can make creative reports by using the right charts to share your message.
Creating reports for board members, employees, or potential clients can be a time-consuming process, which is particularly difficult for business owners, for whom time is precious.
As a result, reports are often put together in a rush with little thought to how readers will engage with the information presented in it.
This is why anyone making a report should look into using charts. Charts are an excellent way to succinctly share information and data in a way that is easy to absorb. They are widely used in presentations, infographics, in project management (as Gantt charts) and definitely in reports.
And it's no surprise why they're so popular. A Business report using visuals and charts can break down even the most complex data to give a clear context.
They also reveal correlations that may not have been noticeable before. In other words, Reports can talk, but you need to make sure that your audience is listening.
It all comes down to choosing the right kind of design for your report. Even if you are using an online report maker tool, you need to think about how to use visuals to send your message.
Here are five ways that you can use to make a Business report look creative and informative.
Be organised
Businesses are using technology to organize most areas of their data workflow, so it should go without saying that being organised about your report making is an essential part of the process.
One of the ways to organize your report is by deciding in advance what kind of charts you want to use and for what data.
Do you need to use a line graph, bar graph, or a pie chart to point your readers to the correct conclusion? Perhaps a Venn diagram can work, especially if you have overlapping data points.
There are several other kinds of charts that you may not have even thought of, like flow charts or mind maps.
Flow charts are a great way to convey how a process works, as you can see in the example below.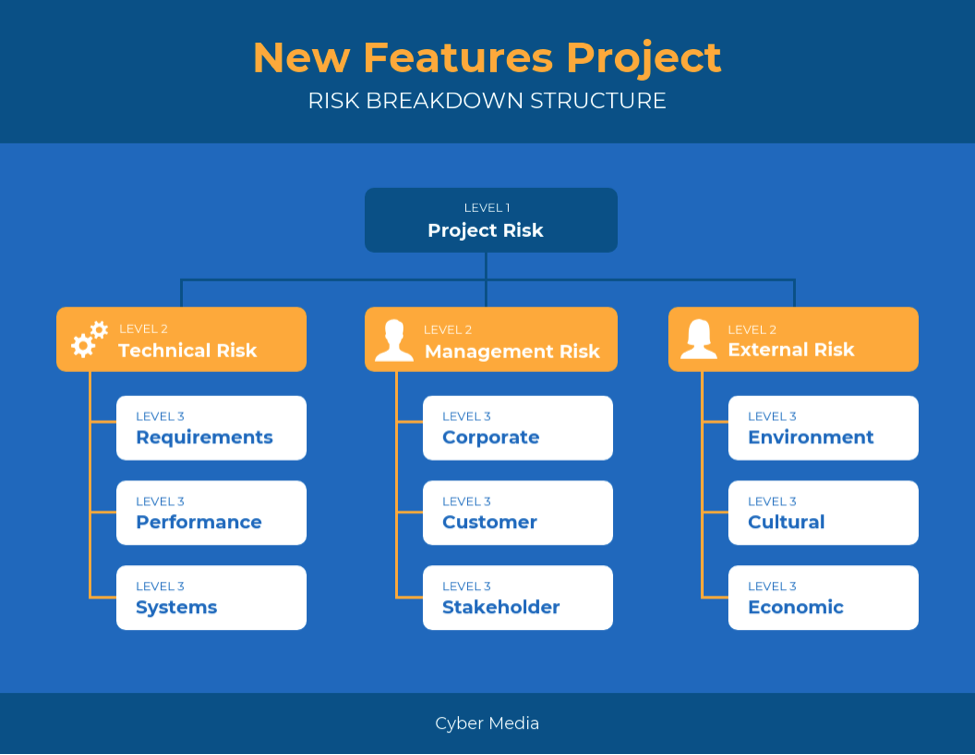 You will also want to decide in advance whether or not you wish to use legends in your charts.
Though Excel users are familiar with legends, they can make reading the chart difficult because the reader has to look at the data, then look at the legend to understand what the data is.
Merely labelling the data may be a more natural way to convey the information.
And the colour is another factor that needs to be decided. The colour needs to serve a function in the chart, to make the data pop out to the reader, not merely for aesthetic reasons.
Once you have organized your chart's visual aesthetic, and how you will plot the data, you are well on your way to making a creative report.
Be informative
One of the first things you want to do when making a chart for your report is to decide how you want to use it to inform your reader.
To do this, you need to analyze your data and see which parts of it you want to highlight, and which ones you want to downplay or ignore altogether.
Whether you're creating a chart from scratch, on Excel, or through an online tool, you should be focusing on making the information readily available to your reader.
To make your chart speak to your audience, you have to have a clear goal for it, because too much information will be challenging to absorb.
Decide on the visual you want to choose to convey your data.
Use a combination of text, icons, and colours, all of which you will have control over, to alert the reader to what information you want them to see.
This simple chart example shows how you can present information clearly with the use of colour.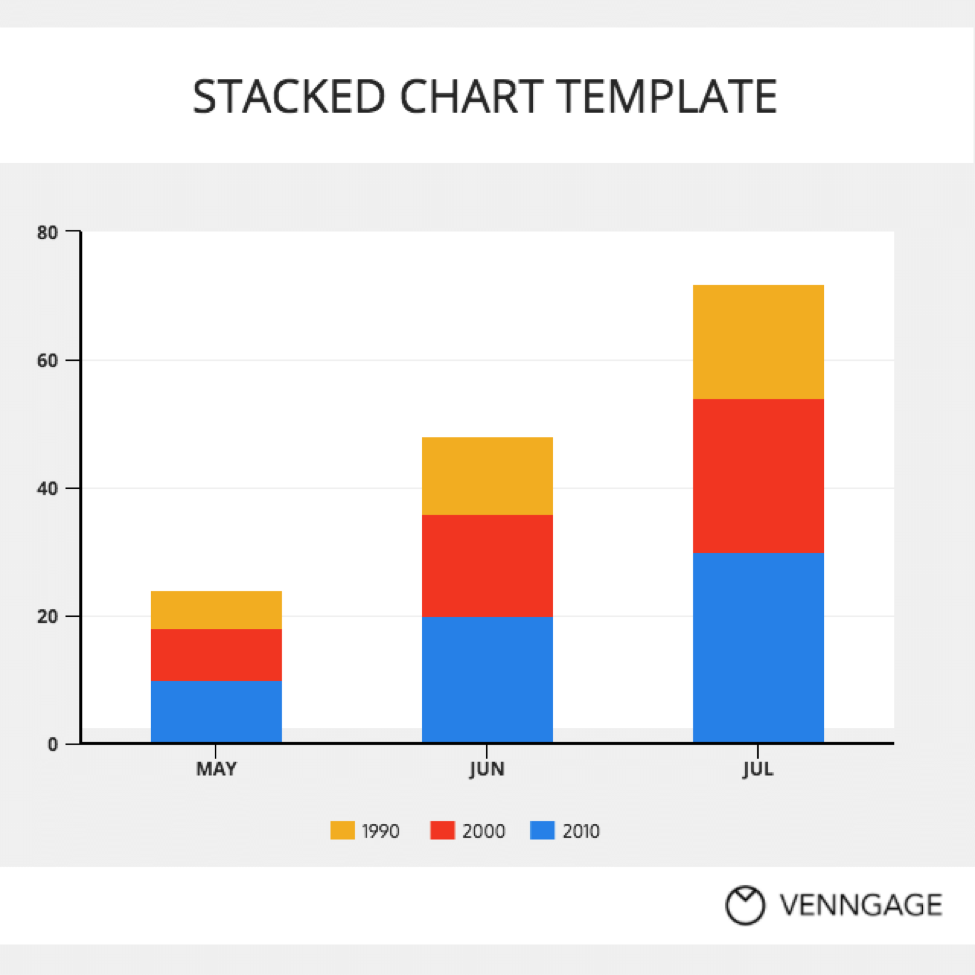 Making your chart informative is one of the best ways to make your report engage with your reader and help them draw the right conclusion.
Compare and contrast
Another excellent way to be creative with charts is by comparing and contrasting data. Instead of showing a single point of data, that could be interpreted to mean anything, use graphs to compare several points of relevant data.
This is particularly important when you are working on sales reporting, but the compare and contrast method works in a variety of reports, as well.
Colourful pie charts are also excellent in showing comparisons, but they can be difficult to read if one uses too many segments. Instead, a great way to show similarities is by using bar or column charts.
When using comparison charts, you will want to make it easier for readers to engage with the content, so you should be thinking about spacing and text size, as well as the colours you use.
But even without numbers on a bar chart, readers are generally able to pick up on the difference in lengths and heights of the bars and columns, which is why they are so effective in conveying data.
Aside from bar charts, you can show comparisons using bubble charts that display information in circles instead of columns.
A well-made bubble chart can be quite explicit in its data sharing, as you can see from the example below.
Comparisons make data easier to understand, which is why using charts to compare and contrast information can give your report a massive boost.
Show changes
Data presented without context doesn't do its job of being informative. To make your report relevant to your reader, you should try and show how the data has changed over time or space.
A great way to do this is by using line charts, which can show multiple kinds of data and series in one visual while not being overly confusing for the reader.
Your line graph can contain a single point of data charted across a period of time or several aspects of data across the same time frame.
Either way, it will be easy to read and immediately inform anyone reading the report about how the data has changed.
A variation of the line chart is an area chart. These are more aesthetically pleasing than simple line charts but cannot contain too much data, as that will make it difficult to read.
However, if you have three or four data points, the area chart could be an excellent choice to present, as you can see below.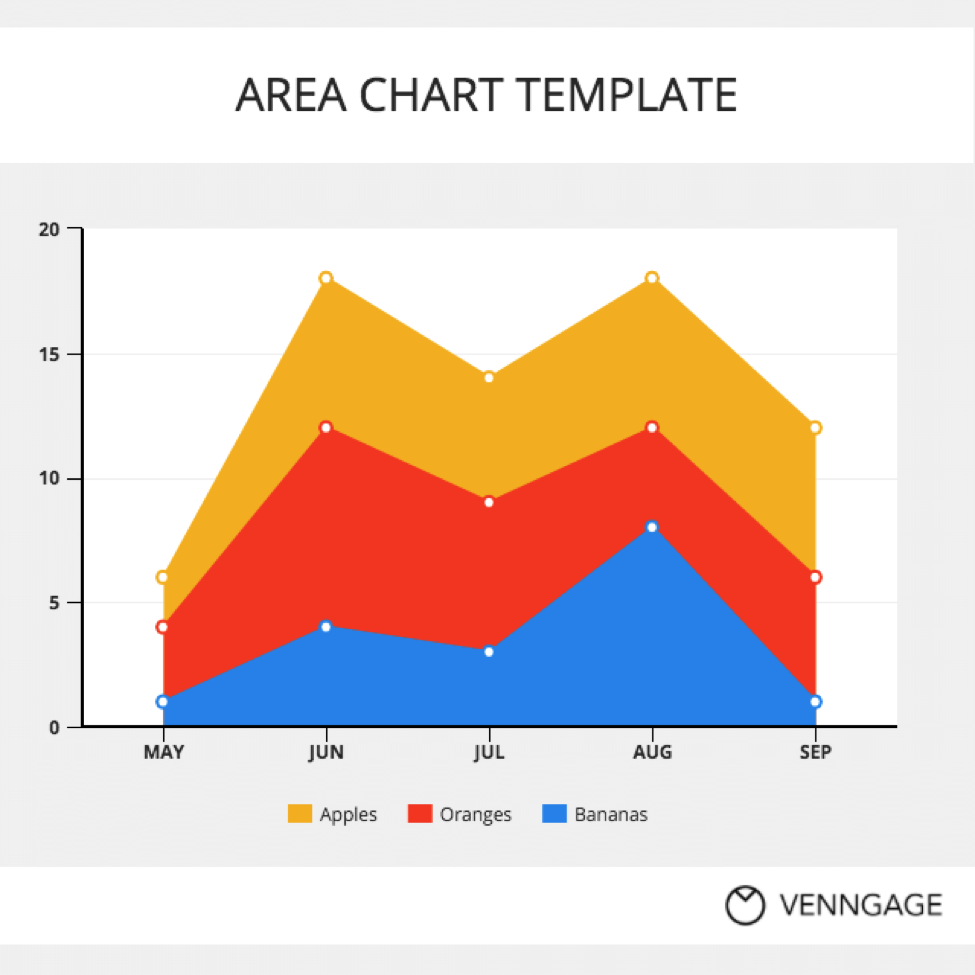 By showing how your data has changed over some time, you can create a story about your information and better lead your readers to a conclusion without having to add unnecessary text explaining everything.
Reveal data relationships
The charts you use should focus on making the relationship between your data points explicit to readers. This may be the key to making your report relevant to readers and will help keep them engaged.
To show data relationships, you can use scatter plots or histograms.
Both are easily readable, and if you choose your colour palette correctly, they can make the data stand out immediately to the reader, as you can see in this scatter chart example below.
Conclusion
With these simple ideas, you will be able to make a report that is creative and relevant, but most importantly, will convey the information you want to share with your readers compellingly and attractively.
Note: Chart examples sourced from Venngage.
About the author
Ronita Mohan is a content marketer at Venngage, the online infographic and design platform. Ronita is interested in a variety of topics with regards to digital marketing, visual content, and online engagement, which she enjoys researching and writing about.
Twitter: @Venngage
Tell us your story
Would you like to write for nichemarket just like Ronita has? Find out how to submit a guest post and when you're ready, you can contact us.
Are you looking to promote your business?
South African digital businesses can create your free business listing on nichemarket. The more information you provide about your business, the easier it will be for your customers to find you online.
Registering with nichemarket is easy; all you will need to do is head over to our sign up form and follow the instructions. If you require a more detailed guide on how to create your profile or your listing, then we highly recommend you check out the following articles.
Recommended reading
If you enjoyed this post and have time to spare why not check out these related posts and dive deeper down the rabbit hole that is data and reporting.
Tags: Reporting, Guest Post
You might also like
DALL-E: Image Generation By Description
The Open AI developments will soon make it possible to create images en masse by describing them verbally, which will open up a host of new applicati...
Read more
A Man's Guide To Summer Essential Wear
We take a look at the items every man should have in their wardrobe come summertime and why these items should be part of your style this upcoming su...
Read more