Best Ways to Use Interactive Content to Attract New Customers
Could interactive content marketing possibly be the next best strategy to promote your brand?
Undoubtedly.
The more content we produce, the harder it gets to impress the average consumer.
We don't say that blogging and creating social media content is getting obsolete. These strategies are still as effective as they always were.
However, such content may get all too familiar for people. So, sooner or later you'll have to up your game, and the best way to do that is by producing interactive content.
In marketing, interactive content slowly but surely becomes one of the preferred strategies to attract new customers. According to different statistics:
When thinking about a strategy to attract new customers, we think about content that will immediately catch their attention.
With interactive content that comes in many shapes and forms, you can both help your brand stand out and catch the attention of random passersby.
Now, let's take a look at the best ways to use interactive content to attract new customers.
1. Survey with quizzes and tests
The simplest way to start your interactive content strategy is by creating quizzes and tests. Inviting potential customers to participate in a quiz or a test brings many benefits for your brand:
When it comes to email marketing, quizzes are the best way to generate new subscribers, increasing the average conversion rate at least by 50%.
Asking the customers about their product preferences boosts sales.
Tests and quizzes are generally oriented at people's curiosity. Thus, using them for your marketing strategy will increase your social outreach.
Buzzfeed is the most popular example of the successful use of tests and quizzes to increase conversion rates. According to SimilarWeb, 'Buzzfeed quizzes' pops up in the top 5 organic keywords when people search for Buzzfeed's content.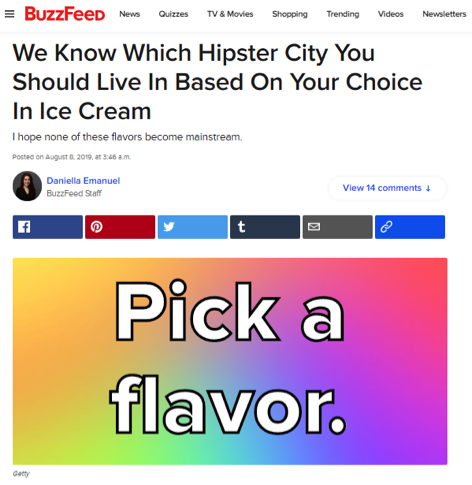 Image credit: Buzzfeed
Buzzfeed quiz above is a perfect example of how you can implement your product in this type of content. You can also draw inspiration from such quizzes. For instance, if you own a business that sells ice cream, this is a good way to market your products, show their uniqueness, and attract new customers.
2. Improve customer experience with generators
Customer experience is important, especially when it comes to attracting new customers. When searching for a new favourite brand, people also look for new experiences that will help them get familiar with a product and learn more about the brand.
Creating an interactive generator is just the type of content you need to level up the customer experience. Among many other benefits, businesses stress the following advantages of interactive generators:
presenting a product from a new perspective
making their brand recognizable
taking a more personalized approach to customers, thus, improving conversion rates
You've probably seen many examples of generators, created by McDonald's, Lays, and Oreo. One of such examples if 'Flavor Generator' by Hello Fresh, an international meal-kit company. Their generator surveys the customers on what they want to eat for dinner, asking about their flavour and dietary preferences. As a result, it generates the idea of a meal, thus, promoting Hello Fresh's service: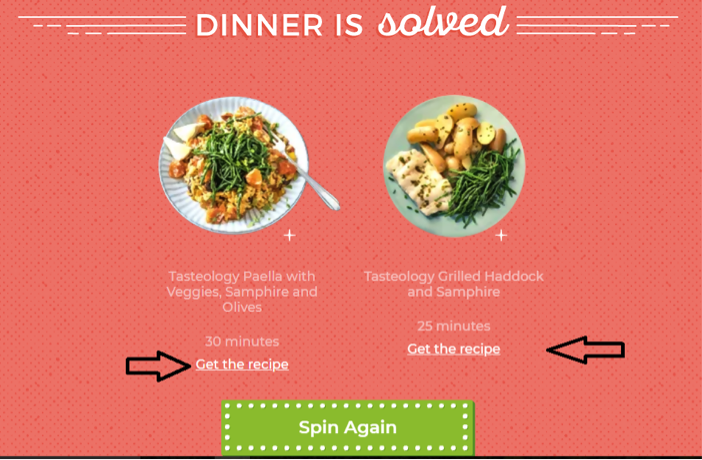 Image credit: Hello Fresh
Generators are a good example of how interactive content helps present a product from a different perspective, also bringing value to potential customers.
3. Educate with interactive graphs and videos
One of the tasks of the interactive content is to educate potential customers. This is a chance for your business to showcase your professional expertise, building trust and credibility. When it comes to the types of interactive content, graphs and videos are the best way to do that.
A good example of using interactive graphs is Flatfy, an international real estate company, who use their website's main page to share this content and to show their competence.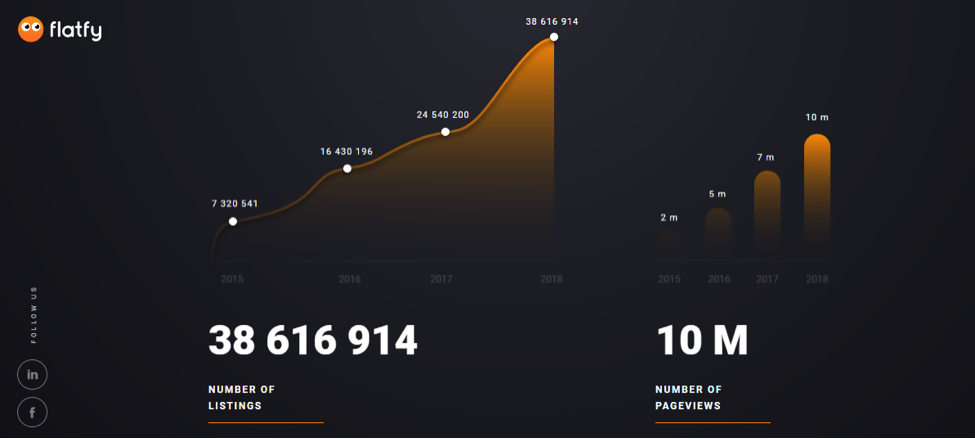 One of the benefits of interactive graphs is that you can keep updating it without changing how it looks. Thus, you can build a graph that encompasses the results of your work over some time, showing the credibility of your business.
Another way to show your credibility is by sharing interactive videos. Video marketing is currently one of the preferred strategies. With interactive videos, however, you can create a completely different experience that will result in more engagement.
A good example of an interactive video is 'Can You Destroy the Debt" by Banquer, an organization that does financial education: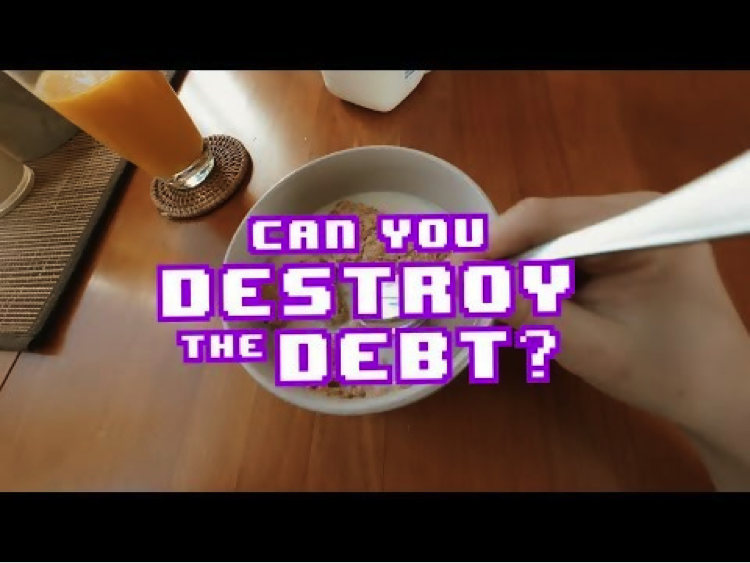 Video credit: Banquer
The video teaches the steps, which you need to take to avoid getting in debt. However, you're not just an observer, you're the participant.
Such interactive videos change the perspective of promoting a product or a service, making it more educational. Thus, by bringing such value to potential customers, you'll be able to grasp their attention and prove your business to be the leader in your industry.
Wrapping up
Interactive content marketing is here to stay. Customers love new experiences, and brands that aren't afraid of investing in interactive content will definitely reap the fruits of their success sooner than their competitors.
Hopefully, the ways of using interactive content that we shared in this article will inspire you to create new experiences for your customers!
About the author
Kate is a passionate writer who likes sharing her thoughts and experience with the readers. Currently, she works as a digital marketing specialist, you can check her
website
. She likes everything related to travelling and new countries.
Tell us your story
Would you like to write for nichemarket just like Kate has? Find out how to submit a guest post and when you're ready, you can contact us.
Are you looking to promote your business?
South African digital businesses can create your free business listing on nichemarket. The more information you provide about your business, the easier it will be for your customers to find you online.
Registering with nichemarket is easy; all you will need to do is head over to our sign up form and follow the instructions. If you require a more detailed guide on how to create your profile or your listing, then we highly recommend you check out the following articles.
Recommended reading
If you enjoyed this post and have time to spare why not check out these related posts and dive deeper down the rabbit hole that is content marketing.
Tags: content marketing, guest post
You might also like
What Are The Major Categories of Blockchain?
We take a deep dive into the six major categories of digital assets available and why they have these different characteristics and how they are used...
Read more
5 Reasons Why Impact Windows Are Worth The Cost
A review of the benefits you will get from spending a little more money on securing impact windows for your home and why it is a good investment long...
Read more