How To Build An Online Reputation With Reviews
Building a reputation for your small business is not the most straightforward task to accomplish, especially when customers now have access to a host of options online and information readily available to them regarding service providers. As customers seek instant gratification, they turn to search engines to provide them with the answers to any and every query.
Due to this, insatiable need, Google reigns supreme and has become the first tool for many customers looking to learn more about you and the services you provide. A simple brand search (searching for a business by name) can either reveal a lot about your business or very little. Either could be harmful to your online reputation management.
Striking a balance with reviews
Having too many negative reviews will naturally deter potential customers as they'll perceive your business as one that provides poor service. Having too many positive reviews can trigger a users scepticism as they feel reviews could be fake or purchased, and they would value the authenticity that comes with a mixed bag of reviews. Too few reviews make your company seem shady or a fly by night operation.
Building your online reputation
If Google deems something relevant to the customer experience, you can be very sure it provides a solution of its very own and has down so with the help of Google My Business (GMB) & Google Maps. Having a GMB listing will allow customers to rate and review your business within Google search, and it will be displayed each along with your brand details when users perform searches for your brand name or service.
Google also scrapes the web for 3rd party reviews to give customers a holistic approach to what people are saying about your brand. Having a more comprehensive knowledge graph with reliable ratings from multiple sources can set your business apart online and give new customers a sense of security which improves contact ratios and conversion rate.
Not to mention Google also pulls in these reviews for certain local ads you may be running in Google Ads, such as the importance of the review counter.
How 3rd party reviews work
When you create a profile on a 3rd party site that runs schema either with micro-data markups or JSON-LD markups, Google will pick this up during its scraping and indexing and pull through those rewards to search.
Eventually, Google bot will make the connection between the 3rd party sites profile of your business and your site and start to attribute those reviews to your already established GMB listing.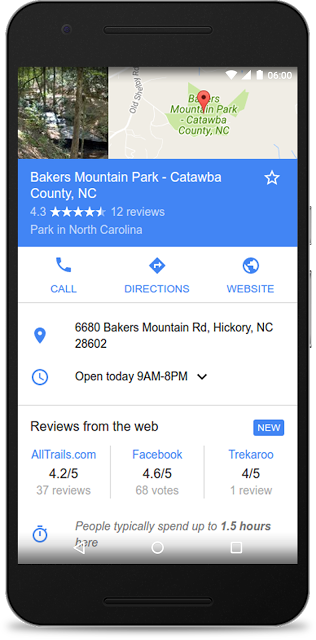 Image source: Verticle Leap - How third party reviews are displayed in search
Gathering reviews
Now that you're aware of the importance of reviews, it's up o you to build a comprehensive online reputation by leveraging Google and several third party sites that offer reviews for specific reasons. To assist you I've put together a list of several review sites, if they will be applicable to your site or when they could be applicable to your site.
Remember only to use sites you'll actively want to solicit reviews on instead of registering on every single site and not having any customer feedback. While some sites may have active user bases for you to get reviews instantly like Facebook, others will require you to push your customers to these sites to start adding reviews to your official profile.
South African review sites
Since local search has become increasingly important to Google's search algorithm, it's a no brainer that the first place you should look is at local sources for third party reviews. If your business operates in South Africa, you could leverage the following platforms.
nichemarket reviews
nichemarket is a South African business directory and entrepreneur marketplace that allows you to create a listing for your business and solicit ratings and reviews. Once you have an approved listing and a live URL to your business, share it with customers and get them to review your business.
Businesses can be rated on three aspects, pricing, service and quality. The overall rating can be pulled into search engines and attributed to your brand listing in Google search.
Picodi reviews
Picodi is a discount and coupon site that provides listed businesses with their landing page where they can host all their coupon codes and promotional vouchers and also offers a rating for the company.
https://www.picodi.com/za/
Hello Peter reviews
HelloPeter is a customer feedback site and allows users to rate and review services they receive from companies on an either manually created or automatically created company listing. Claimed/manually created listings can often be picked up by Google, and those ratings can be pulled into the search results page for your brand terms.
https://www.hellopeter.com/
Popular review sites
If you're not a South African based business or want to leverage the largest and most popular sites for business reviews, then you should check out the following platforms.
Google reviews
Google My Business is a service that connects with Google Maps to allow businesses to get a free listing within search and offers anyone with a Gmail the ability to rate and review a firm they find in search or Google Maps.
Since this is a Google product, the ratings are updated in real-time and often have more of prominence in search than your 3rd party sites.
https://www.google.com/intl/en_za/business/
Facebook reviews
Everyone's favourite social media site also put its hat into the review game, and if you have a business page, you should have access to reviews. You can then leverage Facebook ads or drive users via email or other channels to review your business on Facebook.
Since Facebook is so large, Google often picks up this data pretty quickly and attributes it to your search results. A good idea is also to add social media schema to your site to indicate to Google that this Facebook page indeed belongs to your business.
Zomato reviews
Zomato is an Indian restaurant aggregator and food delivery startup and is great for restaurants and mobile culinary businesses. It also collects user ratings and reviews to attribute to the business listed on their site. These reviews are added to your unique business landing page and if picked up by Google can be added to your brand search along with the ratings.
https://www.zomato.com/
Yelp reviews
Yelp is a business directory service and crowd-sourced review forum which is known for its customer reviews. It collects user ratings and reviews to attribute to the business listed on their site. These reviews are added to your unique business landing page and if picked up by Google can be added to your brand search along with the ratings.
https://www.yelp.com/
TripAdvisor reviews
TripAdvisor, Inc. is an online travel company that operates a global platform with user-generated content, price comparison tools, and online reservations for transportation, lodging, travel experiences, and restaurants. It creates landing pages for travel-related businesses and allows Tripadvisor users to provide feedback on their experience with the travel business and rate their services. These ratings can then be added into search results for your brand.
https://www.tripadvisor.co.za/
FourSquare reviews
Foursquare is a local search-and-discovery mobile app that provides personalised recommendations of places to go near a user's current location based on users' previous browsing history and check-in history. It also collects user ratings and reviews to attribute to the business listed on their site. These reviews are added to your unique business landing page and if picked up by Google can be added to your brand search along with the ratings. https://foursquare.com/
App reviews
If you are an app-only business or you do have a mobile app, you wouldn't want that investment to go to waste. Your app is a separate experience from your business, and these reviews are always linked to the experience within the app. Making sure you have several real reviews on your app can do wonders for your download conversion rate.
Both the Google Play Store and iTunes store offer indexable landing pages for apps. These landing pages have marked up reviews that can be pulled into search results, especially for brand + app-based searches.
Job reviews
If you're a medium to a large business that has a reasonable churn rate of staff you may want to have pages on job posting sites. As potential employees research your company or search for employment in a specific niche, these star ratings can do wonders for click through and confidence in applying and help you get better quality candidates and improved conversion rates for your job posts.
Indeed reviews
Indeed is an American worldwide employment-related search engine for job listings launched in November 2004. Businesses can create a profile to host all their jobs, and this profile offers a user-generated rating service for employees to rate their time working with the company.
https://www.indeed.co.za/
Glassdoor reviews
Glassdoor allows former employees to review companies anonymously. Glassdoor also allows users to anonymously submit and view salaries as well as search and apply for jobs on its platform. The company pages also have an aggregate rating based on employee reviews that can be pulled into search results.
https://www.glassdoor.com/index.htm
Your queue to get reviews
Now that you're fully equipped with the knowledge to start building out a comprehensive online reputation for your business its all about remaining consistent. Once you've selected the platforms relevant to your business, it will all be down to providing value to your customers and encouraging them to leave feedback on the platform they feel most comfortable using. The more authentic reviews you have, the better your business will be perceived online, especially from those who have never been exposed to your brand before and are looking for information and confirmation of the legitimacy of your products or services.
Contact us

If you would like us to improve the online reputation for your site or want to know more about digital marketing for your business, then don't be shy we're happy to assist. Simply contact us
Are you looking to promote your business?
South African Business owners can create your free business listing on nichemarket. The more information you provide about your business, the easier it will be for your customers to find you online. Registering with nichemarket is easy; all you will need to do is head over to our sign up form and follow the instructions.
If you require a more detailed guide on how to create your profile or your listing, then we highly recommend you check out the following articles.
Recommended reading
If you enjoyed this post and have a little extra time to dive deeper down the rabbit hole, why not check out the following posts on online reviews.
Tags: SEO, Online Marketing
You might also like
Why You Need Barcodes For Your South African Business
We review the benefits of having barcodes for your South African business (Big Or Small) and why you should consider having your own barcodes set up...
Read more
3 Steps For Your Company To Go Paperless
How to take the steps to reduce your businesses dependency on paper, maintain your operations in a digital world and become a greener and leaner oper...
Read more